If It Ain't Broke, Tweak It – Volkl Mantra M5
---
It always amazes me to see how much manpower goes into making a pair of skis. Back in November I toured a Daimler-Benz plant near Stuttgart, Germany, where I worked as a teenager one summer a thousand years ago, before I hopped on a train south to the Völkl factory in Straubing, Bavaria. While my job, indeed my entire section of the Mercedes chassis assembly line, has been 100 per cent taken over by robots today, I barely saw their use in Straubing. Völkl's super-clean, neat, quiet and odour-free factory floor, where more than 90 per cent of its skis are made, sometimes has round-the-clock workers' shifts to keep up with production demands. Its latest labour-intensive offering, the Mantra M5, will no doubt help the company continue that pace.

It's hard to believe 12 years has passed since Völkl launched the original Mantra, its popular All-Mountain Freeride ski. Since then, engineers have played with its design four times and I, along with a lucky who's who of international ski journos, were all in attendance to see how the ski's fifth reincarnation is built, and later test it on snow in Sölden, Austria.
Five generations—and ten topsheets—later, the Mantra's history of impressing skiers continues. Key to the redesign of the new M5 is its Titanal Frame technology (Titanal is a proprietary super high-strength aluminum alloy made in Austria and, in this case, used as a dampening layer). However, rather than further bulking up the ski's wood core (and fibreglass, carbon, rubber, epoxy resins, base plastics, steel edges etc.) with solid layers of Titanal, the alloy is only added to the newest Mantra where it's needed. More like a Titanal frame, and one of varying thickness.
The M5 is the first version of the ski where designers have played with the ski's actual thickness underfoot, to soften up the charger's reaction in turns, making it more adaptable to changing snow conditions. Along with carbon, keeping more Titanal in the tip and tail as well as the sidewalls strengthens the areas where it's needed more and allows more dampening and accurate elasticity as well as an overall reduction in weight. The ultimate goal has been a lighter more agile ski with no compromise in power.
Twelve years of Mantra has slimmed it down in the waist from 100 to 98 to 96mm, dropping a 177-cm ski's turn radius from 23.6 to 19.8m, and shaving its weight by 50g. Its shape has changed from camber to full rocker to a completely redesigned tip-and-tail rocker.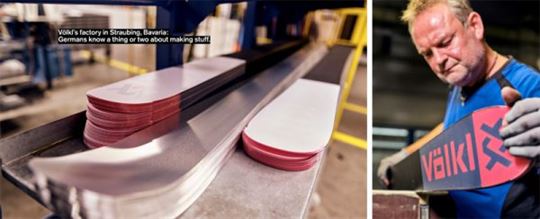 Its intended category has shifted, as well. What has been a Freeride All-Mountain ski is now more of an All-Mountain Freeride ski. Interestingly, this is just as much to feed the larger All-Mountain market as it is to adapt to our changing and sometimes challenging weather and snow conditions, where powder can be seemingly harder to find than man-made snow.
So how did it feel on early-season snow in Austria? A couple of us invitees were at a slight disadvantage. My new Norwegian magazine-editor buddy Erlend and I in the 130-140 lbs weight class were on the same 177 test length as some portly American writers like Doug (at more than 200 lbs), so although the waifs in the group still found it stiff in the crud and cut-up (probably because of the length), it plowed through it all like a tank. On groomers and hardpack, however, we felt no speed limit on any run; it carved close to that of a race ski, like a slightly de-tuned GS board. Not quite corpulent Doug, who was able to compare it to the earlier "very male" M3 version, noted the M5's new softer flex and easier turn feeling.
Although we were instructed not to test the newborns off-piste for fear of hitting rocks, 30 cm of untracked lay about everywhere calling our names repeatedly. So when the Völkl police weren't looking, several of us darted off ridges and down gullies and, well, the transition was instant and buttery—but I suppose what ski doesn't feel better in powder?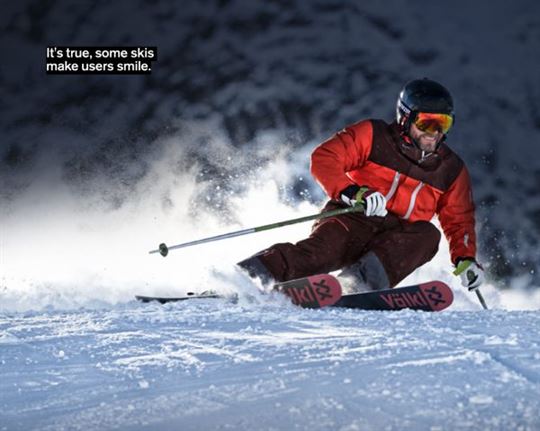 Back on the Sölden glacial corduroys that had quickly slicked up as hordes of November skiers put in lap after lap, my test notes were clear: my compact underweight frame had no issue with the extra length on groomers like it did in the cut-up and crud, instead the ski held a precise track no matter how I switched up turn sizes, speeds or change in conditions. Völkl seems to have done it again.

Part of the Dalbello and Marker group of the even bigger K2, Line, BCA et al ski conglom, Völkl turns 100 in a couple of years. The M5 is available in the fall—along with our next issue, Ski Canada's 2019 Buyer's Guide.

Tags: Volkl, Volkl Mantra