Val d'Anniviers, Switzerland
---
On-Piste Off-Piste Two families split up to head in opposite directions in Val d'Anniviers, Switzerland.
by IAIN MACMILLAN and MAGGIE SCREATON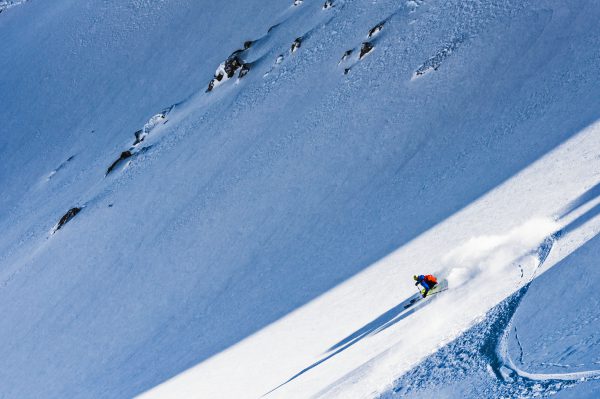 IAIN
Known for his memorable quotes, my buddy, Maggie's husband and Ski Canada's medical columnist John Foote blurted out one for the week while our two families sat around the chalet dinner table and hotly discussed who would make the space-limited roster to ski the next day with our mountain guide. In a gallant act of chivalry, John looked lovingly at Maggie and stated to the crowd: "I'll take one for the team and ski with my wife." And then, red-faced, quickly added to the resultant laughter, "Wait, that didn't come out right."
With a huge eye roll, and no pause, Maggie hit back deadpan: "I've been taking one for the team for 25 years."
About eight weeks earlier I'd discovered that Air Canada would be testing a new Toronto-Milan non-stop, the first flight of which matched our kids' university Reading Week, and our pocketbooks, so we shelled out and then began hunting for a place to ski. I'd only vaguely heard of the four or five villages and ski stations that make up Val d'Anniviers ("Annie-vee-eh") in the French-speaking Valais region of Switzerland, but what I'd heard was intriguing. "Authentic," "rustic," "uncrowded"…were a few of the descriptive adjectives—and it had a reputation for some excellent off-piste routes. I was sold, so I emailed Maggie.
MAGGIE
Hang on a sec. Can we back up a bit so Ski Canada readers can get a glimpse of trip planning à la Iain MacMillan? Long before the easy-peasy non-stop to Milan popped up, he was all in on some bucket-shop flights to Australia. Yes, Australia—not Austria. There was no way my nose-to-the-grindstone McGill frosh could make that work, no matter how much she loves skiing with The Macs. It had to be a hard pass on The Land Down Under. And on Japan, which was his next, also slightly delusional suggestion.
Happily, that direct flight he'd unearthed put us within driving distance of Val d'Anniviers, the seemingly perfect destination for this two-family crew: nearly boundless backcountry terrain for the hardcore among us, and 100 runs of blissful corduroy for, well, me. Scratch that. John and me (see Iain, above).
With our departure date fast approaching, the planning kicked into high gear. Super-cute Swiss rental chalet found and booked. Check. Lift passes good at Zinal, Grimentz, St-Luc/Chandolin and Vercorin. Check. Rental cars—with chains (more on that to come)—confirmed. Check. We were good to go.
The trip gods were smiling on us the morning we touched down at Milan's Malpensa airport. Sunny skies and bone-dry roads made our climb through the Alps via the storied Simplon Pass fast, easy and scenic. Within a few hours, we were greeted by the dual peaks of Zinal's signature mountain "Le Besso" (3,667m) and the Ober Gabelhorn, and at least half a dozen other 4,000m+ peaks in the background dramatically framing our self-catered Chalet Anna sitting at 1,675m. We were home.
When we woke up the next morning ready for Day 1, however, the weather had turned big-time in Zinal. The plan was to ski as a group before Team Backcountry headed off into the great white unknown the next morning, but the deluge of fat flakes had cut visibility to almost nothing. Being the only Canadians in Zinal, we at times felt like the only skiers as well, with most sensible Euros waiting out the storm while we took blind laps off the Poma lifts before settling in for an early and long lunch. I could already feel the excitement building in the off-piste peeps: tomorrow would definitely be a powder day.
Only a recent convert to powder skiing, knee-deep snow usually means two things for me: faceplants and scarfing down a ham sandwich on the gondola while the group chases fresh tracks. To me, neither screams, "Woo-hoo! You're on holiday!"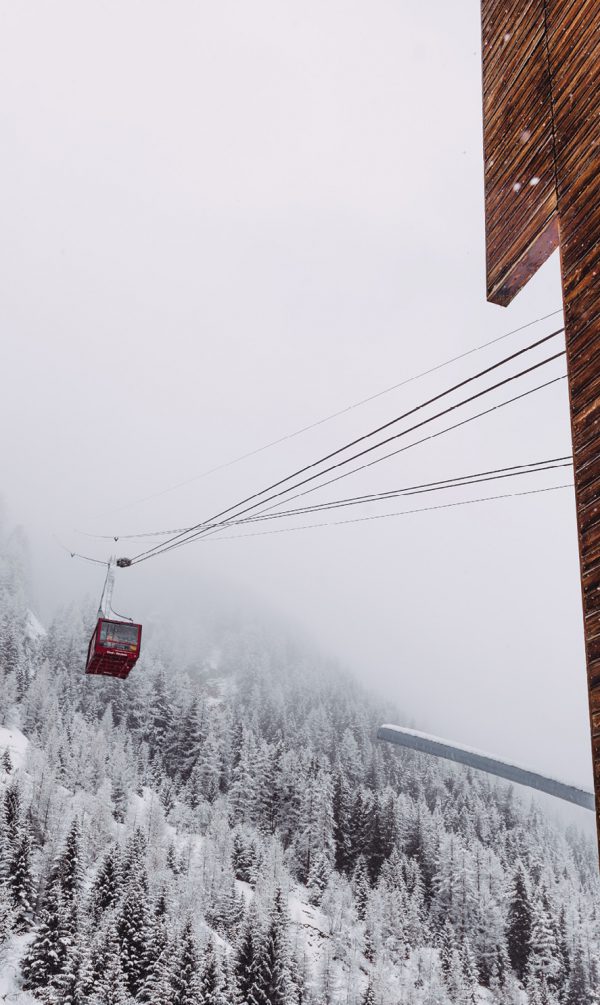 Luckily, Zinal, nestled in a quiet valley halfway between the Valais' high-octane resorts of Verbier and Zermatt, has lots to offer the slightly less, ahem, fanatical skier, including lots of terrain, breathtaking Swiss alpine scenery and, yes, stationary places to eat, both on and off the hill. One main cable car in town pumps everyone up into the alpine in the morning, where a mix of six high-speed chairs and delightfully austere drag-lifts scatter skiers in all directions, including, I was later told, to an impressive freeride slackcountry. Zinal is a place popular with ski-obsessed locals, folks who will happily pull their kids out of class for a half-day of top-notch conditions without the crowds.
IAIN
When I announced to the gang that an unmet photographer, Axel Adolfsson, would be joining us in our chalet for a few days, the news was met with groans from my kids and apprehensive looks by John and Maggie's offspring. Things brightened up significantly after the three young ladies in the group had stalked the good-looking man-bunned Swede of roughly the same age on social media and within 20 minutes of his arrival, it seemed like we'd all known Axel for years.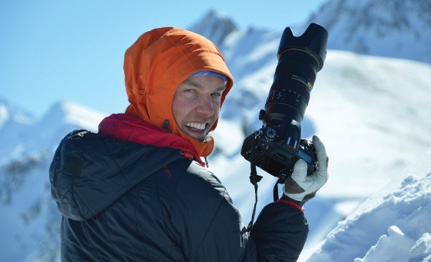 Not only could I relax, not having to worry about photography, Axel proved to be handy on the road. The day following our powdery (some might say stormy) first day of skiing, the two families, plus Axel, piled into Skoda-MacMillan and the Screaton-Foote family's Bimmer and raced off down valley to the neighbouring resort of Grimentz where we were to meet mountain guide David. The two resorts of Zinal and Grimentz are linked by an impressive cable car in the alpine, but with a Swiss mountain guide to meet and me personally keen to test drive a manual transmission in my new touring boots, the troop roared off on a gloriously sunny day with the freshly fallen snow now hanging from tree boughs like a Dr. Seuss book.
Less than a quarter-hour later, almost within sight of the village of Grimentz just up the hill, there we were, standing beside the car with hands on hips (being passed by the shuttle bus from Zinal) while an incredulous Axel explained to his new and naïve Canadian friends how to install snow chains on summer tires.
In the melee, we had done the unthinkable and left a Swiss guide waiting; it was only later that we were relieved to learn this is not, as previously believed, a crime punishable by death.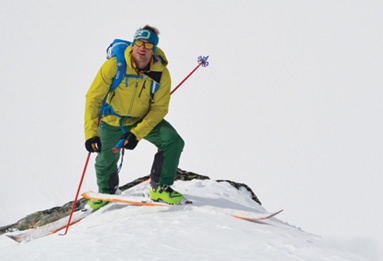 Sometimes mountain guides relish a boisterous group like my family and friends, other times they're bowled over by our, um, exuberance. I fear the latter about our two days with poor David Wicki. Of the strong, silent ilk, he was no doubt left with a warped impression of Canadians thanks to our tardiness, constant chitter-chatter, teasing, laughter and singing.
With our late arrival, I spoke for the group by offering to forgo a warm-up run and we were off, following David up a gondola, chair and Poma topping out at Roc d'Orzival (2,853m). Almost immediately we were away from the resort, relishing a lovely powdery, classically Swiss off-piste run 700 vertical metres down into the Orzival. With only our tracks about us, it's days like this that leave the strongest memories.
With skins on and heels released our uphill pace in the untracked wasn't terribly aggressive, allowing for more banter, and the scene was soon Monty Pythonesque with David being bombarded by questions and statements, some sincere, most silly, and almost all of them answered with a simple, "Yeah, sure." Everyone was just happy to be released from their home, office or university lecture hall, and ski-touring in such a heavenly setting on such a perfect day.
We reached a breezy summit in about two and a half hours where lunchtime was declared on a small plateau with spectacular 360-degree views. When the plastic bag that had contained Evan's sandwich took flight downhill in the wind, David popped into his skis and raced after it with the seriousness expected should one of us fall into a crevasse. Evan made up for it later while trying to set up a photo by accidentally filling David's open backpack with snow.
MAGGIE
With no guide to keep us on task, John and I had an agenda that was almost as wide open as Grimentz's terrain.
An abundance of fun but challenging groomers were bordered on both sides by mostly untracked snow from the day before, allowing powder-newbie me to zip in and string together a few tentative turns when the impulse hit. The resort's impressive network of speedy lifts—including more T-bars than your North American tush might be used to—whisked us up to nearly 3,000m at points, and made it easy to get in plenty of runs, even before the midday hunger pangs kicked in.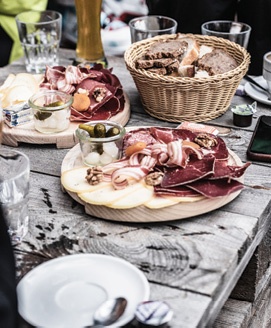 When it was finally time to refuel, and not missing the hardboiled eggs in the bottom of Iain's backpack, we headed slightly off the beaten path to Etable du Marais for a perfect Swiss lunch. Heaping charcuterie platters were presented quickly along with a crisp green salad and a bottle of the local Fondant—all on a sun-drenched deck that offered unforgettable peak-to-valley views. It was, in a word, idyllic.
With plenty of mountain still to explore, we hopped back onto our skis and criss-crossed the remaining trails, almost all above alpine, leaving just enough time to navigate our way down to the village of Grimentz and meet the rest of the group at Chez Florioz for, you guessed it, more food. The bar's signature snack, a flaky tartine, was perfect for sharing with a gang.
Buzzing from the near-flawless day, we wandered the village's narrow streets back to the cars—cars that were still tricked out with chains. You don't want to know how much side-eye we got from locals as we crawled home to Zinal, metal clinking on the now-dry and sunny pavement, chanting Iain's mantra: "Drive 'er like a rental."
Our slow, if rattling, drive home was worth it, though, as it gave us a chance to take in the picture-postcard vistas along the way and swap the day's best anecdotes. As we neared Zinal again, traditional wooden chalets, patinaed to a near-black after generations in the alpine sun, dotted the mountainside, crowding out the few squat, apartment-style hotels that sometimes take over other ski towns in the Alps.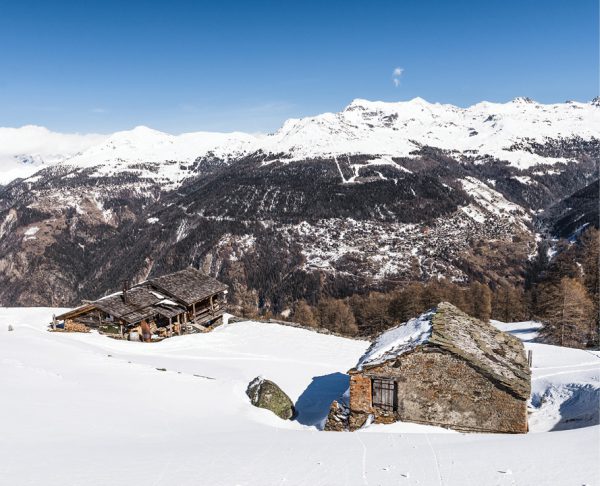 IAIN
Day 2 with David began with another memorable drive, this time to the villages and ski stations of St-Luc/Chandolin, which face across the wide valley toward Grimentz in the distance. But things would go from bad to worse. With all the intentions of a Swiss timekeeper the night before, I still failed miserably at delivering the troops on time as John's Google Maps had him zig on the lower, primary route and mine sent me zagging on the high-and-narrow alpine shortcut. To finish off the expedition consistently, the two Canadian cars managed to arrive at different "P2" lots, which required more time to sort out before we could board St-Luc's funicular railway. David's face of disappointment from the morning before had now turned to exasperation, while Sophie's had turned green from backseat texting during all the tight turns on the often single-lane road that clings to the mountainside with few guard rails.
The dual-village resort is the largest of the Val d'Anniviers group with something for everyone. As we made our way up a series of multi-turn Poma lifts to Bella Tola's 3,026m peak, the enormity of the area unfolded around us and we quickly realized the area's off-piste and ski-touring potential. Despite our late arrival, and two days after the last storm, almost everywhere beyond the groomers welcomed us…untracked. Smiles all around. Off in the distance Mont Rose (4,634m), the Matterhorn (4,478m) and several other notable peaks were watching us.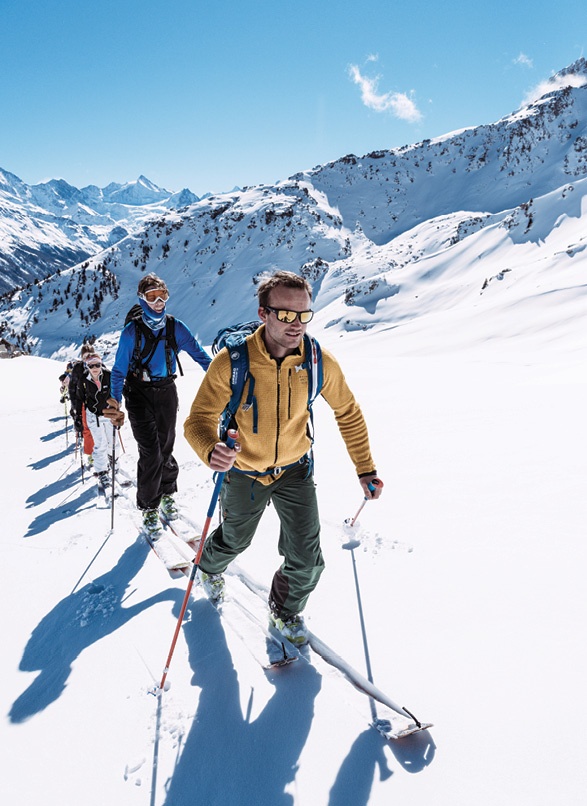 At the top, David checked our beacons and we were off on another day of alpine discovery and stellar views—the world and all its light and fluffy rewards seemingly all to ourselves. The Bella Tola Glacier run down to Märetschisee is doable (with a mountain guide) by anyone with a strong intermediate background who isn't intimidated by untracked and changing snow conditions. There's no cliff-jumping or steep, tight couloirs to make the apprehensive freeze here. And for those who've never tried alpine touring, well, that's pretty much just walking. Like anywhere in Switzerland, touring gear is rentable in town along with avalanche safety equipment.
Once our boots were set on walk mode and our upper bodies stripped down in the sunshine, our free-heeled, single file slipped into the mesmeric routine of skinning. Meanwhile, the questions and stories put to David continued ad nauseam.
Sophie: "How do you say 'Send it!' in French, David?"
David: "Sendé!"
Sophie: "I'm pretty sure that's not correct."
David: "Yeah, sure."
Iain: "You know, we have coyotes in High Park, right in the city of Toronto."
David: "Yeah, sure."
Evan: "Can you teach us a Swiss song, David?"
David: "No."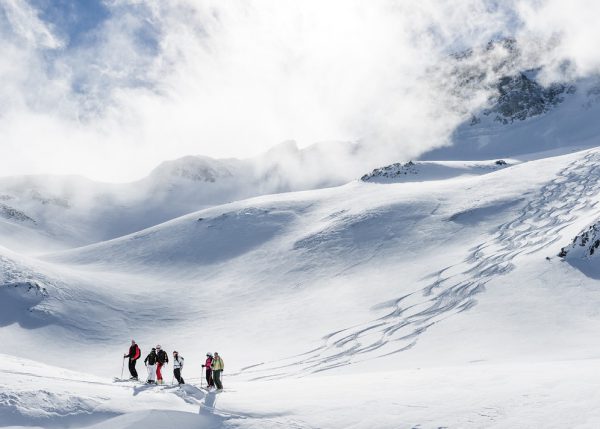 MAGGIE
Once we'd bid the rest of the group adieu, it was time to discover what on-piste adventures St-Luc/Chandolin had to offer. A quick glance at the piste map revealed that the area boasted four high-alpine lookouts. Checking out all of them gave us a loose to-do list for the day and ensured we were seeing as much of the terrain as possible.
By noon, though, we were skis off and taking in the views from a pair of slopeside sling chairs at Tsigère La Cohà. While downing a double helping of gooey raclette over tender potatoes and local sausage, we watched in amazement as a gaggle of pre-teens skinned their way up the mountain, laughing and roughhousing—not huffing and puffing—as they went. No Instagramming, no selfies.
The warm temps and bright sunshine would have made it easy to linger for the afternoon, but we had groomers to best, so it was back to the lifts. Our final run topped them all. (Ever said that on a ski trip?) Le Prilet is a lovely, long cruiser with something for everyone: challenging steeps at the summit, exhilarating rollers at the mid-point and peaceful narrows through the woods near the bottom.
By the time the trail finally ended—at the cozy restaurant and gite that shares its name—the thigh-burn was real, so we were glad to meet the rest of the group around a big outdoor table and catch up over drinks and heaping platters of snacks.
Hunger sated once again, it was time to head home, but rather than elbow our way onto the navette—the local ski bus—we hoofed it to the parking lot and our waiting chariots. Thankfully, the drive back to Zinal had fewer wrong turns than the one we took that morning.
AT HOME IN ZINAL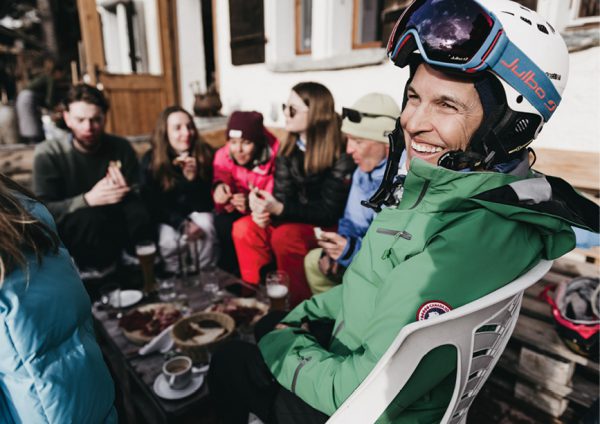 Not a Verbier or St. Anton when it comes to après-ski (no Brits, Germans or Russians either), a beer or three at one of several local pubs in Zinal was more the routine. Our lovely four-bedroom (plus loft for Axel) Chalet Anna had amazing views up and down the valley and was a short walk to everything we needed. Après and fine dining to supermarket and ski shops, whether we served it up ourselves around the chalet's big harvest table or headed over to one of the packed pubs, everything is close in Zinal.
Iain and the girls discovered a closed run on the last day that led almost directly home—only one little 15m saunter across a steel i-beam above a mountain river to negotiate. Strolling down the main street, on the other hand, definitely had its charms—and entertainment. One late afternoon a crowd, drinks in hand, had gathered on the road outside Franky'Z Pub. Before long, shirtless fire-eaters and dudes grasping lit emergency flares were doing backflips off a sketchy ski jump made over stairs, with a landing zone in the middle of the town's main road, while the throng roared its approval. It was bizarre and amazing and more than a little alarming at the same time.
—M.S.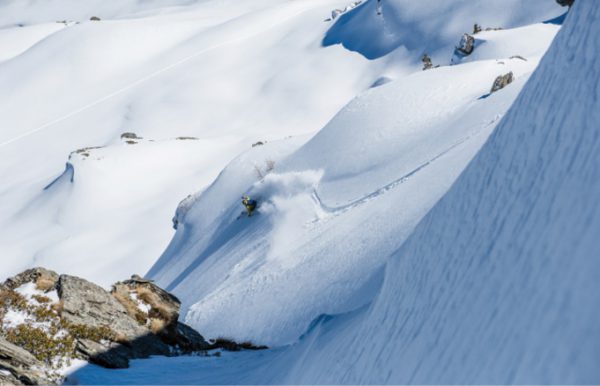 VAL D'ANNIVIERS FACTS & STATS

Ski resorts/villages: 5 (Zinal, Grimentz, St-Luc/Chandolin, Vercorin)

Drive time: from Geneva GVA, 2.5h; Milan MXP, 3.5h; Zurich ZRH, 4h

Trains: from GVA or ZRH to Sierre, 2.5h, leaving every 30 minutes and connecting with Postbus to Zinal, 1h

Lift pass: 6 days, all areas, 42 lifts: CHF290, about $380 (discounts: rma.ch/tourism/
price-conditions-177.html)

Total km piste: 220

Groomed runs: 100

Runs longer than 1,000m vertical: 15

Off-piste, freeride and touring: seemingly endless

Accommodation: Chalet Anna, one week self-catering in January or March, CHF2,400. skizinal.com

Plus Suisse: valdanniviers.ch, myswitzerland.com

Europe, Switzerland, Valais