Trial Run at Sun Peaks, BC
---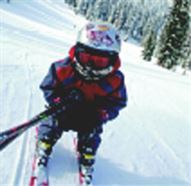 Three-year-old Kian approached the edge of the gully and looked down to his older brother. Logan stood eight metres below, at the bottom of a concave drop that must have ranked as a couloir through the eyes of a six-year-old. He craned his neck so he could look, with justifi able pride, out from under the rim of his helmet and up to his first first-descent.
"Was that fun, Logan?" asked Kian.
"Yup," answered Logan, who must have already learned that adopting an air of nonchalance is the only way to make an impressive feat even more impressive.
Kian doesn't yet ski with poles. I'm putting that down as a contributing factor to what happened next. He shuffled to the edge, looked once at his mother and with that was gone.
Kian didn't think the drop was as much fun as Logan did. Poles might have let him ease over the edge, or maybe catch his balance. But at least there were fewer pieces to pick up from the bottom of the gully when the crying was done.
I turned and started skiing. It wasn't that I was unconcerned about Kian—his parents were with him and he only ever cries two or three tears at once—it's that I wanted to get a head start. Soon they would be nipping at my heels and I would be trying not to be beaten down the hill again by my nephews. I was already sick of explaining to people in line that, yes, he sure was small, only three years old in fact. It only made it worse when he had obviously been waiting for me and wondering if he'd be better off in the single line.
It wasn't supposed to be this way. I was on a family vacation to Sun Peaks. I envisioned a week of linking relaxed arcs on wide groomers with plenty of breaks to let the little guys catch up. Instead I found myself in an alder-choked gully, absorbing low-pitch bumps with withered quads while looking for a route back out to the groomer so I could make up some time on them.
Rethinking family skiing wasn't the only mental adjustment I had made that week. I was also taking a fresh look at "family resorts".
An ultrasound of my partner's burgeoning belly had recently confi rmed that resorts that court kid-heavy families might comprise my skiing future for the next few decades. It seemed time to take a closer look.
Put it down to a lack of technical ability if you like, but I had always gravitated toward mountains with terrain that rewarded accomplished woodland orienteering skills more than the ability to properly finish a turn. I preferred exploring to cruising, and I was worried that a resort that prided itself on wellgroomed and expansive intermediate terrain might not have much else going for it.
My first clue that Sun Peaks was not the staid, sterile place I envisioned family resorts to be presented itself at the baggage carousel at the Kamloops airport.
We had waited through an unplanned, five-hour layover in Vancouver, thanks to a broken-down airplane, and when I say "we" I mean the band of brothers and sisters that takes shape any time an airline's operational dysfunction rules the day. The good news is that the plane broke on the tarmac, not in the air. The other good news is that the delay gave Air Canada's baggage handlers just enough time to make sure all the connecting bags got on the right flight—except for one.
Anytime you mix an Australian accent with five hours in an airport bar, interpersonal communication will suffer. I'm sure the guy in board shorts and flip-flops wasn't actually talking about kangaroos being underappreciated, but that's all I could imagine he was trying to get across to me while we waited for our bags. The shuttle driver must have understood though, because when I loaded my bags on the van destined for Sun Peaks, the driver told me we had to wait for the hopeful vacationer to arrange for his bag— which I could only hope contained some winter boots—to be brought up the mountain to Sun Peaks the next day.
Driving 45 minutes up the hill from arid Kamloops, home of cacti and lizards, to the snowy flanks of Tod Mountain, annual recipient of 560 cm of snow, we stopped eight times so the Australian could pretend to relieve himself while he took poorly concealed hauls on the beginnings of eight cigarettes.
His two entirely coherent friends told me why they had flown from Australia for a week at Sun Peaks. It had nothing to do with family-friendly tubing parks and everything to do with skiing, yes, but also the kind of concentrated nightlife only purpose-built resorts full of vacationing skiers can deliver. When we stopped at their hotel and I refused two very polite and one overly impassioned invitations to share a drink with them, I had to admit that I had underestimated the nightlife I might find on the mountain, and overestimated myself when I thought I was still the type of person to take advantage of it.
From a suddenly quiet shuttle van, I looked out on the backs of some of the resort's 12 centrally located inns and lodges. I could only see the backs of them because the resort village was built as a place to walk—or ski. The snow-covered lanes are on a grade down to the lifts, so you can ski out of your hotel door in the morning and back to it in the afternoon. Though the inns in the village centre cater to most tastes and budgets, a further 24 diverse chalet clusters spread down and up the valley. Most are ski-in and all are serviced by the resort's free shuttle bus.
The airport van dropped me in front of the nearly finished Delta Residences, a new wing of self-contained and expansive suites abutting the hotel. I checked in, then crept—as well as you can creep with a ski bag over your shoulder—into my room, knowing my brother, sister-in-law and two nephews would be sleeping off their drive. On the table was an envelope with a note inside. "We would like to take this opportunity to welcome you and your owner to the Delta Sun Peaks Resort," it read.
Apparently Leo, their new Labrador retriever, was here also. What followed was a list of all the reasons a dog could expect a pleasant stay at the welcoming hotel. Very convincing.
***********
"Hey, Logan, want to go skiing with Nancy Greene?" my brother Tyler asked.
"Nancy Greene?" Logan replied with an expression only a confused six-year-old can muster. "Nancy Greene is a lake."
My brother's family lives in Rossland, B.C., former hometown of Sun Peaks's director of skiing Nancy Greene. After Greene won Olympic gold and her second World Cup title in 1968, Rossland honoured her by naming a lake north of town after her. Tyler and his family camp at Nancy Greene Lake in the summer, and it took a while to convince Logan that if we showed up at the bottom of the Sundance Express at the right time we could have the lake's namesake show us around her mountain.
Nancy Greene was waiting, as the sign said she would be, next to the snow playground that's part of the Sundance Playschool and Sun Tots ski program complex. Together they bolster Sun Peaks's claim to being the best place to take kids as young as three if you want to have pros teach them how to ski.
It's a mentality that runs deep at Sun Peaks—and all the way to the top. Though her non-tarnishing Olympic hardware is proof she knows how to get down a hill quickly, Greene was in no hurry as she led us on the kind of meandering path kids naturally follow. When we pulled over to show the kids one of the many locally decorated Christmas trees that dot the runs, she convinced Kian to dig for gifts.
I don't know if his faith in Santa Claus or his arm strength gave out first, but before long he was back on his feet and traversing, as kids do, straight across the hill. With one eye over my shoulder on alert for overtaking skiers, I watched him as he disappeared into one of the many twisting trails that dip and turn through the wooded fringes of the run. While other resorts might have run out of bamboo trying to block off these boreal bobsled courses, Greene spoke proudly about how the one-lane nature trails at Sun Peaks were a cut above those at other ski areas.
In case you ever tire of these forest forays (which I've decided is something kids never do), you have easy recourse to more varied terrain. Spread over three mountains, the 122 trails of Sun Peaks are 58 per cent intermediate and a full 32 per cent expert. The north-facing Mount Morrisey on the south side of the resort offers you a holiday from your ski holiday, with an empty quad chair and gently graded blue trails broken up with enough manicured pods of trees to give the area a playground-like feel.
With two terrain parks and long, blue cruisers, Sundance Peak is similarly stressfree. It's Mount Tod, with a vertical drop of 881 metres and the great majority of bumps, steeps, trees and bowls, that makes Sun Peaks much more than a place to lean back and watch the trees go by.
And it was here, riding the 19-minutelong Burfield quad classic, that I gazed down on hectares of fresh powder stashes and realized the true worth of family resorts. The last snowfall had been five days previous, but everywhere I looked there were untracked lines, below rock faces, between tree banks, anywhere that wasn't immediately easy to get to, still holding a dozen or so turns of B.C. white.
True, there were skiers quietly going about hitting the lines, but with almost 1,500 hectares to get through, the skiers who came to Sun Peaks for the ungroomed and untracked were in the silent minority.
With this realization a new light shone on the peaks for me. Sun Peaks may not have the massive terrain of Whistler or Jackson Hole, but with a good number of the skiers content with groomers or else taking advantage of the tubing park, bungee trampoline, horse rides, snowshoe tours, dogsledding, Nordic skiing and skating rink, it leaves ample alpine for anyone who comes here to enjoy any type of skiing they like without having to fight for fresh lines.
But I had to admit I might not be offering as much competition for those lines from now on. We can probably put it down to the thoroughness of evolution that the moment youthful exuberance begins to leave your thigh muscles coincides with the beginning of the child-rearing years. Those blue runs that seemed benign but boring to me before, take on a new appeal when you get to watch two kids who call you uncle get noticeably better every other run.
Getting a three-year-old on the chair will always be nerve-racking, and trying to convince a six-year-old on a gloriously sunny day that no, we shouldn't put the chair's bad-weather bubble down just for fun can get tedious. But when they look at you and ask what run you want to do next and you realize you want to ski whatever run they want to ski, then it's easy to embrace a new appreciation for family resorts.
SUN PEAKS FACTS & STATS
GETTING THERE: Skiers coming from the east will now have more choices to avoid detouring through Vancouver on the way to Kamloops. Starting December 15, WestJet will be flying directly into Kamloops from Calgary daily, joining a flight path already plied by Air Canada. The Kamloops airport is only 45 minutes from the resort, making Kamloops the new preferred arrival gate instead of Kelowna (2.5 hours away).

SUMMIT ELEVATION: 2,152 metres

VERTICAL DROP: 881 metres

NUMBER OF NAMED RUNS: 122

LONGEST RUN: 8 km

TERRAIN: 10% novice, 58% intermediate, 32% expert

TERRAIN PARKS: 3

LIFTS: 12 (three high-speed)

SNOWFALL: 559 cm

ADULT LIFT TICKET: $67

NEW THIS YEAR: "The Other Way," an intermediate run cut off "5-Mile"; two new groomers; and more snowmaking capacity.

CONTACT: Sun Peaks Resort 800/807-3257

MORE PLANNING: www.hellobc.com, 800/435-562

Tags: British Columbia, family ski vacation, kids skiing, ski holidays, ski vacation, Sun Peaks