Reading Time:
2
minutes
Tip and Photos by John Schwirtlich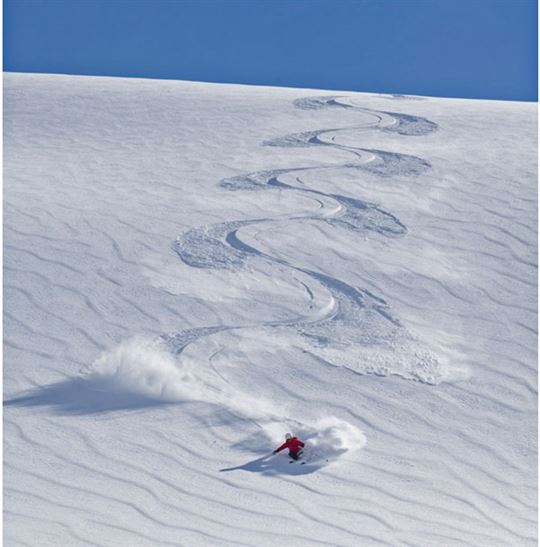 Often when skiers drop into the deep, they make the same old turn regardless of the terrain steepness or snow conditions. But the pitch of a particular run as well as the conditions (whether it's deep powder, hardpack or ice) should dictate your turn shape.
Here, Mike Wiegele heli-ski guide Jason Martin provides an example of how he would complete his turns in moderately steep powder terrain. As the terrain becomes steeper, Jason adjusts his turns to become more rounded by using a strong steering effort from the legs to bring the skis across the fall line.
Round, completed turns on the steepest part of a run will allow you to maintain speed instead of accelerating too much and potentially feeling out of control.
Be aware of upcoming changes in terrain and plan ahead. That way, you'll have more fun on the slope whether it's in the powder or on the corduroy.
> Adjust your turn shape relative to terrain to maintain speed and control.
> Think rounder, completed turns on steep terrain. On gentler terrain, relax, feel free to lengthen your turns, and don't feel so compelled to complete your turns or have your skis cross the fall line so perpendicularly.
> Be aware of snow conditions since this plays a big part in turn-shape tactics.
> This tip can be used by all abilities on a variety of terrain and snow conditions, not just in the powder at Mike Wiegele's in Blue River, B.C.
Professional photographer John Schwirtlich of Certain Images also happens to be a CSIA Level IV instructor and CSGA heli-ski guide with Mike Wiegele Helicopter Skiing.