Reading Time:
5
minutes
Join the club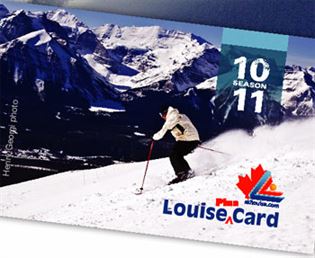 The Louise Plus Card comes with a nice plus this season, two actually: Kicking Horse and Castle Mountain have been added to the loyalty skipass program. $99 buys you two days on the hill of your choice and $50 lift tickets for the rest of the season. And the fine print? Only until Christmas Eve and only to "Western Canadians"—talk about Eastern Alienation! www.louisecard.com/benefits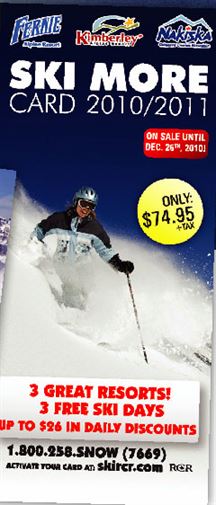 All Canadian skiers can take advantage of the Ski More Card. Three days at Fernie, Kimberley or Nakiska are yours for $75 and afterward, discounts up to $26 off their ticket-wicket prices and other ski areas in Alberta and Montana. Both cards offer discounts on eats, sleeps, playtime and shopping. On sale until Boxing Day!
Your winter assignment…
How does an all-inclusive trip to Sun Peaks for you and three buddies sound? Now, how about if Sun Peaks picks up the whole tab? No need to write a thousand words, all you have to do is convince them you're worthy by sending in your best photo. Time to get creative. Work your passion for winter into the snapshot and include some iconic hometown landmark to win Snowbum II: The Snapshot. Part of your prize is a day with a pro videographer creating your own winter vid—including editing, music… the works! Assignments are due March 16. More info: www.snowbumcanada.com
The cost of admission
With new rankings going into 2011, Olympian ski racers and Ottawa natives Ryan Semple and Patrick Biggs (flanking Kevin Pidgeon of Tommy & Lefebvre above), are now forced to pay their way on the national team if they wish to make their next Olympic and World Cup dreams come true. But that reality doesn't come cheaply: roughly $80,000 covers one racer's expenses for the year, just so he can represent Canada. To the rescue, the Ottawa alpine ski community teamed up to mix $1,000 cocktails during the grand opening of the new Tommy & Lefebvre store on Bank Street. Families, media, fans, industry players and philanthropists showed up to support their local stars by getting the pair almost halfway onto the team. Supporting their comrades were teammates Érik Guay, Dustin Cook and Julien Cousineau. Said Semple, "Even though skiing might be an individual sport, we have each other's backs to represent Canada as a team." Fresh from technical training in France, Biggs is confident in the future that lies ahead. "We're not done yet; Sochi could be the place where we shine—and happily give back to our community." Donations and sponsors always welcome.
—Marie-Piere Belisle-Kennedy
Up and at 'em
Big news for Marmot Basin lovers: two years after installing the Canadian Rockies Express, Jasper National Park's ski resort has been given the go-ahead for two more lifts. Next summer, the upper mountain's Paradise Express quad will replace the existing Paradise triple, which in turn will replace the School House T-bar. The $7-million price tag brings to $25 million the capital improvements budget spent since new Marmot shareholders assumed ownership in 2003. Up, up and away!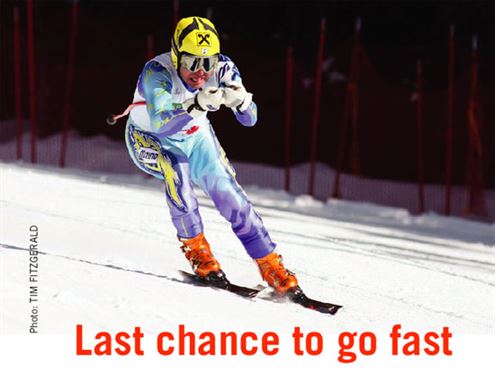 It's over and out for the Over the Hill Downhill. After 30 years, Legal, Insurance & Safety-Nazi Fun-Suckers PLC will bring the country's foremost recreational speed event to a close—but not before one final scream. The Canaccord Capital Over the Hill Downhill at Silver Star runs Sunday, February 8, with most competitors arriving anywhere from a few days to a week prior, for training camp. (And for the week before that, there's an open invite to K1s, who use the course as a training venue.) Although roughly 170 bibs have been standing in the start gate over the last few years, in its heydays the event had up to 350 competitors. Local boy Murray Smith may have won it more than any other, but plenty of big names have been involved, including many from the national team roster. One of the few Masters speed events left in Canada invites individuals (75 per cent of whom are male, from 18 to over-85) and teams of four using combined ages. After Saturday training runs, female racers (and their times) will be auctioned off in the evening. Think you're fast, but a little rusty? Join the gang for a week of expert coaching first: lessons@skisilverstar.com or 250/558-6065.
History can be gripping
The modern "step-in" binding may not be solely attributed to Georges Salomon, but its creation certainly would have been delayed (and more lower legs fractured) if the French manufacturer of saw blades hadn't turned his attention to alpine ski bindings after the Second World War. Salomon died in Annecy, France, in October at age 84. If you can remember skiing in the '70s, it seemed as though Salomon had more than half the ski binding market. By the '80s the company had successfully charged into monocoque skis, rear-entry boots, race skis and, later still, apparel. Adidas bought Salomon (but eventually sold it to Atomic-owner Amer Sports) for more than $1 billion in 1997. The company announced last winter it was getting out of racing entirely and today, the brand that once wanted to be under or over every skier in the lift line, now concentrates its marketing efforts on the freeride genre.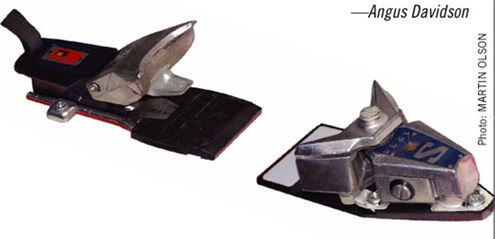 No more Miller time
At 86, Warren Miller may have retired from filmmaking, but the ski-flick icon's name is still apparently worth a year-long legal battle. The dispute started in September 2009 when Miller appeared in Refresh, a ski movie by Level 1 Productions. Warren Miller Entertainment (WME), the company that bears Miller's name (but hasn't had his involvement for two decades), immediately sued Level 1 for trademark infringement. Miller, himself, backed Level 1 and the conflict shifted to arbitration between WME and Miller. Based on the 1988 sale of Miller's production company to the predecessor of WME, the arbitrators finally decided in October that WME owned exclusive rights to Miller within the scope of ski films. The arbitration settlement technically reopened the initial lawsuit between WME and Level 1. As far as whether or not the case will actually proceed, WME is "currently considering our options." Miller, meanwhile, is staying off the silver screen—and opting for a speaking tour.
—Eric Wagnon
How's my driving?
When it comes to cat-skiing, where's the fastest mo' fo' on snow? If you were about to say somewhere in the Kootenays or Monashees, you're way off—a long way off. Quietly heading into its third season, Quebec's Ski ChicChocs has added a second set of wheels that may not be quite Formula 1 ready, but close. On the flats, the BV206 Swedish military transport machine can handle groups up to 20 and can do 50 kph! Seemingly known to only a few Anglo skiers in Canada, Ski ChicChocs (and its friendly competitor Vallée Taconique nearby) quietly share terrain in Quebec's remote Gaspé National Park. Twenty 1,000-metre peaks rise above the St. Lawrence and seasonal snowfalls average above seven metres. (More than five fell during last year's dry El Niño winter.) Sure, it's a bit of a trek to get to but it wouldn't be an adventure if it was easy, now would it? www.skichicchocs.com