---
The ultimate yard sale
?After 35 years, Vancouver-based Intrawest, the former owner of Whistler-Blackcomb, Tremblant, CMH Heliskiing as well as other ski resorts and major real estate ventures in Canada, U.S. and the Alps, is packing up headquarters and heading south to Colorado. The iconic B.C. real estate company bought Blackcomb in 1986 and Whistler in 1997, but now maintains only a 20 per cent interest in North America's largest ski resort. In 2006, Intrawest (and nearly $1 billion of its debt) was bought by New York-based Fortress Investment, which began selling off many holdings. Intrawest still owns Steamboat and operates Winter Park, both in Colorado, although no announcement has been made as to where in Colorado the new offices will be. Colorado is also home, of course, to Vail Resorts Inc., a long-time wannabe-owner of Whistler-Blackcomb.
---
The man with two-million feet
? For Greg Hill, Thursday, December 30, 2010 began like many previous days—skinning up 3,500 feet of untracked Rogers Pass, B.C., powder. But that day, he watched his altimeter reach a number he'd dreamt of since 1999—a self-propelled two-million vertical feet (610,000 vertical metres just doesn't have the same ring to it) skied in a single calendar year. Then with his wife, Tracey, family members and friends popping champagne, Hill broke down.
"It felt amazing," Hill said. "It's an arbitrary number, but it was very moving to watch it roll over."
Having climbed and skied one-million vertical feet during 2004-05, and setting a world record skiing 50,000 feet in 24 hours with Colorado's Jimmy Faust in 2006, Hill, 35, said he simply wanted to test his own limits. "I wanted to see what I could do if I really pushed myself, dedicated myself and stayed motivated for something that large."
During 2010 Hill skied 266 days, 130 of them solo, and averaged 7,550 feet on each. Eight months were in North America and four in Chile, where he battled 70 kph winds. His low point was the one-million mark, when he was two weeks behind schedule. Persevering, he eventually summited 71 mountains, including one monster 12-hour, 23,000-foot day, and made nine first descents.
The wild card turned out to be social media, attracting interest and ski partners and inspiring others to ski their own 5,500-foot days.
Hill's next goal? "I want to make a cool movie that will continue to inspire people so it doesn't just end, but keeps on reverberating."
—Lynn Martel
---
Mogul Queen Jenn Heil abdicates
?After almost a decade ruling the mogul world, Jenn Heil announced she will retire at the end of the season to turn her attention to her  favourite charitable causes as well as completing her business degree. Heil's enviable and hefty résumé includes:
Olympic Gold (2006)
Olympic Silver (2010)
FIS World Cup crystal globes: 5
FIS World Championships podiums: 4
World Cup podiums: 54
---
Winning the big one
?Although he had to be convinced he'd won, Tom Purtell is a powder believer now. The Owen Sound, Ontario, native and his wife are getting ready to dive deep into the winnings of Tourism Fernie's Powderhounds contest: three powder-choked days at luxe Island Lake Lodge cat-skiing, and another three at Fernie Alpine Resort's Lizard Creek Lodge. Play, win, play some more!
---
Snow Camp
?Can't make it to summer camp in Chile, Blackcomb or Zermatt? Fear not. Determined jibbers have come up with a way to ski and jump high into mid-July, thanks to the Mont Avila Snowpark just north of Montreal in the Laurentians. The secret lies in preserving a whole lot of snow at season's end. Akamp manages to provide a full winter-size park in Quebec's summer heat that includes a 10-metre jump and ramps. It boasts some of the best freeskiing coaching staff around, and features local and international legend Philou Poirier, the big daddy of the "switchback flip" and grand fromage around Tremblant. Rounding out the crew is freestyle film star Vinnie Dorion, eager to share tricks if you're willing to put in the airtime and ego bruising. Regardless of age, gender or ability, campers benefit from the same personal coaching while soaking up the summer sunshine at a lower altitude. akamp.ca
—Marie-Piere Belisle-Kennedy
Ski Hill For Sale: $299
---
?Okay, that's a bit misleading. For 300 bucks, you're actually buying a lifetime membership in My Mountain Co-operative (formerly Shames Mountain Ski Corporation), a community ski hill located 30 km west of Terrace, B.C. The arrangement may sound familiar to thousands of people who belong to private ski clubs in Ontario, but the hills differ exponentially when comparing terrain, snowfall—and fees. Shames Mountain has been looking for a buyer for some time, but it wasn't until the Terrace-based society Friends of Shames got together that things really started to roll.
Darryl Tucker, a founding director of the co-op, says it's not just skiers who are winners. "Terrace has lost four lumber mills in the last 10 years and been thoroughly spanked by the tanking economy. But we have fantastic natural assets right on our doorstep, so taking advantage of them is a no-brainer."
Natural assets is right. Shames claims an average annual snowfall of 15 metres per season, a record for the most annual snowfall of any lift-operated ski area in North America. Not only can you own a ski hill, but you'll own one that's blessed by the snow gods. www.mymountaincoop.ca
—Tania Millen
---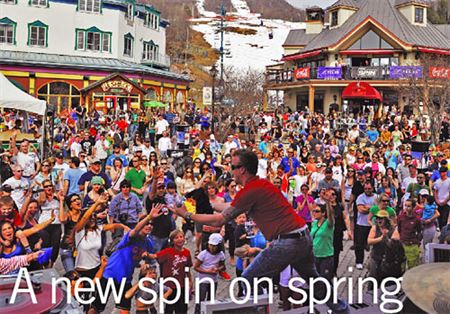 ?Over four weekends from March 18 to April 10, Tremblant's Sïkwâm spring festival promises to cure the winter blues with skiing, competitions and free outdoor concerts. There's the
popular T4 competition that features two skiers and two boarders going head-to-head with spectacular jumps, while local heroes show off their best stunts. Girls will own the mountain with the return of the Flaunt It competition, and other crowd-pleasers include the Boardercross and Skiercross events, where competitors hurl themselves down obstacle courses with sharp turns and jumps on the way to the finish line.
New this year is the culinary workshops throughout Tremblant's pedestrian village. And since music is a must for a real party, ongoing live shows will be on the Place St-Bernard stage. Load up on your Vitamin D in the Sun Zone, and indulge your penchant for eye candy with the photography exhibition around town. www.telussikwam.ca
—Marie-Piere Belisle-Kennedy
---
America/Canada differences, number 1,000
?For five years, Colorado state law has included a civil infraction (and $1,000 fine) for
skiers and boarders who duck ropes instead of exiting ski areas via established backcountry
gates. Now Washington is debating a similar bill that would make the practice a civil
infraction. But just the American term "out of bounds," (let alone knowing what's not
allowed) can bring confusion in Canada. In most cases north of the border, skiing Crown
Land is no different than using it for hiking, snowmobiling, camping or fishing. Skiing a
temporarily or permanently closed area, however, is always a different matter. Not sure of
the difference? Ask a patrol before heading off-piste.

Tags: Blackcomb, Colorado, Fernie, Greg Hill, Intrawest, Jenn Heil, Jimmy Faust, Lizard Creek Lodge, Mont Avila, Roger's Pass, Shames Mountain, skiing out of bounds, Steamboat, Tremblant, Vail, Whistler, Winter Park