---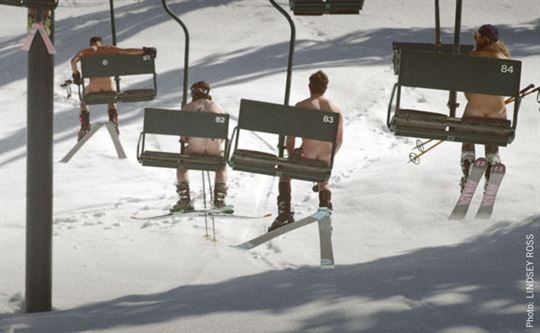 Years ago I wrote something in The Globe and Mail about stuff skiers aren't allowed to do anymore, and the many responses were pretty much unanimous with: "Yeah, when did skiers become so serious?" Sometimes, I think we're getting even more so.
Are you old enough to remember when skiing with a wineskin was commonplace? Other than leakage, do you remember this "dangerous" activity causing many (any) accidents?
How about driving in ski boots? I'm not talking about road-tripping from Saskatchewan to Kimberley, B.C., in your rear-entries, but surely there's been stupider things done behind the wheel. I've heard there's now a law on the books in France that doesn't just forbid improper footwear, but a ban specifically on ski boots ever touching the gas, brake or clutch.
No, it's hard to imagine skiing with a kid in a backpack nowadays, but I'll admit it here, all three of mine did. Reasonable precautions like having a spouse play tail-gunner to shoo away punters who come too close as well as choosing an appropriately quiet day and terrain would have little impact on the numbers of stern rebukes from today's self-designated safety types—it looks dangerous, therefore it is.
I also used to regularly take my dog up the chairlift for last run at our home hill. In classic "ask forgiveness, not permission" style, I could scoot up to the bullwheel with 30 kilos of Labrador and a pair of poles in my arms without the surprised liftee even slowing the cable down, let alone question whether or not it was "allowed."
I've had friends ride up triple on a double, dance on the bar at après ski, hike up and ski down at night, leave the safety bar up, and ski down the closed T-bar or Poma-lift track after a storm. I know a guy who smoked in a lift line once—I even have friends who ski without a helmet sometimes. Yep, I've hung around with a rough crowd.
I had a good chuckle back in October watching a bunch of ski bums in Sweetgrass Productions' latest B.C. and Alaska ski flick, Valhalla. Even though the segment is only a few minutes long, the tone, freedom and spirit of the entire movie (and what I think is missing in a lot of the world of skiing these days) is quickly exposed as throngs of skiers first make their way up the lift before careening their way down both a sun-baked slope and later Whitewater's legendary steeps and powder—all buck-naked.
Shot at Whitewater and in the backcountry nearby, in both February and April, filmmaker Nick Waggoner found "a lot of inspiration for Valhalla in the films and photos of the '60s and '70s…fun and freedom." Watching the clip immediately brought back childhood memories of everyone laughing as Mont-Sainte-Anne ski patrollers streaked through the chalet during a busy lunch hour in the early '70s.
Co–director Ben Sturgulewski was initially faced with "grey skies and mediocre snow," said Waggoner, but "when everyone saw the [initial] footage, it was contagious, and before long we just had to cue the Zeppelin and people's clothes started coming off—it was amazing!"
I can't imagine skiing naked—my kibble and bits probably wouldn't descend until June—but it was so refreshing to see the skiers' spirit of another generation alive—and frisky. A complimentary Waggoner said, "I honestly don't know that many places on earth where you'd be able to convince people to do these sorts of things. I think the location, Nelson and Whitewater, provided an environment where everything is possible."
Waggoner admitted to having to cut a lot of "flopping and flapping" to keep things tasteful. I don't know why I was surprised by the "shock" when I sent it to some friends south of the border and laughter from within Canada. My kids and their friends were positively gleeful on the first of many viewings, giggling the same way they do when they're skinny-dipping with the neighbours on a hot summer night in Georgian Bay. It also reminded me that skiers don't always have to maintain the decorum of golfers or yachtsmen—sometimes we're allowed to push the envelope.
If the Valhalla film tour has already come and gone through your town, it's always available at iTunes and on DVD at: sweetgrass-productions.com. Or if you just want to shock your American cousins, post the following link: http://vimeo.com/77177549.
---
Tags: First Tracks, Nelson, Sweetgrass Productions, Valhalla, Whitewater