Reading Time:
3
minutes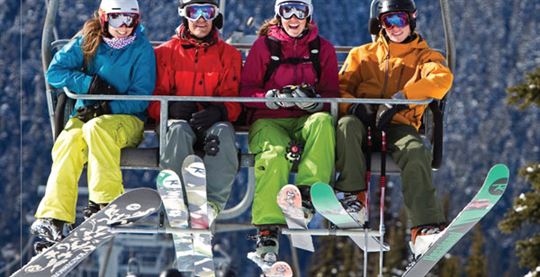 The Facebook status read simply:
"Anyone in the village and maybe
want to put some $$ into the meter
for my parking? Old, red jetta parked at crystal.
Car's open. Thanks!"
When I first saw my friend's post last
summer while rushing through downtown
Vancouver, I chuckled to myself. After scrolling
through the comments and seeing that within a
matter of minutes the plea had been answered
and her likely ticket averted, I was reminded of
just how far removed Whistler is from the city.
A few days later, perhaps with the
Vancouver-Whistler distinction still at the
forefront of my thoughts, a strange experience
in a shoe store drove me to wonder whether
much of what Whistler offers goes unnoticed or
underappreciated. I now suspect that it does.
Few would disagree that Whistler-Blackcomb
is the country's top ski destination—one
of the world's best. No surprise it's also
home to a massive number of dedicated
skiers ranging from Olympic contenders,
ski industry professionals and freeski movie
stars, to legions of ski instructors and lifelong
ski bums. However, as a result of being so
well represented at the hardcore end of the
spectrum, many potential visitors probably don't
fully appreciate that Whistler-Blackcomb also
does the tamer side of skiing exceedingly well.
Sometimes beginners, intermediates,
children and families need to be reminded that
W-B is the destination for a ski vacation even
if the exhilarating side of the sport is of little
interest to them. For starters, it has ski school
programs, groomers, spas, peripheral tours and
adventures to rival any resort that markets
itself to the ordinary skier. Whistler also offers
those searching for the less adventurous of
skiing all the incidental benefits that flow from
dominating the hardcore market. Although
it may seem counterintuitive, the aspects of
Whistler-Blackcomb that might scare some
intermediate skiers away are also why it can
offer them a ski experience that just simply
isn't available at many less prominent and
perhaps less intimidating resorts.
The reason for this is simple: Whistler-Blackcomb
is the choice of so many of North
America's best and most dedicated skiers
that it's truly a mecca for all things skiing.
The instructional programs are overflowing
with top teaching professionals. Specialized
camps and guiding programs are often run or
provided by former ski champions. The shops
are staffed by aspiring ski stars and lifelong
skiers knowledgeable and informed about the
gear that lines their walls. Similarly, much of
what is developing in the ski industry, whether
in terms of gear, ski progression or related
services, comes to Whistler first. A perfect
example of this is the implementation a few
seasons ago of GPS tracking devices in its
children's programs.
For those, particularly young kids, who
learn and develop by watching, the slopes of
Whistler are filled with skiers to emulate. Of
course, the resort also offers the enjoyment
of simply being immersed in the centre of the
ski world for a short period of time. Kids might
refer to this as the "cool" aspect of Whistler
(although they probably use some other term).
Parents may or may not view such "coolness"
as a benefit, but regardless of how you refer to
it, there's something about being in the heart
of the action, skiing among magazine and
movie ski stars, that can make the memories
and stories just a bit more enjoyable to recount.
So getting back to my shoe store
experience, I was in the market for a new
pair of minimalist running shoes and, after
explaining my criteria to the salesperson,
was presented with "How about this one?"
followed by "I think it's pretty much the best
shoe we have because way more people buy
this shoe than any other one we have." While
walking out the door about two seconds later,
I began to consider the distinction between
the Vancouver shoe salesman and the usual
staff in Whistler's technical shops, which made
me understand that Whistler has a lot to offer
every skier. Ironically, having now put pen to
paper in an attempt to explain my reasoning,
I realize that it would have been simpler to
borrow the logic of my knowledgeable sales
associate and present my case as follows:
Whistler is pretty much the best destination
for all types of skiers because way more good
skiers are based in Whistler than any other resort in the country.