Reading Time:
3
minutes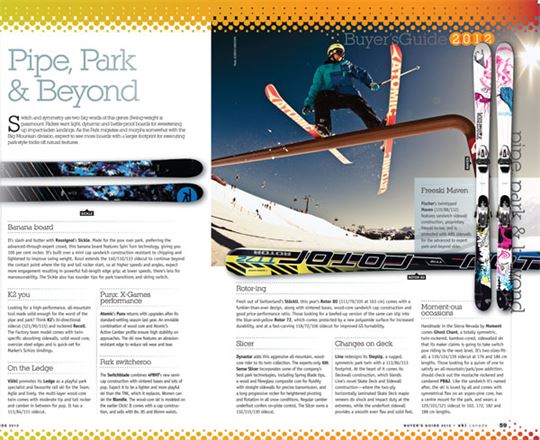 Switch and symmetry are two big words of this genre. Swing-weight is paramount. Riders want light, dynamic and battle-proof boards for sweetening up impact-laden landings. As the Park migrates and morphs somewhat with the Big Mountain division, expect to see more boards with a larger footprint for executing park-style tricks off natural features.
Banana board
It's slash and butter with Rossignol's Sickle. Made for the pow over park, preferring the advanced-through-expert crowd, this banana board features Spin Turn technology, giving you 100 per cent rocker. It's built over a mini cap sandwich construction resistant to chipping and lightened to improve swing weight. Rossi extends the 140/110/133 sidecut to continue beyond the contact point where the tip and tail rocker start, so at higher speeds and angles, expect more engagement resulting in powerful full-length edge grip; at lower speeds, there's less for manoeuvrability. The Sickle also has rounder tips for park transitions and skiing switch.
K2 you
Looking for a high-performance, all-mountain tool made solid enough for the worst of the pipe and park? Think K2's bi-directional sidecut (121/90/115) and rockered Recoil. The Factory team model comes with twin-specific absorbing sidewalls, solid wood core, oversize steel edges and is quick-set for Marker's Schizo bindings.
On the Ledge
Völkl promotes its Ledge as a playful park specialist and favourite rail ski for the Team. Agile and lively, the multi-layer wood-core twin comes with moderate tip and tail rocker and camber in between for pop. It has a 111/84/111 sidecut.
Punx: X-Games performance
Atomic's Punx returns with upgrades after its standard-setting season last year. An enviable combination of wood core and Atomic's Active Camber profile ensure high stability on approaches. The ski now features an abrasion-resistant edge to reduce rail wear and tear.
Park switcheroo
The Switchblade combines 4FRNT's new semi-cap construction with sintered bases and lots of pop. Expect it to be a lighter and more playful ski than the TNK, which it replaces. Women can ski the Blondie. The wood-core ski is modeled on the earlier Click! It comes with a cap construction, and sells with 84, 85 and 86mm waists. torsional stiffness for both powder mornings and laying afternoon tracks. Under the hood,
look for a healthy mix of bamboo, fibreglass and carbon.
Freeski Maven
Fischer's twintipped Maven (119/88/112) features sandwich sidewall construction, proprietary Freeski rocker, and is protected with ABS sidewalls for the advanced to expert park-and-beyond skier.
Rotor-ing
Fresh out of Switzerland's Stöckli, this year's Rotor 80 (111/79/105 at 163 cm) comes with a funkier-than-ever design, along with sintered bases, wood-core sandwich cap construction and good price-performance ratio. Those looking for a beefed-up version of the same can slip into the blue-and-yellow Rotor 72, which comes protected by a new polyamide surface for increased durability, and at a fast-carving 118/72/106 sidecut for improved GS turnability.
Moment-ous occasions
Handmade in the Sierra Nevada by Moment comes Ghost Chant, a totally symmetric, twin-rockered, bamboo-cored, sidewalled ski that its maker claims is going to take switch pow riding to the next level. It's two-sizes-fit-all: a 139/124/139 sidecut at 176 and 186 cm lengths. Those looking for a quiver of one to satisfy an all-mountain/park/pow addiction, should check out the mustache rockered and cambered PB&J. Like the sandwich it's named after, the ski is loved by all and comes with symmetrical flex on an aspen-pine core, has a centre mount for the park, and wears a 129/101/121 sidecut in 162, 172, 182 and
188 cm lengths.
Slicer
Dynastar adds this aggressive all-mountain, wood-core rider to its twin collection. The experts-only 6th Sense Slicer incorporates some of the company's best park technologies, including Spring Blade tips, a wood and fibreglass composite core for fluidity with straight sidewalls for precise transmission, and a long progressive rocker for heightened pivoting and flotation in all snow conditions. Regular camber
underfoot confers on-piste control. The Slicer owns a 132/115/130 sidecut.
Changes on deck
Line redesigns its StepUp, a rugged, symmetric park twin with a 113/86/113 footprint. At the heart of it comes its Deckwall construction, which blends Line's novel Skate Deck and Sidewall construction—where the two-ply horizontally laminated Skate Deck maple veneers do shock and impact duty at the extremes, while the underfoot sidewall provides a smooth even flex and solid feel.