Reading Time:
3
minutes
From the Fall 2009 issue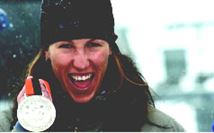 Aleisha Cline isn't your average mother of two. She can kick butt on skis and is poised to take home hardware at the 2010 Winter Games in skiercross.
Cline, 39, came out of retirement last year to try for the 2010 Olympics, and admits that competing around the world is almost a holiday compared to parenting a preschooler and toddler. They don't call her the Mother Dominator for nothing. Cline has four skiercross X-Games gold medals, 16 international wins between 2002 and 2004 and is one of the early favourites heading into 2010.
Before skiercross became an official Olympic sport, Cline retired to start a family but the thought of an Olympic gold medal brought her back to the snow. She's one of 13 Canadian athletes on the women's National Ski Cross World Cup team, from which the Olympians will be chosen.
Toddlers in tow or not, skiercross isn't a walk in the park. It's been called roller derby on skis and pits four to six athletes against each other. Skiers race down a course riddled with rollers, jumps and turns at speeds upwards of 70 kph in a single elimination format.
Cline lives in Squamish, B.C., and admits she's addicted to speed. Her season kicks off with a World Cup December 21-22 in San Candido, Italy. So watch out because Cline is gunning for gold and you don't mess with a mom.
Heil the rainmaker
Freestyle aerialist Jennifer Heil could break Canada's home turf Olympic gold-medal drought. The Canucks have never won gold on Canadian soil, but in 2010 Heil might just start a medal monsoon.
The 25-year-old from Spruce Grove, Alberta, could again be Canada's bellwether since Heil is on the Cypress Mountain course the day after the opening ceremonies. Should she win, she would become the first Canadian to capture an Olympic gold medal on home soil. Although Karen Percy won two bronze in Calgary in 1988, no Canadians won gold there or in Montreal in 1976 for that matter.
Telling numbers
Emily Brydon and Kelly Vanderbeek, members of the Canadian Alpine Ski Team, are gearing up for an Olympic year. For every Olympic medal won, thousands of eggs and poles have been sacrificed.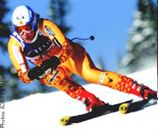 Emily Brydon
Q: How many runs on the Olympic course so far?
A: Eight downhill and 30 super-G runs.
Q: Number of days in the gym so far this year?
A: 321 (one more day than Kelly!).
Q: How many poles broken?
A: I broke one accidentally and the ones snapped in half over the knees, countless.
Q: Number of team members gunning for gold in 2010?
A: Um, pardon…didn't get the memo… what's going on in 2010?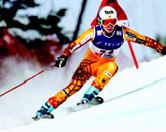 Kelly Vanderbeek
Q: How many runs on the Olympic course so far?
A: Between freeskiing, training and racing the World Cup there last year, I've skied the Olympic track about 120 times. However, in full-race mode (all the gates, jumps, timing) we've run the full downhill track eight times.
Q: Number of days in the gym so far this year?
A: 320 days in the gym and sometimes doing two or three sessions a day.
Q: How many eggs eaten?
A: In a year I consume about 440 eggs (Costco is where it's at for cheap omega 3 eggs!).
Q: Number of skis used?
A: I would guess I test and work through about 10 pairs of downhill skis, eight pairs of SG skis, five pairs of GS skis and one pair of slalom skis (yeah, I don't really do the slalom thing much anymore) in a year. Plus, I usually work through one pair of powder skis a year, too.