---
With Ontario's slopes shuttered by pandemic restrictions last season, Quebec's Gatineau Hills proved the perfect antidote.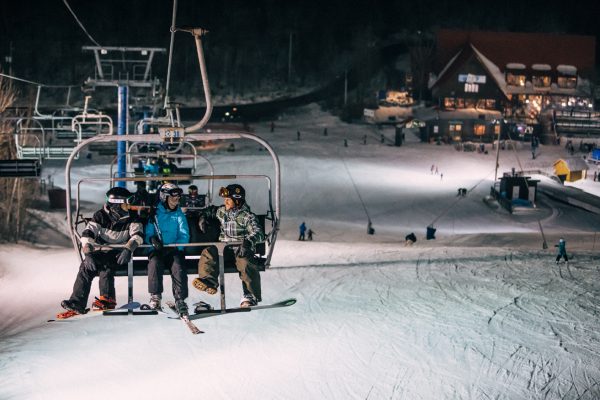 The jubilance I felt as we crossed the Macdonald-Cartier Bridge was briefly interrupted by a drowsy observation from the back seat: "This place is a ghost town."
Not a saloon-door-swingin'-on-rusty-ol'-hinges kind of ghost town, or even a regular town populated by ghosts. The municipality in question—Gatineau, Quebec, on a Thursday night last February—was as deserted as it was snow-encrusted.
That emptiness brought to mind all the shuttered ski areas near our distant Toronto home. Eight weeks, two days and 17 hours earlier—on Boxing Day to be precise—the Ontario government closed every hill in the province in a misguided attempt to limit the spread of COVID-19, a deadly virus that is vastly more transmissible indoors (where ski hills aren't), in crowds (that don't form on ski hills), and by people who aren't wearing masks (similar to those worn while skiing).
As well as preventing us from taking part in an inherently distanced and masked outdoor activity that my family loves (damn right I'm still bitter), the Lame Ontario Ski Shutdown (LOSS) was unique in North America. I could go to the burbs and visit a busy Costco store to buy a four-pound tub of peanut butter pretzels—an essential item if there ever was one—but skiing? Forget it.
LOSS also created an unprecedented geographical anomaly. With the U.S. land border closed, Camp Fortune was the closest ski area we could reach by car from Toronto. Pre-pandemic, I wouldn't have dreamt of driving five hours just to ski in the Gatineau Hills north of Ottawa. There'd have to be some Rideau Canal-skating, Beavertail-eating and museum-strolling thrown in, along with plenty of child-ignoring as my wife, Angela, and I often took the opportunity to turn our two daughters over to their doting grandparents.
But with closed signs lining the World's Largest Skating Rink, and with my parents social-distancing like they'd never social-distanced before, a long-weekend family road trip to all five Gatineau ski areas was hastily organized as soon as Ontario's stay-at-home order was lifted in mid-February. Our mission: To get something, anything, out of LOSS.
VERTIGINOUS VORLAGE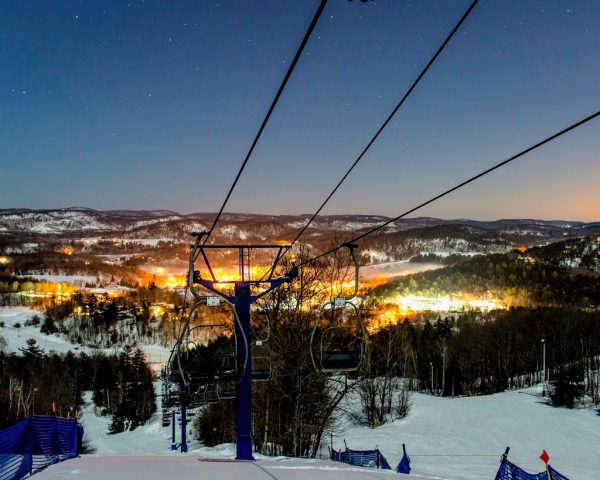 We weren't the only Torontonians with a bead on the Gatineaus. While Ottawans have always made up the lion's share of cross-border skiers in the region, LOSS appeared to have prompted an influx of Ontario visitors from farther afield.
Rolling into the Vorlage parking lot on Friday morning, we spotted ads for Greater Toronto Area car dealerships framing several licence plates. Waiting in line to collect our pre-purchased lift tickets, I overheard rueful references to Blue Mountain. When I reached the plexiglass-ensconced attendant, I asked if she'd seen an uptick in visitors from big bad Toronto. "That's pretty much all we have this morning," she replied, gesturing toward several small clusters of skiers waiting for the nearest chairlift to open.
That double chair, one of three at Vorlage, carried us up 130 vertical metres to the summit overlooking an ice-choked Gatineau River as it meanders through the antiques-choked village of Wakefield. Having waited so long to unleash the Atomic Vantage 90 Ti's I'd unwrapped Christmas morning, I wasted no time in barrelling down Carnaval, a nicely groomed single-black that rouses my ski legs from their pandemic-induced slumber. The fam seemed similarly thrilled with their descents, so much so that by the end of the day I'd coaxed all of them down Headwall, Vorlage's lone double-black, where I was told the pitch maxes out at a quad-burning 45 degrees.
Chip-truck poutine in hand, Angela drove the tired brood back to our second-storey Airbnb apartment shortly after the nightskiing lights flickered on. With the Black Sheep Inn, Le Hibou, the Wakefield Mill and other nearby après options open to locals only, I stuck around for another couple hours, savouring each and every belated turn before bootpacking back to our nearby digs on Wakefield's aptly-named Chemin Riverside. If any Canadian town has ski runs closer to its main drag, I have yet to find it.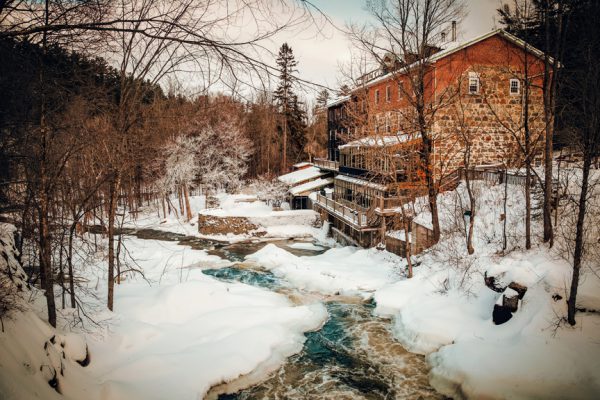 EVERYWHERE EDELWEISS
Breakfasted and checked out of our Airbnb, we set out for the other ski resort with a Wakefield address. Turning down Chemin Edelweiss, we passed Golf Edelweiss before reaching Sommet Edelweiss, a 200-vertical-metre operation that spills down the southern side of the Edelweiss Valley and overlooks snow-covered Lac Edelweiss.
Sound of Music earworms firmly in place, we zipped to the top of the Gatineaus' second-tallest ski area via the Edelbahn Express, the high-speediest of Edelweiss's three quad chairs. Bordered to the east by the mellow Chemin de Bois trail and to the west by a zigzagging steep aptly dubbed Shotgun, the hill's amphitheatrical shape allowed us to reunite at the base with ease after every run, all but one of which are lit for nightskiing. The layout also offered prime sunset sightlines down the valley, providing us with a picturesque cue to bid so long, farewell, auf Wiedersehen and Gute Nacht to Edelweiss.
CONTRASTS AT CAMP FORTUNE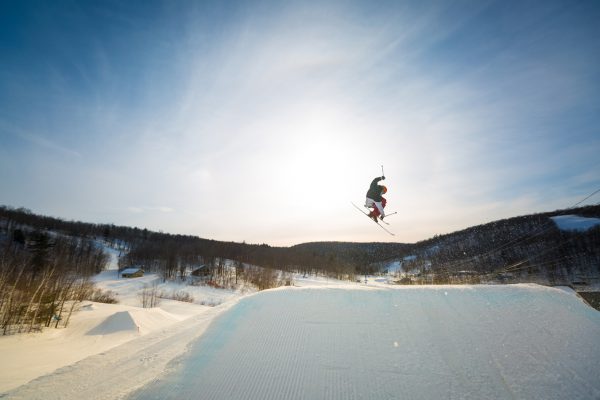 Having been forced to collect delicious Chelsea Pub takeout within cheers-ing distance of local revellers the night before, it felt good to unleash my mad French-immersion skills at the neighbouring Biscotti & Cie café. "Wheat croissants s'il vous plait!"

I returned to the nearby Lofts du Village and climbed the cleverly snow-shedding outdoor staircase to our roomy apartment on the glass-backed third floor. We feasted, geared up, briefly considered eating almond croissants for another couple hours, then hit the road, arriving at the largest and most distant of Camp Fortune's three parking lots just before the pastry sweats kicked in.

Camp Fortune's 25 runs and 180 vertical metres are spread over three distinct hillsides, with its parking lots four, five and six km from Lofts du Village. Each served by its namesake quad chairlift, the Clifford, Meech and Skyline sectors are pleasingly varied. Meech, for instance, is home to just two intermediate trails—Paradis and North American—which join forces to deliver a fun combination of undulating and mogul-strewn terrain. Skyline, meanwhile, is home to Heggtveit, a steep and arrow-straight double-diamond named after local girl Anne Heggtveit, who won her Olympic gold 60 years ago in the resort formerly known as Squaw Valley. The summit views, meanwhile, show off the Peace Tower's surprising proximity.

MIGHTY MONT STE-MARIE

As impressed as I was by the pandemic safety measures taken by all the Gatineau resorts, it was far from business as usual. The ski school reception area at the largest and loftiest of the bunch, for instance, had been reduced to a piece of Bristol board taped to an exterior wall near a ticket window.

As underwhelming as this seemed, our youngest, Grace, was still raring to try the snowboard that topped her Christmas list. Having already raved about new equipment, I felt a moral and parental obligation to nurture her dreams while at the same time outsourcing all effort and responsibility to the professionals.

The phone number on the Bristol board was dialled, and Grace was promptly paired with a snowboard instructor for an hour after lunch. This presented an opportunity to do a few laps on Mont Cheval Blanc for three reasons: One, because it's the steeper and most challenging of MSM's two peaks, both of which, at 405 vertical metres, offer more than any mountain between here and the Rockies; two, because its high-speed quad is downhill from the beginners' area where Grace met her instructor; and three, because the most direct route from the main lodge to the beginners' area involved taking a tractor-wheeled tram across a slushy parking lot. Confusing? A bit. Quirky? Not by Gatineau standards, if the balloon-festooned helmets being worn by ski school staff were anything to go by.

As well as being an outlier in terms of size, location and employee headgear, Mont Ste-Marie is the only Gatineau hill that lacks nightskiing—and that was where our final Gatineau stop came in.

COLOURFUL MONT CASCADES

With no snow in the forecast between the Gatineau Hills and Toronto, we pushed nightskiing at Mont Cascades as late into the evening as my middle-aged nerves could take. After three hours of carving up the V-shaped hillside, its corduroy slopes perfectly groomed for our nocturnal pleasure, we learnt the lifts were closing at 8:00 p.m., the very deadline I had set for beginning the five-hour drive home.

"Why are you closing early?" I asked a mustachioed liftee.

"Because we need time to get home," came the reply.

"Time to get home…for what?"

"To get home before the curfew."

Suddenly, Gatineau's late-night emptiness made sense. There was a 9:00 p.m. COVID curfew in place, one we had unknowingly contravened upon our arrival.

Ski refugees, après outcasts, pastry junkies and now unwitting outlaws. We fought the LOSS…and we won.

from Buyer's Guide 2022 issue

Tags: Camp Fortune, Edelweiss, Gatineaus, Mont Cascades, Mont Ste-Marie, Quebec, Vorlage