---
Volume 42 #4
PUBLISHED WEEK OF JANUARY 27, 2014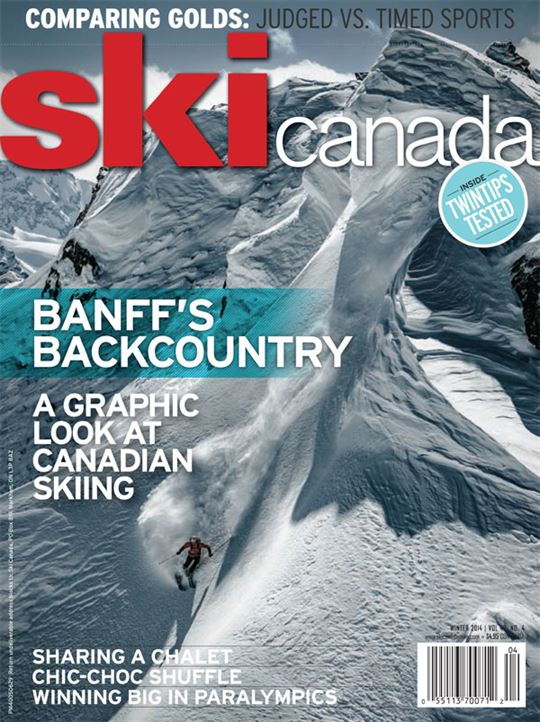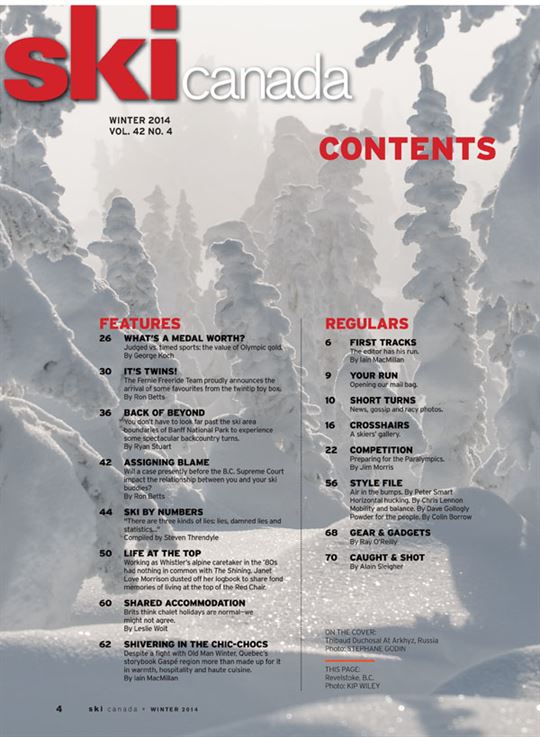 FEATURES
WHAT'S A MEDAL WORTH?
Judged vs. timed sports: the value of Olympic gold.
By George Koch
IT'S TWINS!
The Fernie Freeride Team proudly announces the arrival of some favourites from the twintip toy box.
By Ron Betts
BACK OF BEYOND
You don't have to look far past the ski area boundaries of Banff National Park to experience some spectacular backcountry turns.
By Ryan Stuart
ASSIGNING BLAME
Will a case presently before the B.C. Supreme Court impact the relationship between you and your ski buddies?
By Ron Betts
SKI BY NUMBERS
"There are three kinds of lies: lies, damned lies and statistics…"
Compiled by Steven Threndyle
LIFE AT THE TOP
Working as Whistler's alpine caretaker in the '80s had nothing in common with The Shining. Janet Love Morrison dusted off her logbook to share fond memories of living at the top of the Red Chair.
SHARED ACCOMMODATION
Brits think chalet holidays are normal—we
might not agree.
By Leslie Woit
SHIVERING IN THE CHIC-CHOCS
Despite a fight with Old Man Winter, Quebec's storybook Gaspé region more than made up for it in warmth, hospitality and haute cuisine.
By Iain MacMillan
REGULARS
FIRST TRACKS
The editor has his run.
By Iain MacMillan
YOUR RUN
Opening our mail bag.
SHORT TURNS
News, gossip and racy photos.
CROSSHAIRS
A skiers' gallery.
COMPETITION
Preparing for the Paralympics.
By Jim Morris
STYLE FILE
Air in the bumps. By Peter Smart
Horizontal hucking. By Chris Lennon
Mobility and balance. By Dave Gollogly
Powder for the people. By Colin Borrow
GEAR & GADGETS
By Ray O'Reilly
CAUGHT & SHOT
By Alain Sleigher