---
Vol 40 #4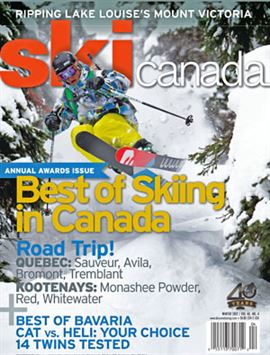 published week of December 19
subscriber copies deliver Dec. 19 – 30
on newsstands January 4, 2012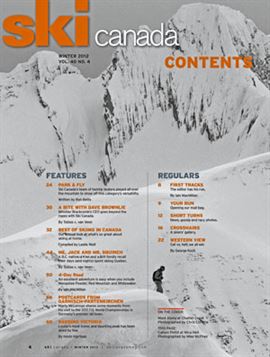 FEATURES
Ski Canada's team of twintip testers played all over the mountain to show off this category's versatility.
Written by Ron Betts
Whistler Blackcomb's CEO goes beyond the ropes with Ski Canada.
By Tobias c. van Veen
Our annual look at what's so great about skiing at home.
Compiled by Leslie Woit
A B.C. native, a Kiwi and a Brit fondly recall their days (and nights) spent skiing Quebec.
By Tobias c. van Veen
An excellent adventure is easy when you include Monashee Powder, Red Mountain and Whitewater.
By Iain MacMillan
Marty McLennan shares some moments from his visit to the 2011 FIS Wor d Championships in Germany's premier ski town.
Louise's most iconic and daunting peak has been skied by few.
By Kevin Hjertaas
REGULARS
Driven to distraction
By Iain MacMillan
Opening our mail  bag.
News, gossip and racy photos.
A skiers' gallery.
Cat vs. heli: we all win
By George Koch