December/January 2023 – Vol 51 #3
---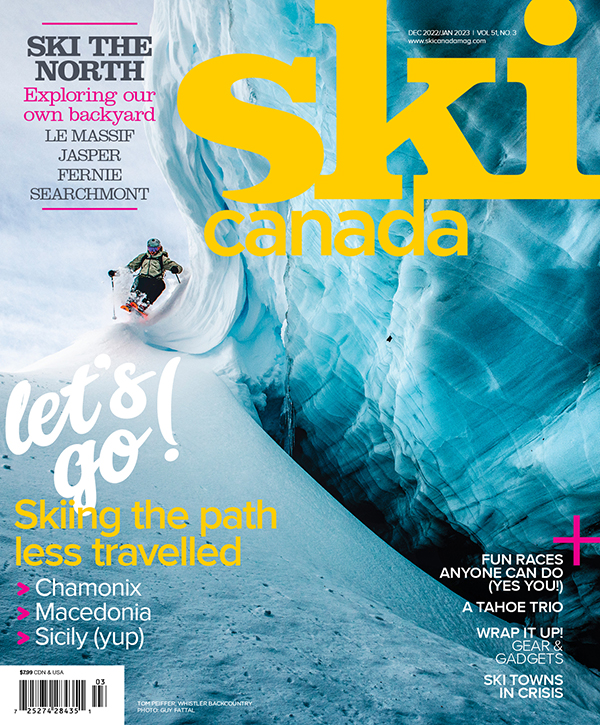 FEATURES
A FLAVOUR ALL ITS OWN
A Quebec City stay ties a ribbon on a trip to Le Massif de Charlevoix and Mont-Sainte-Anne.
BY IAN MERRINGER
BALKAN POWDER
The world could solve a lot of its problems if we all just went cat-skiing in North Macedonia.
BY IAIN MacMILLAN
LAKE TOUR
Dad-of-the-year RYAN STUART tours quirky Lake Tahoe with his teenage daughter. The trip's a hit until a guy skis by in a gorilla suit.
OFF-PISTE IN FERNIE
Five ways to have fun in Fernie (that won't get you in trouble).
BY MEG MacMILLAN
RETURN TO CHAMONIX
Still clutching Blizzard of Aahhh's on VHS, a nostalgic NIGEL HARRISON revisits an old French favourite.
COMMUNING IN JASPER
Three brothers and their grown boys meet at Marmot for a family ski reunion. Can great skiing and dad jokes coexist?
BY STEVEN THRENDYLE
THERE'S SKIING IN SICILY?!
Quick answer is yes. Just watch out for those steaming fissures and red-hot lava flows.
BY IAIN MacMILLAN
EVERYONE'S A WINNER
Fortysomething ADAM BISBY scrapes the rust off his 215s and returns to ski racing. Six causal races across Canada worth revisiting, no experience necessary.
REGULARS
FIRST TRACKS
Our editor-in-chief has his run.
BY IAIN MacMILLAN
SHORT TURNS
News, gossip and racy photos.
GEAR & GADGETS
From Air Tags to made-to-fit ski suits à la Savile Row, we've got the gear, togs and gadgets to make you look insanely good this season.
SLOPE ANGLES
Two signs posted everywhere in ski towns: HELP WANTED & NO VACANCY.
BY STEVEN THRENDYLE
CROSSHAIRS
A skier's gallery.
SKILL SCHOOL
Mama told you posture was important. NIGEL HARRISON helps us perfect it on skis.
STOMPING GROUNDS
For CONOR MIHELL, Searchmont remains a gem set deep in Northern Ontario's granite.
CAUGHT & SHOT
BY Craig Barker