---
Vol. 42 #3
PUBLISHED WEEK OF NOVEMBER 25, 2013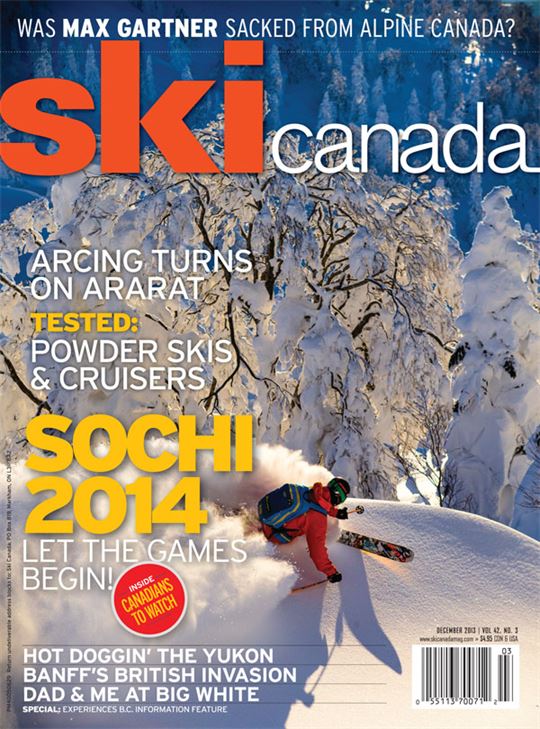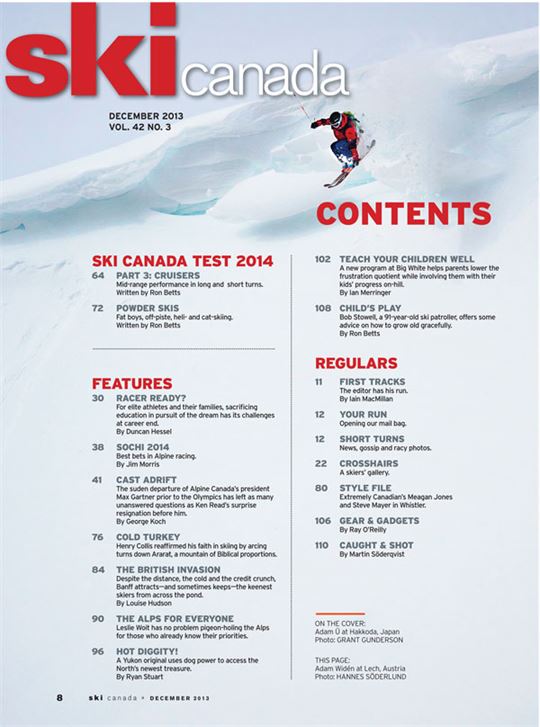 CONTENTS
SKI CANADA TEST 2014
PART 3: CRUISERS
Mid-range performance in long and short turns.
Written by Ron Betts
POWDER SKIS
Fat boys, off-piste, heli- and cat-skiing.
Written by Ron Betts
 FEATURES
RACER READY?
For elite athletes and their families, sacrificing education in pursuit of the dream has its challenges at career end.
By Duncan Hessel
SOCHI 2014
Best bets in Alpine racing.
By Jim Morris
CAST ADRIFT
The suden departure of Alpine Canada's president Max Gartner prior to the Olympics has left as many unanswered questions as Ken Read's surprise resignation before him.
By George Koch
COLD TURKEY
Henry Collis reaffirmed his faith in skiing by arcing turns down Ararat, a mountain of Biblical proportions.
THE BRITISH INVASION
Despite the distance, the cold and the credit crunch, Banff attracts––and sometimes keeps––the keenest skiers from across the pond.
By Louise Hudson
THE ALPS FOR EVERYONE
Leslie Woit has no problem pigeon-holing the Alps for those who already know their priorities.
HOT DIGGITY!
A Yukon original uses dog power to access the North's newest treasure.
By Ryan Stuart
TEACH YOUR CHILDREN WELL
A new program at Big White helps parents lower the frustration quotient while involving them with their kids' progress on-hill.
By Ian Merringer
CHILD'S PLAY
Bob Stowell, a 91-year-old ski patroller, offers some advice on how to grow old gracefully.
By Ron Betts
REGULARS
FIRST TRACKS
The editor has his run.
By Iain MacMillan
YOUR RUN
Opening our mail bag.
SHORT TURNS
News, gossip and racy photos.
CROSSHAIRS
A skiers' gallery.
STYLE FILE
Extremely Canadian's Meagan Jones
and Steve Mayer in Whistler.
GEAR & GADGETS
By Ray O'Reilly
CAUGHT & SHOT
By Martin Söderqvist