---
Volume 43 #1
Buyer's Guide 2015 published week of August 25, 2014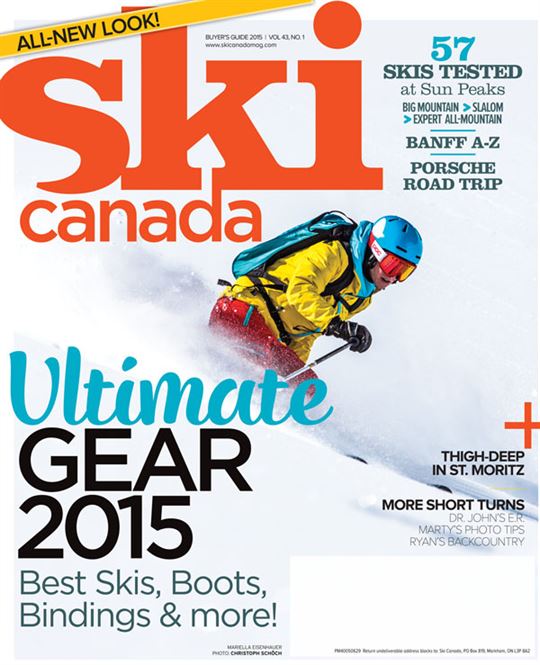 photo: CHRISTOPH SCHOCH  *  skier: Mariella Eisenhauer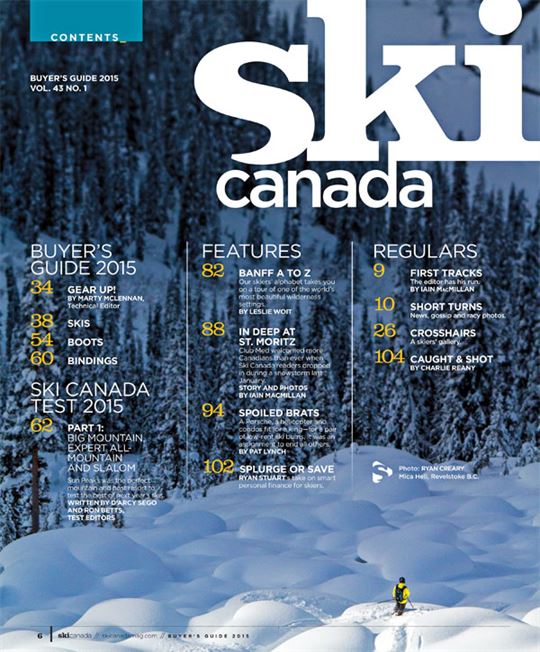 photo: RYAN CREARY  *  snow: Mica Heli, Revelstoke BC
CONTENTS
SKIS  *  BOOTS  *  BINDINGS
North American ski shops experienced one of their best winters ever, with sales up seven per cent over last season to the tune of some $3.6 billion. Beyond Colorado's legalization of marijuana, that was the buzz at this year's SnowSports Industries America (SIA) ski show in Denver. Fortunately, that increase bodes well for all of us skiing in the post-polar vortex age: profits mean reinvestment. The largesse of industry R&D translates into upgrades all around, including new uses of special materials. Head's diamond-hard (yet feather-light) Graphene, for example, has already proven its worth in the hands of the world's top tennis players. Throughout the industry, Titanal layers get tweaked, while carbon, once only on the expensive fringe, is now found front and centre throughout the alpine world. Add these substantial upgrades to improved rocker profiles and tailored sidecuts and you get the promise of the best-turning ski ever. What we saw in the Mile High City's trade show is an industry with swagger. And the Ski Canada Buyer's Guide that follows is the first step in putting that strut into your skiing.
By Marty McLennan,
Technical Editor
SKI CANADA TEST 2015
 PART 1 from Sun Peaks Resort in BC

Like the name says—and beyond
Our freeride category continues to test the limits, through the trees, under the ropes and more. Big Mountain skis are seen all over the mountain today and on all ages. Manoeuvrability and stability make them popular choices for tricky off-piste terrain as well as high-speed riding, taking air and landing switch. Playful and varying degrees of camber/rocker, waist widths, binding positions and flex patterns make these skis the most difficult category to judge. Waist 90+.
All-terrain cruising, long and short turns
As well as checking agility and competence in soft snow, testers skied this category up to high cruising speeds for recreational skiers and assessed stability in long and short turns more on the groomed—but not exclusively. Testers pushed the limits in this category. They expect these skis to do everything and test them aggressively. Overall versatility in all kinds of conditions defined the best skis in this category. Waist 76-86.
Precise, high-performance skis 
for short to medium radius
Slalom skis are designed for precision, agility and edge grip, which is how the testers skied them. These skis are generally discipline-specific, with a strong following at competitive ski clubs in the east. They perform really well in situations where skidded turns are not an option. With sidecuts around 12-14 metres, these skis are at home on firm snow and like to be skied fast. They are generally found on the feet of skiers with solid skills. Waist 65-70. 
Written by D'Arcy Sego, Test Editor
FEATURES
BANFF A TO Z  Our skiers' alphabet takes you on a tour of one of the world's most beautiful wilderness settings. By Leslie Woit
IN DEEP AT ST. MORITZ  Club Med welcomed more Canadians than ever when Ski Canada readers dropped in during a snowstorm last January. Story and photos by Iain MacMillan
SPOILED BRATS  A Porsche, a helicopter and condos fit for a king—for a pair of low-rent ski bums, it was an assignment to end all others. By Pat Lynch
SPLURGE OR SAVE  Ryan Stuart's take on smart personal finance for skiers.
REGULARS
FIRST TRACKS  Head tax for the hired help – 'Maybe Harper doesn't like westerners' "Tourism is the Rodney Dangerfield of the economic well-being of Canada," Dave Brownlie, Whistler's president and CEO, joked with me on the phone back in August, "and skiing is even lower than tourism—we just don't get no respect."  By Iain MacMillan
SHORT TURNS  News, gossip and racy photos.
GEAR & GADGETS  Putting on airs. Ski Canada's top air bag picks.
CROSSHAIRS  A skiers' gallery.
CAUGHT & SHOT  By Charlie Reany