---
A Yukon original uses dog power to access the North's newest treasure.
by Ryan Stuart / photos by Ryan Creary in the December 2013 issue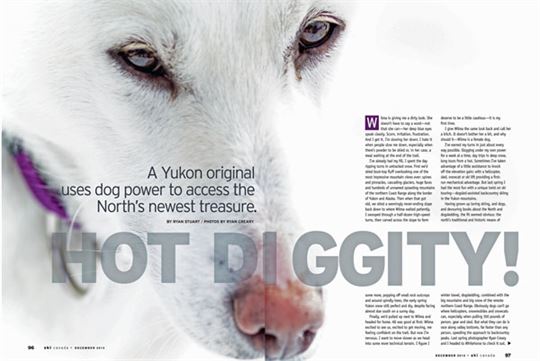 Wilma is giving me a dirty look. She doesn't have to say a word—not that she can—her deep blue eyes speak clearly. Scorn, irritation, frustration. And I get it. I'm slowing her down; I hate it when people slow me down, especially when there's powder to be skied or, in her case, a meal waiting at the end of the trail.
I've already had my fill. I spent the day ripping turns in untracked snow. First we'd skied boot-top fluff overlooking one of the most impressive mountain views ever: spines and pinnacles, cascading glaciers, huge faces and hundreds of unnamed sprawling mountains of the northern Coast Range along the border of Yukon and Alaska. Then when that got old, we skied a seemingly never-ending slope back down to where Wilma waited patiently. I swooped through a half-dozen high-speed turns, then carved across the slope to farm some more, popping off small rock outcrops and around spindly trees, the early spring Yukon snow still perfect and dry, despite facing almost due south on a sunny day.
Finally, we'd pulled up next to Wilma and headed for home. All was good at first: Wilma excited to see us, excited to get moving, me feeling confident on the trail. But now I'm nervous. I want to move slower as we head into some more technical terrain. I figure I deserve to be a little cautious—it is my first time.
I give Wilma the same look back and call her a bitch. It doesn't bother her a bit, and why should it—Wilma is a female dog.
I've earned my turns in just about every way possible. Slogging under my own power for a week at a time, day trips in deep snow, long tours from a hut. Sometimes I've taken advantage of a little assistance to knock off the elevation gain: with a helicopter, sled, snowcat or ski lift providing a first-run mechanical advantage. But last spring I had the most fun with a unique twist on ski touring—dogsled-assisted backcountry skiing in the Yukon mountains.
Having grown up loving skiing, and dogs, and devouring books about the North and dogsledding, the fit seemed obvious: the north's traditional and historic means of winter travel, dogsledding, combined with the big mountains and big snow of the remote northern Coast Range. Obviously dogs can't go where helicopters, snowmobiles and snowcats can, especially when pulling 300 pounds of person, gear and sled. But what they can do is race along valley bottoms, far faster than any person, speeding the approach to backcountry peaks. Last spring photographer Ryan Creary and I headed to Whitehorse to check it out.
**********************************************************************************************************************************
The base camp, dog-assisted ski touring trips are a Yukon original as far as anyone knows, as is the synergy between Marcelle Fressineau and Claude Vallier, two francophone immigrants to the North. Marcelle, a competitive dogsledder from Quebec and owner of Alayuk Adventures, which offers day and multi-day dogsled tours, supplies the dogs. Claude, a former Chamonix search-and-rescue technician who moved his family to Whitehorse six years ago and is now the local backcountry skiing authority, covers the skiing side of the joint venture. The playground is Chilkat Pass, the highpoint of the Haines Highway between Haines Junction, Yukon and heli-ski mecca Haines, Alaska. Beside the big mountains of Alaska, but with the slightly drier and more predictable weather of the interior, it's a little-known backcountry ski destination with big potential, if you don't mind long approaches. And that's where the dogs come in.
We arrive in the pass on the tail end of a brutal storm and the wind still howls as we park on the side of the road. The dogs don't seem to mind the ground blizzard. They bound from truck to sled like kangaroos, Claude and Marcelle just able to contain their enthusiasm as they lead them into place. Once tethered, they howl, bark and tug constantly; the sleds need to be tied to the truck.
Finally the dogs and gear are ready to go. At the helm of my own team I lift my foot off the brake and Wilma and the other dogs charge forth, their paws scrambling on the icy snow, spinning out Flintstone-style. A few frantic lunges and we're away, cruising up a valley following an old snowmobile track into the mountains. The trail leads into a gully, and as we swerve along its contours, I try my best to carve around corners—weight the outside runner, just like on skis—trying to keep us on track and me on board, always conscious of something Marcelle told me during the far too brief primer: if I fall off, the dogs won't stop.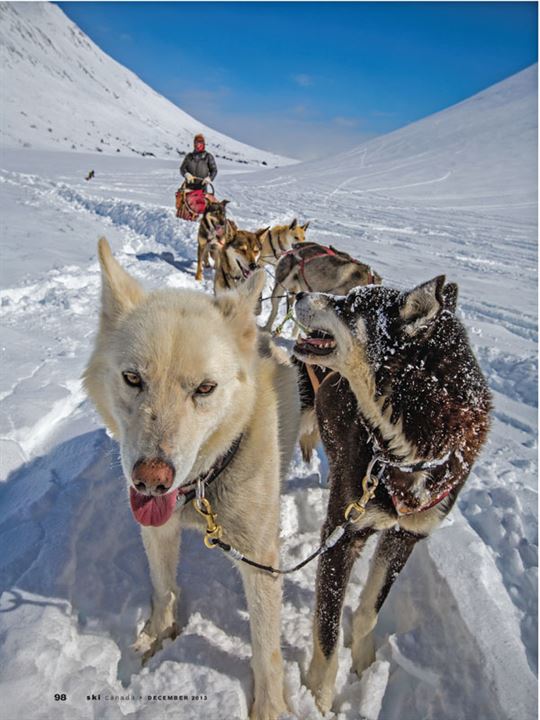 Half an hour and five km later we pull up to a protected scoop in the mountainside, our base camp for the next week. We set up a wall tent and get the tiny wood stove going. While the dogs happily curl up in the snow, we crowd the stove, hoping to absorb a little of its warmth. Eventually, restless, I head outside. The clouds have lifted, revealing a skier's paradise. Far below, the highway snakes through a wide valley. Rising up in every direction are peaks, many shaped like the ski porn of Alaska. Beyond a few rocks, everything is white. Huge faces rise from the valley. This one steeply, like a rippled chip on its side. That one, a huge scoop out of one side, revealing precipitous steeps. Above camp are two peaks, both on the mellower side, with long ridges, big bowls and deep valleys disappearing into the mountains. Every peak looks skiable. In fact, the entire treeless expanse looks skiable.
Leaving the dogs and camp behind, I solo skin up to a sub-peak. The wind whips across the hillside, flapping my jacket and pants, tossing snow into the air and, most of all, sucking every joule of heat out of me. I try to compensate by speeding up my pace, pushing my touring skis uphill a little faster and ducking deeper inside my three jackets. It doesn't really work, but I get to the top fast and quickly transition to skiing. I carve turns in a skiff of windblown snow along a cornice, into a small bowl and back to camp.
The next morning the -20 C temperature keeps us huddled in our sleeping bags for a long time. Eventually Claude sparks up the stove and the tent warms quickly. We emerge into a new world. While the wind still blows, the sun sparkles off new snow. A sea of peaks beckon. The dogs emerge from their snowy beds and are soon fed and harnessed to the sleds.
They haul us up a side valley for a few kilometres, saving us an hour of trail breaking, to the base of a large face, a powder-filled bowl above. Leaving the dogs with Marcelle, we begin climbing, Claude leading the way. Tall, dark and athletic, Claude is friendly, talkative and knowledgeable. No matter what peak we point at, he's been there before. On the skin track he entertains us with stories of mountain rescues, UN peacekeeping and decades of skiing.
The climb flies by and we're soon at the top of a wide bowl with views into neighbouring valleys. The skiing potential looks amazing everywhere we look. With epic mountains as a backdrop, Creary snaps shots of us as we carve down the slope, leaving contrails of crystals hanging in the air after each turn.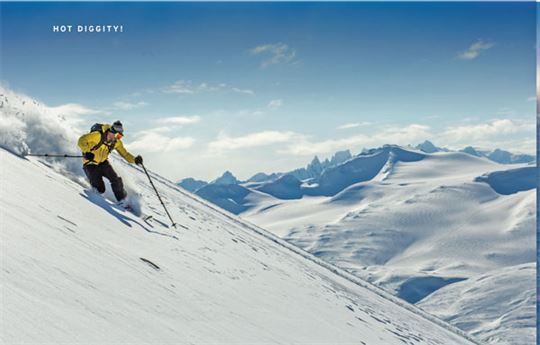 We take a few more runs and then at the bottom meet up with the dogs and take off down the valley back to camp. With my ski boots slipping on the sled's runners, I'm nervous, especially when we drop down a short hill. I slam on the brakes and that's when Wilma gives me the look. I curse here, but also feel guilty. I can understand her love of speed. Against the advice of my little voice, I grip the sled handle tighter and step off the brake.
We fly down the little hill and around a corner. I lean hard, fighting the inside runner leaping off the ground. A few more whoop-de-dos and corners and I feel as if I'm starting to get this sledding thing. And then we hit the flats heading to camp. It feels like the end of a perfect powder run.
For the next several days, this is our pattern: dogsled, ski, dogsled, sleep, repeat.
"I never thought I'd like dogsledding," Claude admits as we stand at the top of our last run of the trip. "But I really like it. It's so peaceful and quiet. It's such a great way to travel." I agree. Full of personality, the dogs are easy to like. Most are friendly and cuddly, wanting a pat or a cuddle and offering up licks in return. Plus they have far more personality than any helicopter or exhaust-spewing snowmobile.
I'm still thinking about the dogs as we slide into more effortless powder, carving our way down without a tree or rock to worry about. It's the kind of run that never gets boring, but as we near the end, when I'd normally be thinking about whether I have time for one more lap, I realize I'm actually looking forward to the end. The dogs can see us coming, howling and barking a greeting. My smile grows even larger.
Going to the dogs
For more on ski touring (dogsled-assisted or otherwise) in the Yukon and Claude Vallier's White Pass — Ski Touring Guide, head to yukonbackcountryskiing.com. More on Alayuk Adventures' day and multi-day dogsled trips at alayuk.com. Getting there: Fly to Whitehorse directly from Edmonton, Calgary, Kelowna and Vancouver with Air North and Air Canada. From Whitehorse, it's two hours (on good roads) to White Pass and four to Haines Pass.
---
Tags: Alayuk Adventures, Chilkat Pass, dogsledding, Haines Highway, Yukon