---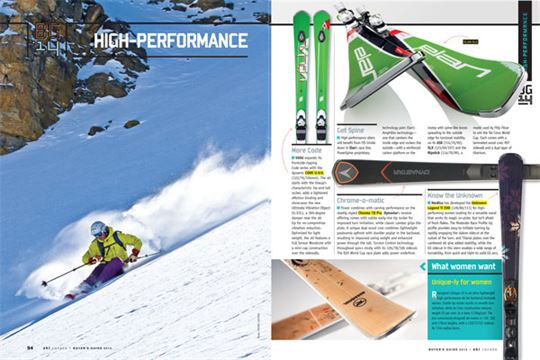 More Code
Völkl expands its frontside-ripping Code series with the dynamic CODE U.V.O. (122/76/104mm). The ski starts with the lineup's characteristic tip-and-tail rocker, adds a lightened xMotion binding and showcases the new Ultimate Vibration Object (U.V.O.), a 360-degree damper near the ski tip for no-compromise vibration reduction. Optimized for light weight, the ski features a Full Sensor Woodcore with a mini-cap construction over the sidewalls.
Get Spine
 High-performance skiers will benefit from FIS trickle down in Elan's race line. PowerSpine proprietary technology pairs Elan's Amphibio technology—one that cambers the inside edge and rockers the outside—with a reinforced carbon platform on the instep with spine-like bones spreading to the outside edge for torsional stability on its GSX (114/70/99), SLX (123/69/107) and the Ripstick (114/70/99), a model used by Filip Flisar to win the Ski Cross World Cup. Each comes with a laminated wood core, RST sidewall and a dual layer of titanium.
Chrome-o-matic
Power combines with carving performance on the sleekly styled Chrome 78 Pro. Dynastar's newest offering comes with subtle early-rise tip rocker for improved turn initiation, while classic camber grips the piste. A unique dual wood core combines lightweight paulownia upfront with sturdier poplar in the backseat, resulting in improved swing weight and enhanced power through the tail. Torsion Control technology throughout syncs nicely with its 126/78/106 sidecut. The R20 World Cup race plate adds power underfoot.
Know the Unknown
Nordica has developed the Unknown Legend Ti EVO (128/80/111) for high-performing women looking for a versatile wand that works its magic on-piste, but isn't afraid of fresh flakes. The Moderate Race Profile tip profile provides easy-to-initiate turning by rapidly engaging the slalom sidecut at the outset of the turn, and Titanal plates over the cambered ski give added stability, while the GS sidecut in the stern enables a wide range of turnability, from quick and tight to solid GS arcs.
What women want
Unique-ly for women
Rossignol's Unique 10 is an ultra-lightweight high-performance ski for technical frontside women. Subtle tip rocker results in smooth turn initiation, while Air Core construction reduces weight 20 per cent, to a mere 3.24kg/pair. The eco-consciously designed ski comes in 156, 163 and 170cm lengths, with a 120/72/101 sidecut for 15m-radius turns.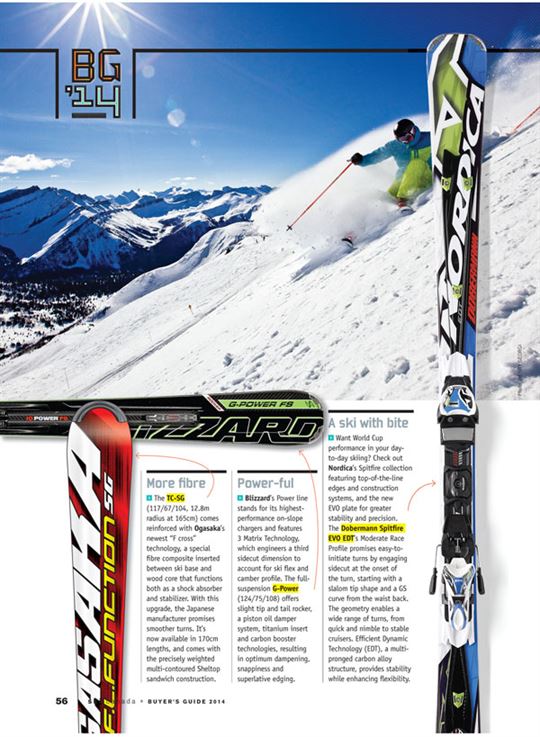 A ski with bite
Want World Cup performance in your day-to-day skiing? Check out Nordica's Spitfire collection featuring top-of-the-line edges and construction systems, and the new EVO plate for greater stability and precision. The Dobermann Spitfire EVO EDT's Moderate Race Profile promises easy-to-initiate turns by engaging sidecut at the onset of the turn, starting with a slalom tip shape and a GS curve from the waist back. The geometry enables a wide range of turns, from quick and nimble to stable cruisers. Efficient Dynamic Technology (EDT), a multi-pronged carbon alloy structure, provides stability while enhancing flexibility.
More fibre
The TC-SG (117/67/104, 12.8m radius at 165cm) comes reinforced with Ogasaka's newest "F cross" technology, a special fibre composite inserted between ski base and wood core that functions both as a shock absorber and stabilizer. With this upgrade, the Japanese manufacturer promises smoother turns. It's now available in 170cm lengths, and comes with the precisely weighted multi-contoured Sheltop sandwich construction.
Power-ful
 Blizzard's Power line stands for its highest-performance on-slope chargers and features 3 Matrix Technology, which engineers a third sidecut dimension to account for ski flex and camber profile. The full-suspension G-Power (124/75/108) offers slight tip and tail rocker, a piston oil damper system, titanium insert and carbon booster technologies, resulting in optimum dampening, snappiness and superlative edging.
---
Tags: Blizzard G-Power, buyers guide, Dynastar Chrome 78 Pro, Elan GSX, Elan Ripstick, Elan SLX, high performance, Nordica Dobermann Spitfire EVO EDT, Nordica Unknown Legend Ti EVO, Ogasaka TC-SG, Rossignol Unique, Volkl Code U.V.O.