---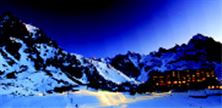 After 20 hours of airplanes, airports, taxis and a rainstorm at sea level turned snowstorm in the mountains, we'd finally checked into our rooms at the bottom of the world in the delightfully austere Grand Hotel Portillo. While I was racing to get changed for an afternoon of blizzard-skiing, all I could hear was Jimmy next door repeatedly flushing his toilet. After the fourth or fifth go, I hollered through the adjoining room door
Everything okay over there, buddy?
Something's wrong, he muttered in a frustrated tone.
You've already broken the toilet? I asked, but wondered as the words came out whether I really wanted the conversation to continue.
No, no, it works. It's just going straight down.
Hmm… I thought, do I really want to investigate?
Curiosity got the better of me after I heard him declare he'd been ripped off and I poked my head into his WC just as he looked up inquisitively. It's supposed to go counter-clockwise when you're in South America I know, I saw it on The Simpsons, but it's just dropping.
Maybe you should check out the hot tub. I think I saw Edna Krabappel heading that way, I suggested, and went back to suiting up for our first runs in Chile.
* * *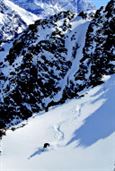 The Andean skies had been dumping for more than a day and the storm was still raging when, like Ernest Shackleton and Captain Scott of the Antarctic, Jimmy and I said goodbye to the elevator attendants, bravely handed over our hotel footwear to the gentlemen who would be caring for our ski boots during our stay and headed out into the whiteout. Because I had visited 15 years earlier, I designated myself tour leader, but the storm closed in on the massively bright-yellow hotel within 50 metres and we were soon blindly skiing off the lower lifts (the upper lifts, along with the main pass to Argentina where Portillo sits, were shut down due to weather) in knee-deep dry powder and marvelling about how far away the hot summer weather we'd left behind now seemed to be. A memorable welcome indeed.
No matter how rewarding a ski holiday in South America can be, convincing Canadians to head back to winter when they've waited so long and so patiently for summer to arrive in their neck of the woods is a significant challenge. That said, a Chile ski trip is a feather in the tuque that few other ski adventures can offer. And if you delay your trip like we did to late August or September when nights at home are getting longer, the air is getting crisper, and ski shops are starting to display new gear and Ski Canada's Buyers Guide, its not so much that you're leaving summer behind but rather getting an early jump on winter.
Portillo (pronounced porTEEYO) or little pass is the oldest ski area in South America, with a history that goes back to the ast century when Norwegian and British engineers were hired to plan a railway between Chile and the Argentine city of Mendoza. The line eventually opened in 1910, and reports and photos of recreational ski clubs using the train to ski from in the Portillo area predate most skiing history in North America. By 1930, the slopes around Laguna del Inca (Lake of the Incas) were identified as worthy of development and the first lift and a mountain hut called Hotel Portillo were built. By theearly 1940s, a much more distinguished hotel was planned and construction began on the 125-room Grand Hotel Portillo.
With the Second World War underway and after some financial problems with the private company building the property, the government stepped in to finish the job and in 1949, the hotel, two single chairs, a surface lift, a private train station and four memorable meals a day were being offered to some of the world's elite.
Hotel staff often hear from Canadian visitors' references to the Fairmont Chateau Lake Louise because of the similar striking views of the lake and surrounding peaks. Portillo's guest rooms aren't quite on the same scale of opulence, nevertheless the comparisons are valid.
Seventy-seven-year-old American Henry Purcell has owned Portillo for many decades, and although Henry is still hoofing it up major bootpacks to access choice off-piste lines, his son Miguel is steering the ship today.
Portillo has almost a mythical name on the ski-resort roster of the world's best. Its visitors are relatively few indeed, a busy day at Whistler-Blackcomb will accommodate more skier-visits than Portillo will see over an entire June-to-early-October season. With no village down the road, few day-skiers make it up the many long switchbacks to the base area. The ski area and hotel (along with its backpackers quarters and bunkhouse favoured by racing teams) is Portillo. Not far up the road lies the Argentinean frontier.
* * *
Despite a spectacular dinner of king crab, duck ravioli in Merlot reduction, and sea bass with olive coulis and pumpkin puré served in the majestic leather-panelled dining room, I slept fitfully my first night. Perhaps it was the altitude (the hotel sits at 2,880 metres; my desk in Toronto is at 78) but I woke before daybreak worried at the total silence outside. I could see the skies had cleared and the moon was bright enough to eerily light up the frozen lake and the spectacular surrounding peaks, making it feel like no particular time of night or day. Even Jimmy's Harley-Davidson-like snoring next door had subsided. What bothered me about the eerie stillness was the lack of bombing. After such an enormous storm, how could they expect to open the upper lifts by 9:00 a.m.?!
I fretted for about 30 minutes (or perhaps it was two, its hard to tell when your eyes are closed and you're lying in bed) when a distant BOOM broke the dead night air. A few seconds later I could hear a muffled slide building speed down some not-so-far-off slope. Then the silence returned. A minute or two later the procedure repeated itself, at which point I drifted off to sleep with a smile on my face thinking of the 12 metres Portillo had received so far this winter.
By morning, blue skies and a blinding sun (strangely crossing the northern sky) were already showing the cold who was mightier, so Jimmy and I bolted first for the infamous Roca Jack lift. Upon realizing it would be some time still before it could open after the storm, we made it to the main Plateau quad just after opening. We were happy to see there were no throngs of big-mountain boys elbowing their way to the deep white riches that lay as far as we could crane our necks. We did rub elbows with the Chilean military though, who can frequently be seen learning to ski at Portillo. (Camouflage threads have een in style a lot longer in Portillo than in Canadian terrain parks.)
Canadians in Portillo include hotel guests, national and provincial race teams, and staff. We hooked up with a young playboy from the international roster of instructors, Seth Brouwers from Waterdown, Ontario, for a few runs while he was off-duty. Through the small world theory of six degrees of separation, Seth and I quickly discovered we had grown up skiing at the same club back home and our family condos are within a snowballs throw of each other.
Although there was still plenty of untracked directly beneath the main chair, Seth pointed out that with thick enough ice on the laguna, the Lake Run was open and that's precisely where we headed. Now the Lake Run is a bit like calling Louise's backside a run. We're talking enormous, endless-routes terrain (all of Portillo is above treeline) and given our timing, all in untracked, thigh-deep powder we had to share with only a handful of skiers at the resort. In fact, our only rush was against the warming sun, which was spoiling the snow and creating afternoon lift closures due to slides.
For visitors at other times of the year, its hugely unfortunate that the entire Lake Run area is only open for a few weeks a season, allowing the traverse back to the hotel and base area on the frozen lake the only way home. Talk of tunnelling through the solid rock that drops straight into the lake and cuts off the ski area has been tossed about for decades so I wouldn't hold my breath that this is coming any time soon. I suggested a floating dock system to management at cocktail hour one night, but was met with blank stares. (I later recovered by explaining it was really Jimmy's idea.)
But back at the Lake Run, while condors circled overhead and far off in the distance our national team trained in the gates, Jimmy, Seth and I took three glorious laps on a perfect pitch in perfect snow. It was just after mid-day when we headed for number four, but the rising thermometer and springtime sun beat us to the access gate, which was closed by the avy patrol unceremoniously. We settled for a lunch of congrio soup, leg of lamb with saffron risotto and carmelized asparagus and shallots. Through the massive windows in the dining room, we counted only 45 sets of far-off tracks, six of which were Jimmy's and mine.
* * *
The condo may be king in North American ski resorts, but Portillo is definitely not North American where the traditional all-inclusive ski week still reigns supreme. Four spectacularly fabulous meals a day are served in the main dining room, with the early dinner seating at 8:30. (Lifts close after 5:00.) With no TV in the unpretentious guest rooms, and despite wirelessInternet throughout the hotel, a vibrant après scene flows after high tea (the fourth meal) each day. Downstairs, Hollywood plays every night in a little theatre, with the early arrivals nabbing the beanbag chairs. The most popular flick remains The Secret Race, about the 1966 World Championships. The hotel often feels more like a private club where you've been invited to stay. The staff-to-guest ratio is likely higher than any hotel in Canada and this is reflected in the service. Each floor has a live-in housekeeper, a visiting physician has regular office hours at the hotel clinic, after skiing to the door a valet takes your gear for storage and the ski school is headed by a guy name Jesus. Divine!
Live music in the pub competes with the late-night disco downstairs, however Jimmy's and my most raucous night was when we tagged along with Seth to the staff pub down the road. Although my fair colouring is a bit off in South America, at 5'6″, I could actually see over many heads on the Chilean dance floor. Seth and Jimmy, on the other hand, could have played national team basketball. It was a refreshing trip down memory lane to experience Seth's accommodation and a relief to know I'm well past the age of living in staff accommodation ever again. But with still plenty of untracked waiting for us up in the alpine, our big night out wasn't that big, or certainly for this story.
Aside from heli-skiing on the lower slopes of nearby Aconcagua (the highest peak in the Americas), Portillo's uphill arsenal consists of 11 main lifts, including three quads, and two access tows. Portillo's infamous va et vient lifts are what gets all the attention, however. Think of a platter or Poma lift that drags four or five passengers at a time and deposits them en masse on a steep slope. Where slides take out other lifts in South America for months at a time, these towerless tows are dug out after a burial and rebuilt in a day. Roca Jack offers 340 metres of vertical all on its own, but it accesses countless off-piste routes in the shade of the sun that finish off at the lowest elevation lift. And that's exactly where Jimmy and I spent the following day, or morning anyway until again, the upper lifts were shut down by the patrol.
When our favourite routes were closed and we weren't soaking up vitamin D with the international crowd at Tio Bobs, the mid-mountain lunch hut, there was still plenty of terrain to explore closer to the lifts. Testament to the small number of skiers at Portillo, even in the afternoons, we could find untouched corduroy groomers on the mega-wide open boulevards off Juncalillo quad to race each other. The skiing off Juncalillo is below the base area and the return offers odd vistas as the lifts rise above the many switchbacks on the main highway.
At our final dinner, ski anecdotes were briefly replaced by some hotel history with maître d Juan, whose been working the dining room since 1967, until we noticed some lights across the length of the frozen lake far, far off in the distance. Several night owls were skinning up the Four Fingers peaks in the moonlight for what was surely the most spectacular nightskiing around. The chance of having your tracks quickly filled in by another skier at Portillo is far slimmer than most resorts, but where Seth and his buddies were headed, their mark on the mountain would remain untouched at least until the next big Andean storm.
FACTS & STATS
LAN airlines flies nightly from JFK (New York) and Miami to Santiago, and code shares with American Airlines from other cities. The two-hour airport shuttle is included in the Portillo ski week for Saturday arrivals. Taxis are reasonable. LAN Airlines; 866/435-9526

The Grand Hotel Portillo is full at 450 guests and ski weeks (there are no shorter stays) consistently sell out. Prices range hugely, depending on the season and accommodation selected, but all include four outstanding meals per day, lifts, ski and boot valet, fitness centre, gymnasiums, outdoor pools and so on. Ski Portillo; 800/514-2579

Tour operators with packages

Merit Ski Vacations 800/268-5940

Ski Organizers; 800/283-2754 ext 230

Ski-Europe; 800/333-5533 www.southamericaski.com; 888/754-1754

Chiles national tourism office SERNATUR can offer many excellent pre- or post-Portillo adventures, from skiing volcanoes in the south to tramping around Easter Island.

Numbers

Lift-accessed vertical: 762 metres
Lifts: 13
Average snowfall: 9 metre
Hotel elevation: 2,880 metres
Sun: tons
Distance from Santiago: 120 km

Andes, Argentina, blizzard-skiing, Chile, Grand Hotel Portillo, ski holiday, ski travel, ski vacation, South America