Reading Time:
15
minutes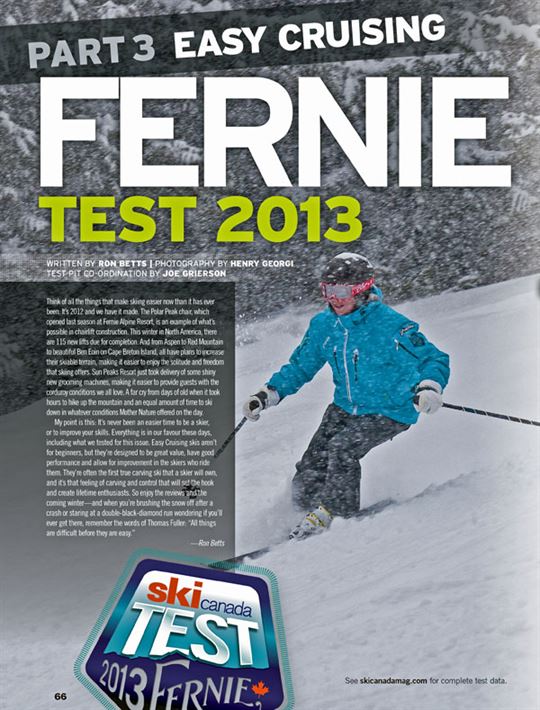 Think of all the things that make skiing easier now than it has ever been. It's 2012 and we have it made. The Polar Peak chair, which opened last season at Fernie Alpine Resort, is an example of what's possible in chairlift construction. This winter in North America, there are 115 new lifts due for completion. And from Aspen to Red Mountain to beautiful Ben Eoin on Cape Breton Island, all have plans to increase their skiable terrain, making it easier to enjoy the solitude and freedom that skiing offers. Sun Peaks Resort just took delivery of some shiny new grooming machines, making it easier to provide guests with the corduroy conditions we all love. A far cry from days of old when it took hours to hike up the mountain and an equal amount of time to ski down in whatever conditions Mother Nature offered on the day.
My point is this: It's never been an easier time to be a skier, or to improve your skills. Everything is in our favour these days, including what we tested for this issue. Easy Cruising skis aren't for beginners, but they're designed to be great value, have good performance and allow for improvement in the skiers who ride them. They're often the first true carving ski that a skier will own, and it's that feeling of carving and control that will set the hook and create lifetime enthusiasts. So enjoy the reviews and the coming winter—and when you're brushing the snow off after a crash or staring at a double-black-diamond run wondering if you'll ever get there, remember the words of Thomas Fuller: "All things are difficult before they are easy."
WRITTEN BY RON BETTS | PHOTOGRAPHY BY HENRY GEORGI  in December 2012 issue
TEST PIT CO-ORDINATION by JOE GRIERSON
EASY CRUISING
Mid-range performance in long and short turns
These skis are expected to offer excellent value, but also strong performance at intermediate to advanced speeds on groomed slopes. Appropriate criteria such as ease of initiation and stability were given a lot of attention in identifying the best skis in this category. This category represents for many skiers their first carving skis and skis that can grow with them as speed and skills increase. Waist 70-75.
Skis tested: ATOMIC |  BLIZZARD |  DYNASTAR | ELAN | FISCHER | HEAD | K2 |
KASTLE | NORDICA | ROSSIGNOL | SALOMON | VOLKL

Use SkiFinder to input your personal skiing characteristics to find the skis that best match your profile.


 Recommendations Legend
A Skier ABILITY (Intermediate (1) to Expert (10))
C Snow CONDITIONS (Soft (1) to Firm (10))
S Skier STYLE (Finesse (1) to Power (10))
W Skier WEIGHT (Lighter (1) to Heavier (10))
† Price includes binding * Length tested at Fernie
ATOMIC NOMAD SMOKE Ti
LENGTHS AVAILABLE: 150, 157, 164, 171*, 178
sidecut: 123/77/107    turn radius:  15 @ 171   MSRP: $699 with bindings
BEST IN: EDGE GRIP  *  AVERAGE SCORE: 6.9
ability:  5.3    conditions:  6.3   style:  5.1  weight:   5.8
MEN: The Smoke Ti was a crowd-pleaser that scored well in longer turns. Our testers liked the fact that the speed limit on this ski was higher than most intermediate skiers would need. It performed well in a variety of conditions and initiated easily. Our team thought it would easily handle heavier skiers and those who want to pick up the speed. Donny Dion commented, "It was really skiable in mixed turn shapes, terrain and snow conditions. The ski handles speed well, and has a big sweet spot."
ATOMIC CLOUD 9
LENGTHS AVAILABLE: 142, 149, 156*, 163
sidecut: 127.5/74/104      turn radius: 11 @ 156        MSRP: $799 with bindings
BEST IN: INITIATION, EDGE GRIP  *  AVERAGE SCORE: 7.2
ability: 5.0  conditions:  6.0   style: 5.6  weight:  6.1
WOMEN: In all the categories we test there's always a range. Some skis are best for those at the lower end of the skill range, while others have a bit more bite and are best for more aggressive skiers. The Cloud 9 fits in the latter category. Our testers found it worked well at speed, had the feel of a higher-end ski and let them feel confident on edge. Martina Osman had fun testing this thoroughbred: "A stunningly solid ski for this category. It feels smooth, turns with ease and inspires confidence with each turn."
BLIZZARD G-FORCE ULTRASONIC FULL SUSPENSION
LENGTHS AVAILABLE: 153, 160, 167*, 174
sidecut: 121/73/105         turn radius: 15 @ 167    MSRP: $1000 with bindings
BEST IN: EDGE GRIP, STABILITY  *  AVERAGE SCORE: 7.2
ability: 5.7  conditions: 7.0  style: 5.0   weight:  5.4
MEN:  You'll not only enjoy the ride on this ski, but find yourself skiing better, too. Skis in this category should carve easily at slow to moderate speeds, but earn bonus points if they can handle a bit of zip. And that was the case with the G-Force Ultrasonic at Fernie. Testers found it made them want to add a little power to their turns because the ski responded so well. George Terwiel said, "It's responsive with solid edge grip, and is easy to bend in all turn shapes. A fun, playful ski with super-performance."
BLIZZARD VIVA ULTRASONIC SUSPENSION IQ
LENGTHS AVAILABLE: 153, 160*, 167
sidecut: 115/70/99          turn radius: 14 @ 160   MSRP: $890
BEST IN: LONG RADIUS  *  AVERAGE SCORE: 6.0
ability: 4.6    conditions: 6.3    style: 5.3     weight: 5.6
WOMEN: Ski Canada's female testers really enjoyed the Viva Ultrasonic and agreed it was a good fit for the category. The general consensus at Fernie was that it preferred longer turns and might be best for a heavier skier because of the stiffness in the ski. Most of the team, including Nina Gretzmacher, enjoyed the ride: "This ski is easy to initiate and feels smooth. It's best at moderate speeds and prefers long-radius turns. A total confidence-boosting ski for easy cruising down blue and green runs."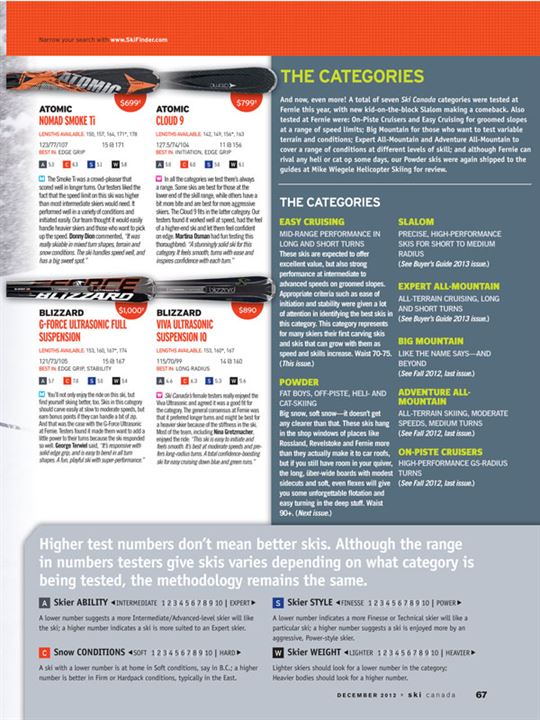 DYNSTAR SPEED CROSS Ti
LENGTHS AVAILABLE: 159, 165, 171*, 177
sidecut:  121/72/ 105         turn radius:  15 @ 171      MSRP: $1000 with bindings
BEST IN: AGILITY  *  AVERAGE SCORE:  6.7
ability: 5.2   conditions: 5.9       style:  4.6    weight:  4.7
MEN:  This ski had our more aggressive testers smiling because of its ability to handle a bit of speed. The radius of the ski was versatile, but it was when the speed increased that testers felt it really came to life. They agreed this would be a ski to improve on and easily take an intermediate skier to the next level. Erin Keam described it this way: "It's more ski than an intermediate would need, but great to grow on. It had a centred feel, carved easily and inspired confidence when the speed picked up."
DYNASTAR ACTIVE LX
LENGTHS AVAILABLE: 148, 153, 158, 163*, 168
sidecut: 126/74/104     turn radius:  13 @ 163           MSRP: $800 with bindings
BEST IN: STABILITY  *  AVERAGE SCORE:  7.5
ability:  4.0    conditions:  4.9   style: 4.6      weight: 5.7
 WOMEN:  Our test team was both impressed with and enjoyed skiing on the Active LX. From moderate speeds on the groomers to some playtime off-piste, the ski performed well in all situations. It scored equally well in both short and long turns, so it will be a versatile ski for most women. Here's Fernie-local Janet Kuijt's take: "This elegant ski makes life easy. It has a wide range of balance while still comfortably giving a smooth ride down the mountain. You'll always look graceful and stylish with this ski."
ELAN AMPHIBIO WAVEFLEX 78 Ti
LENGTHS AVAILABLE: 160, 168*, 176, 182
sidecut:  127/78/107       turn radius:   14.9 @ 168     MSRP:  $1150 with bindings
BEST IN: INITIATION  *  AVERAGE SCORE:  7.5
ability:   5.5    conditions:  6.4    style:  4.8    weight: 5.6
MEN: The Amphibio Waveflex 78 had all the testers excited. Their comments were extremely positive and stressed how well it handled a variety of speeds and conditions. This well-rounded ski had great turn initiation and edge hold, and a large forgiving sweet spot. It had a fun and sporty feel to it, and felt solid on steeper terrain. Mark Stein had this to say: "A very nice ski that allows you to steer or carve at will. It does a bit of everything well. Great stuff!"
 ELAN ILUMINA FUSION
LENGTHS AVAILABLE: 140, 146, 152, 158*
sidecut: 124/75/104       turn radius:  13.2 @ 158     MSRP:  $850 with bindings
BEST IN: INITIATION  *  AVERAGE SCORE:  7.2
ability:  4.3  conditions:  5.3   style:  3.9     weight:  4.4
WOMEN: If the goal of an easy-cruising ski is to introduce new feelings to the aspiring skier, then the Ilumina does just that. This ski carved really well at Fernie, even at slower speeds, and had a big sweet spot to allow for a range in stances. The ski would best suit a mid- to lightweight skier and those making the jump to carving on moderate terrain. Janet Kuijt wrote: "A lovely lively little number! I loved the lightness of this ski. It will reward your legs, lift your spirits and make you want to ski till lift closing."
FISCHER PROGRESSOR 800
LENGTHS AVAILABLE: 150, 155, 160, 165, 170*, 175
sidecut: 122/74/103         turn radius:  12/15 @ 165    MSRP: $1050 with bindings
BEST IN: AGILITY    *   AVERAGE SCORE:  5.9
ability:   4.7     conditions:  6.0     style:  3.4    weight:  4.3
MEN: The Progressor 800 is appropriately named and a good fit for the category. Those looking to progress will enjoy the weight, easy pivot and good edge grip of this ski. It would be best for lighter skiers, and was a bit loose as the speed increased, but testers enjoyed the predictability the ski provided and thought it would be a confidence-builder for the green- and blue-run skier. Shane Lehman commented, "This is a great ski for the easy-cruising category. It's very reliable and always ready for the next turn."
FISCHER  KOA 78
LENGTHS AVAILABLE: 147, 154, 161*, 168
sidecut: 121/78/107         turn radius:  16 @ 161     MSRP: $850 with bindings
BEST IN: AGILITY, SHORT RADIUS  *  AVERAGE SCORE:  7.1
ability:  3.8    conditions:  5.3      style:  4.0   weight:   4.7
WOMEN: There was a lot for our testers to agree on when it came to Fischer's Koa 78. They agreed it held its edge at a variety of speeds, would appeal to a wide range of weights and would advance most skiers' skills. Janet Kuijt liked the Koa 78 a lot: "Sassy! This is my new best girlfriend. It's so fun, light and easygoing. Cruising is a breeze and like your favourite girlfriend, it's up for adding in a bit of speed, turns or carving for excitement. Uh-huh, girlfriend!"
HEAD INTEGRALE 009
LENGTHS AVAILABLE: 149, 156, 163, 170*, 177
sidecut: 127/75/111           turn radius: 13.2 @ 170       MSRP: $785 with bindings
BEST IN: INITIATION, EDGE GRIP  *  AVERAGE SCORE:  7.1
ability:  5.4    conditions:  6.4     style:  4.9      weight:    5.6
MEN: The key to progressing in skiing is the ability to feel comfortable experiencing new things. Going a bit faster, venturing into some soft snow or tackling a steeper run become easier on the right ski—and judging by our testers' comments, the Integrale may be that ski. According to Ron Betts, this is a "really nice ski for cruising. Apply just a bit of edge and the ski responds with a fun, predictable arc. A bit of speed isn't a problem, and the ski easily switched turn shapes."
HEAD Mya N° 5
LENGTHS AVAILABLE: 142, 149, 156, 163*
sidecut: 123/71/107          turn radius:  10.8 @ 156        MSRP: $660 with bindings
BEST IN: LONG RADIUS  *  AVERAGE SCORE:  7.9
ability:  4.6    conditions:  6.6   style:  4.9   weight:   5.3
 WOMEN: The Mya N° 5 was a tester favourite at Fernie; there wasn't a single negative comment from the team. This ski could do it all and it certainly proved that by handling all the conditions the testers threw at it. If the goal is to build a ski that initiates easily, holds an edge well and has versatility, then Head has scored with the Mya. Anne Terwiel of Sun Peaks fame agrees: "What a lovely ski! It's perfect for a learner who wants a ski she can grow with and be your best friend for a long time!"
 K2 IMPACT
LENGTHS AVAILABLE: 153, 160, 167*, 174
sidecut: 127/80/109          turn radius:  16 @ 174      MSRP: $800 with bindings
BEST IN: INITIATION   *  AVERAGE SCORE:  7.6
ability:  5.4       conditions:  5.6         style:  5.0         weight:   5.5
MEN: More than one tester called this a "category-defining ski," which is a good thing. In terms of appeal to consumers, an easy-cruising ski should help skiers progress by being solid underfoot, able to handle some speed, and easy to initiate and hold throughout the turn. The Impact impressed the men with all that and more. Local boy Peter Eaton summed it up nicely: "A top-of-the-category ski! It had effortless turn initiation, silky transition edge-to-edge and a great carve. This is a top-notch ski."
K2 SUPERFREE
LENGTHS AVAILABLE: 139, 146, 153*, 160, 167
sidecut:  120/76/104            turn radius:  14 @ 160      MSRP: $750 with bindings
BEST IN: AGILITY, SHORT RADIUS  *  AVERAGE SCORE: 7.5
ability:  3.6         conditions:  4.9           style:  3.1         weight:  4.0
WOMEN:  The SuperFree checked all the boxes in this category: easy to turn, handled all terrain and worked really well at a variety of speeds. Some of the taller women found the test-ski length a bit too short, but overall this was a ski that had our team really singing its praises. Here's a verse from Gillian Browning: "Truly a light and nimble ski. I felt I was a bit tall for this particular test length, but for a lighter build this would be a beautiful ski to gain confidence on. Power steering with a lighter touch."
KASTLE  LX82
LENGTHS AVAILABLE: 156, 164, 172*, 180
sidecut:  127/82/109             turn radius:  16 @ 172      MSRP:  $999
BEST IN: INITIATION  *  AVERAGE SCORE:  7.5
ability: 5.6      conditions:  6.1         style:  4.9        weight:   5.3
MEN: This ski was easily one of the favourites in the category. The testers were in agreement that the LX82 was one of the most responsive, lively and fun skis they had to test. Comments like "confidence builder" were common—and that's what you want to hear in this category. Long-time tester Mike Weiss had this to say: "Wow, what a fun ski! It's easy, sporty and playful. It makes you young at heart, building your confidence so you can dance with different turn shapes, tempos and terrain choices."
KASTLE  LX72
LENGTHS AVAILABLE: 146, 154, 162*, 170*
sidecut: 117/72/99             turn radius:  14.5 @ 162      MSRP: $899
BEST IN: LONG RADIUS  *  AVERAGE SCORE:  7.8
ability:  4.1        conditions:   5.6          style:  4.9          weight:   5.6
WOMEN: The LX72 was easy to initiate, easy to edge and easy to find the sweet spot—and it was certainly a crowd-pleaser in terms of how smooth it felt. The category is called Easy Cruising, and that's what our testers felt this ski was all about. This is a ski that most recreational skiers will enjoy for its ease of operation. Donie Blunden commented: "This is an easy cruiser with a big sweet spot. Stand on the arc and it just swings around. It's stable at any speed in any turn size. Super-versatile!"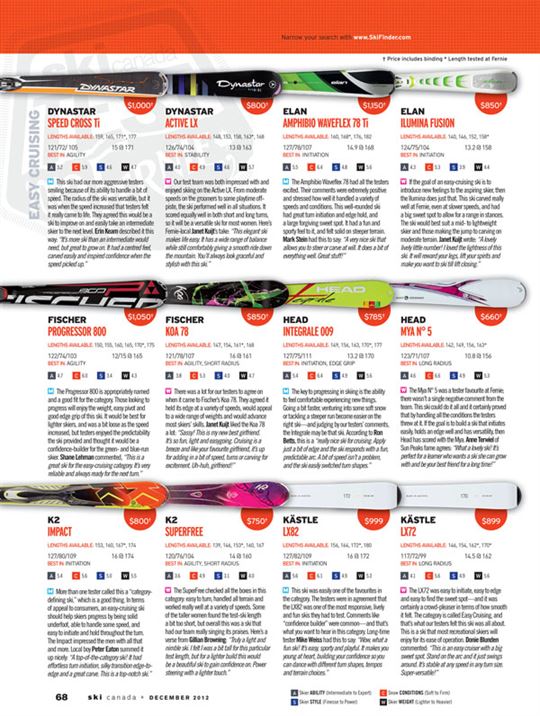 NORDICA TRANSFIRE 78 Ti
LENGTHS AVAILABLE: 152, 160, 168, 176*
sidecut:  130/78/108            turn radius:  16.5 @ 176        MSRP: $770 with bindings
BEST IN: INITIATION  *  AVERAGE SCORE:  6.3
ability:  4.6   conditions:    6.5     style:   5.0      weight:   5.1
MEN:  A consistent and predictable cruiser was how many of our testers at Fernie described the Transfire 78. It carved well at slower speeds and would allow many aspiring experts to get the carving feel. The general consensus was that this ski would be best for light- to mid-weight skiers. The always concise Mark Stein wrote that the Transfire was "a competent carver that can handle some speed. It will take your skill up a level with fluid, linked carves."
NORDICA DRIVE 78
LENGTHS AVAILABLE: 144, 152, 160*, 168
sidecut:  130/78/108           turn radius:   13.5 @ 160      MSRP:  $660 with bindings
BEST IN: EDGE GRIP  *  AVERAGE SCORE:  6.5
ability:  4.0    conditions: 4.7      style:  5.4    weight:   5.6
WOMEN: This ski had more of a feisty personality than some in the category, but not in a negative way. The comments reflected a ski that preferred short turns and carved well. With many skis that have a short carve radius, the operator needs to be fairly well balanced. It would be best for those who prefer a shorter turn and love to be on edge. Colleen Dunn liked the Drive: "Zippity-do-dah! What a wonderful ski! It's versatile in all turn shapes and speeds. Just relax and enjoy cruising, or play around and make it interesting."
OGASAKA KS-TK
LENGTHS AVAILABLE: 155, 160*, 165, 170*, 175
sidecut:  116/70/101           turn radius:  16.1 @ 170    MSRP:  $1235
BEST IN: INITIATION     *   AVERAGE SCORE:  6.1 men  5.0 women
ability: men 5.0 /women  4.1      conditions:  men 6.9 /women 5.0      style: men 4.9 /women 5.9      weight:  men 4.5 /women  6.3
The men enjoyed the KS-TK at higher speeds, but felt it was a little grabby and less consistent at slower speeds, which could have been a tuning issue. George Terwiel said, "It's stable with a solid edge grip and performs better the faster you go, but not as forgiving when skidding turns or going slow." The women liked the feel and responsiveness, but also felt the tune was off. Try this one for yourself. Gillian Browning commented, "This ski fit the category with reasonable ease of operation. It performed well in slow to moderate speed with varied turn shape and balance points."
ROSSIGNOL PURSUIT 16
LENGTHS AVAILABLE: 149, 156, 163, 170*, 177
sidecut: 125/74/105            turn radius:  16 @ 170   MSRP: $900 with bindings
BEST IN: INITIATION, EDGE GRIP  *  AVERAGE SCORE:  6.9
ability: 5.2        conditions:  6.9           style:  4.9        weight:  5.3
MEN: When our testers really enjoy a ski, it shows in the vocabulary of their test comments. That was the case with the Pursuit 16. Words like racy, sporty and fun were used to describe the ski. The test team really liked that it had lots of life, and thought advanced intermediates would benefit the most from this ski. Paul Ouelette's comment was typical: "Wow! What a pleasure to ride! It's stable, forgiving, fun and quick edge-to-edge. This ski handled the groomers with ease."
ROSSIGNOL ATTRAXION 6 ECHO
LENGTHS AVAILABLE: 146, 154, 162*
sidecut: 120/72/100            turn radius:  14.6 @ 162      MSRP:  $800 with bindings
BEST IN: INITIATION  *  AVERAGE SCORE:  7.6
ability:  3.7        conditions:  5.4         style:  3.3        weight:  4.0
WOMEN: This ski had our testers in their happy place; it was easily one of the favourites in the category. They liked how well it responded in a variety of snow conditions, and all agreed that it was the kind of ski that allows skiers to build confidence, which is really what this category is about. Colleen Dunn had this to say about her test ride: "This ski is simple, wonderful and uncomplicated. It's forgiving in the bumps and choppier snow, and silky on the groomers. Feel good and ski better."
SALOMON 24 DAYTONA
LENGTHS AVAILABLE: 148, 155, 162, 169, 176
sidecut:  119/72/104            turn radius:  14.6 @ 169     MSRP: $899 with bindings
BEST IN: SHORT RADIUS  *  AVERAGE SCORE: 6.6
ability:  5.0      conditions:  6.0        style:  4.8         weight:  4.7
MEN:  The 24 Daytona seemed to impress our testers in two distinct areas: they liked the soft shovel, which translated into easy initiation and the ability to handle soft snow as well as the groomed; and they liked the size of the sweet spot, enabling the ski to perform well from the middle and a bit behind centre. Peter Eaton summed it up best: "It skis well if you're centred, forward or a backseat driver—it has a huge sweet spot. It's lively in all turn shapes, and is best at medium or high speeds."
SALOMON ORIGINS BAMBOO
LENGTHS AVAILABLE: 143, 151, 159*, 167
sidecut: 123/74/103            turn radius:  12.4 @ 159     MSRP: $749 with bindings
BEST IN: EDGE GRIP  *  AVERAGE SCORE:  4.5
ability:  4.9        conditions:   5.6         style: 6.8      weight:  7.3
WOMEN: Our female testers agreed that this ski felt a bit grabby at slower speeds. There were several comments about the tune being off, but most of our testers found the ski was difficult to initiate and worked better at higher speeds. This ski would be one to demo and try for yourself because some of you will love it. Here's Liz Billam's impression of the Origins Bamboo: "This heavier ski liked speed to show off, and was stable from turn to turn."
VOLKL RTM 77
LENGTHS AVAILABLE: 161, 166, 171, 176*
sidecut:  122/77/107         turn radius: 17.2 @ 176    MSRP: $850 with bindings
BEST IN: STABILITY   *  AVERAGE SCORE: 6.9
ability:  5.3         conditions:  6.7        style:  6.0        weight:  6.3
MEN: Our team agreed that this ski was one of the top performers in the category because of its predictable turn shape, ability to handle higher speeds easily and lively feel from turn-to-turn. Agreement from such a wide range of skiers makes it easy to recommend the RTM 77. D'Arcy Sego had nothing but praise: "This was a high-performance, rock-solid ski; definite top three for best-in-class. It's easy to put on edge with a solid hold. A very stable cruiser. Keep speeds moderate and this horse will never buck you off."
VOLKL CHIARA
LENGTHS AVAILABLE: 141, 148, 155, 162*
sidecut: 123/77/97         turn radius:  17.4 @ 162        MSRP: $850 with bindings
BEST IN: EDGE GRIP  *  AVERAGE SCORE:  7.8
ability:  4.2      conditions:  5.8        style:  5.0       weight:   4.7
WOMEN: The women felt that the Chiara shone in a variety of conditions and was very user-friendly. In terms of ratings and comments, this was one of the most enjoyable skis in the category. Our team liked it slightly better in longer turns, but felt that it was still nimble and agile enough to handle short turns. Fernie Ski School Director Wendy Lemoine said, "This is a really nice ski, with easy transitions from turn-to-turn. The ski feels stable from short turns to bigger turns, and was lively and light."