---
You're skiing along and suddenly the tail of your downhill ski slips out. Or perhaps it happens on a micro level at the end of every turn. In the ski teaching world we've nicknamed this little annoyance a "downstem" since your skis end up momentarily in a small wedge, or stem.
Anytime a lack of grip comes into play we automatically think about edging the ski more. This is one of many contributing factors to a downstem, but more often than not the root cause lies further up the chain, with balance.
If too much pressure is placed on the front of the outside ski, the tip continues to hold−but the tail releases its grip and slips. If this is you, ask yourself, "Is my outside foot getting left behind at the end of the turn?"
BY TOBIN LEOPKEY,
CSIA IV, CSCF II, CSGA I
Photos NIGEL HARRISON
snow VALLE NEVADO RESORT, CHILE
Cause
The outside knee is too straight, leaving the foot behind your body's centre of mass.
Solution
Bend your outside knee to bring your foot farther ahead. It may feel like you're about to sit down.
Cause
The outside ankle is overflexed, leaving the foot behind.
Solution
Reduce shin pressure on the front of the boot and instead feel your balance point through the bottom of the outside foot.
Cause
The hips are overflexed, moving your body's centre of mass ahead of your feet.
Solution
Keep your shoulders above (or just behind) your knees.
Remember, at the end of each turn your feet are slowing down as they steer across your momentum, but your mass wants to keep moving on its trajectory. At this particular moment in time, this means your feet will need to be placed slightly out in front to support you.
If one or both feet are getting left behind (causing a downstem), try to determine which joint may not be working in unison with the others, then make an adjustment to push the outside, or downhill, foot ahead.
You may feel more pressure under the back part of your arch, just in front of your heel, as you complete each turn.
Give it a shot and see if your tail grips.
Tobin Leopkey is Program Director at Section 8 Snowsport Institute. Section 8 offers ski improvement camps for intermediate and expert skiers in all terrain and conditions in B.C., Austria, Japan—and beyond! www.section8ski.com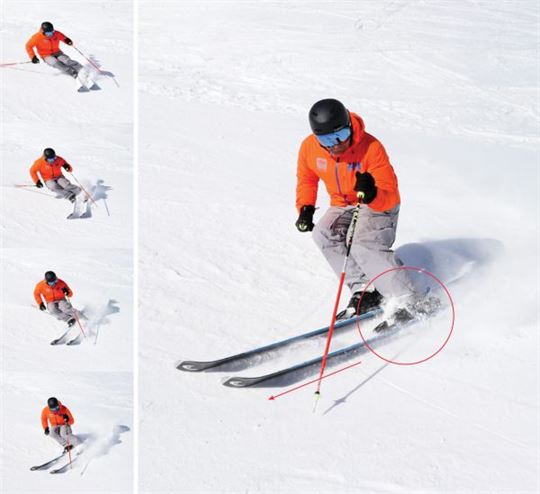 Tags: downstem, Section 8 Snowsport Institute, ski instruction, ski school