Combo: Chilkat Pass and Volkl VTA 98
---
Where: Northern Coast Range between Haines Junction, Yukon, and Haines, Alaska.
Why: Wide-open ridges heading off in every direction.
Suggested ski: Völkl VTA 98
When the well-known spines of the mountains around Haines are socked in, the Chilkat Pass, just up the road and serviced by a good paved road, is often sunny and ready to explore. Skiable peaks, ridgelines extending for kilometres and valleys leading into the biggest mountains in North America are right off the highway. Oh, and there's not a tree in sight.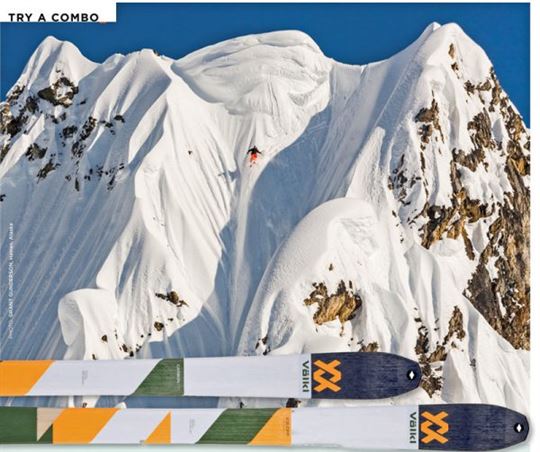 BEST FOR: Long tours * LENGTHS: 156, 163, 170, 177, 184 * RADIUS: 20.1@177 * SIDECUT: 133-98-116 * WEIGHT: 2.76kg/pair * $799

Völkl's new VTA backcountry skis are lighter and more touring oriented compared to the freeride-focused BMT, or Big Mountain Touring, planks. The Tourlite Woodcore is a mix of paulownia and poplar, with tougher beech wood under the binding. The holed tip is designed for touring; with a binding for climbing skins, a carbon layup to shave weight, and an angled design to increase float and cut more grams. And the topsheet is designed to prevent snow from sticking to it. During testing in the Rockies and Selkirks, everything seemed to work well except the Ice.Off Topsheet, particularly with stickier spring snow. We tested the VTA 98, the middle child of the three-ski line (the 88 is more mountaineering focused, and the 108 more freeride oriented). "A great ski for light and fast tours where the pow isn't over your head," said Paul Karchut. "A great example of a ski that cuts back on weight while still preserving exceptional ski quality." The VTA 98 felt like Völkl skis in tight and technical situations, which it handled with precision. Tricky snow was no problem, despite the feathery weight. "It was great at springtime crud-busting," Karchut noted. At 2.76kg a pair, it was one of the lightest skis we tested, but handled tricky snow like one of the heaviest.

Tags: alpine skis, backcountry, Ski Canada Test, ski reviews, ski test, Volkl, Volkl VTA 98