Visions of Castle – Castle Mt. Alberta
---
by DOUG FIRBY from Fall 2019 issue
As we stand on the cat track at Castle Mountain's Haig Ridge, the snow on more than 350 hectares of terrain before us gives off a crystalline sparkle. From this point, we can see in the distance where the southern Alberta Rockies meet the prairies, a sea of lodgepole pine, white spruce and Douglas fir poking through wisps of morning mist.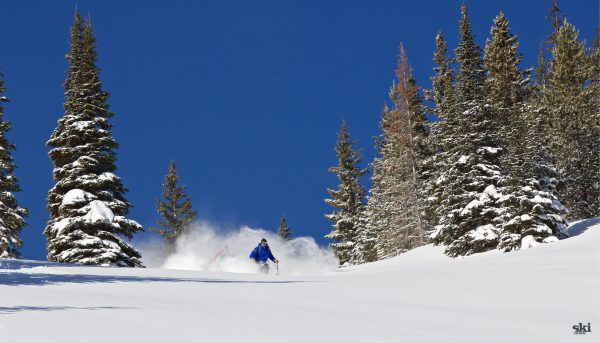 But we're not here for the scenery. A dozen eager skiers are edgy as they run through the final avy drill at Powder Stagecoach, Castle's day cat-skiing operation. They're anxious to get going, because they know they're in for a day that's as good as it gets at this southwestern Alberta snow hideaway.
As we break over the crest, our skis feel like magic carpets riding on clouds. The powder is superb—hip-deep in places. It's slightly dense today and is harder work than my fantasies. By the second run we are drenched in sweat, yelping out hoots and hollers, our beards encrusted in snow from faceplants.
"There's so much snow here," marvels Jon Cooper, who has made the drive from Banff for the day. "It's amazing."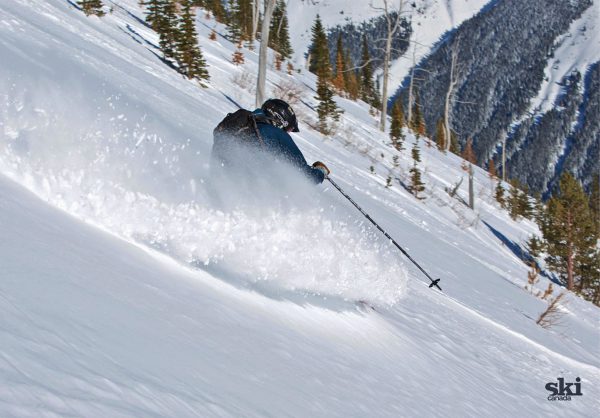 "It's unreal," adds Connor Spratt, a native of Melbourne, Australia, who is being hosted for the day by his boss in Banff. "I've never skied in powder like that. It puts a lot more pressure on the legs than groomers."
Rick Bennett, of Calgary, is here with his 24-year-old son Craig. Bennett says he has skied around the world, and Castle's cat-skiing can compete with the best. "For day cat-skiing, it's phenomenal out there," he says.
Powder Stagecoach cat-skiing has been operating for nearly 10 years in a previously unexploited section of this 570-hectare locally focused ski resort. The cat service opens up an area that edges Castle closer to its full potential. But soon, the rich powder of this area will no longer be the exclusive turf of those who shell out for a ride on the snowcat; it will be accessible to anyone who buys a lift ticket.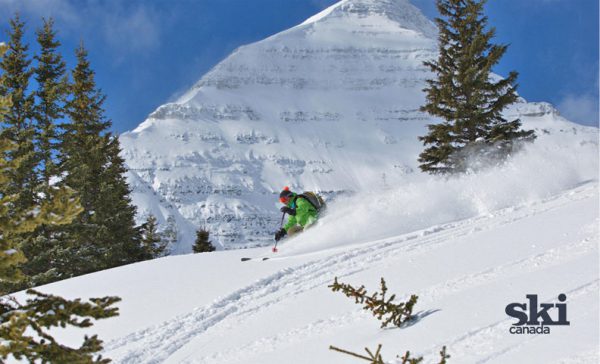 Since its founding by a Swiss immigrant in the mid-1960s, Castle has been a beloved place of potential. Yet, that potential has largely remained on the horizon, as the resort's vision for growth—even decent lifts—and ultimately its long-term financial stability have been held back by limited financial resources.

The challenges of this resort, which sits two-and-a-half hours south of Calgary, are numerous, and mostly rooted in the lack of money. Hobbled by a lack of infrastructure and amenities, Castle records about 100,000 skier-visits a year, while Fernie, just one-and-a-half hours west, draws 225,000 and Marmot Basin in Jasper draws 210,000. Yet, Albertans—who represent 90 per cent of the visits—and a handful of in-the-know destination tourists choose it as an uncrowded, and often overlooked, jewel in Western Canada.

"When I run into an international tourist on the hill, I say, 'How the hell did you find out about this place?'" laughs Kevin Finn, a 20+-year veteran of the mountain and chair of the Castle community association's board.

Its remoteness is part of its charm, but also complicates Castle's challenges. Sitting 45 km away from a major highway, the area is surrounded by heavily regulated parkland and does not have a supply of the heavy-duty, three-phase power needed to drive chairlifts. As a result, the resort's four main lifts must be driven by diesel.

The lifts themselves are mostly fixed-grip hand-me-downs picked up from resorts that were "retiring" them. To some, they're nostalgic, to others they're notoriously poky; the Tamarack (Red) Chair, which is the only access to the double-black runs on The Chutes, can face lineups on the rare busy day. And that's frustrating for advanced skiers like me, who find The Chutes' on-piste steeps worth the trip alone. The South Chutes have a fall line that stretches for 5.5 km. This is where Castle's famous gale-force winds are considered an asset. On a windy day, tracks in The Chutes are filled in with new snow by the time you get back to the top.

"The wind is your friend at Castle," says Finn. "The wind creates the snow quality."

When we visited Castle in February, the Red chair was closed after a morning avalanche just above the top station, in which two teenagers were caught—a sobering reminder that this is big mountain skiing. The pair was rescued by ski patrol unharmed, but the incident closed the only access to The Chutes for the rest of the day.

The area also does not have cell phone service—although that's not necessarily a drawback for anyone who wants an uninterrupted day away from the office.

But change is blowin' in these blustery winds. Castle has filed a development plan with the Alberta and local governments, in which it details plans to expand its residential unit sales, upgrade its lifts, put chairlifts into the Haig cat-ski area, add amenities and generally become much more robust as a destination.

With some approvals in place, snowmaking gear is set for this winter. Castle spent $2 million over the summer, adding a water reservoir the size of three Olympic swimming pools and four-to-six snowguns to help insulate the resort against weather fluctuations that can delay the season start in abnormal years.

Waiting for a decent base often means mid-December openings, says Cole Fawcett, Castle's sales and marketing manager. With the new snowmaking capacity, Castle has moved its opening date up a week, to December 7.
"Fernie opens a week earlier than us," he explains. "We don't like that."

Castle's development plan "is designed to further the reputation of Castle Mountain as a backcountry-oriented powder skiing mecca, while developing a balanced all-season mountain experience and attracting visitors from across Alberta and beyond," the document states.

Several new lifts are envisioned, and Fawcett says the very first could be a quad—ideally, the resort's first detachable—in the Haig cat-skiing area.

In addition to alpine skiing, the resort plans to expand backcountry skiing and touring, cross-country skiing, snowshoeing and cat-skiing. In summer, it plans to introduce lift-serviced mountain biking, cross-country mountain bike trails, hiking, an aerial adventure park and horseback riding. The application is in the province's hands.

Castle also plans to develop its real estate by adding a hotel, condominium, townhouses, single family and RV spaces. It wants to create more "warm beds" for short-term guests and add a grocery store and community centre. Right now, Castle Ski Lodge offers 11 basic hotel rooms, plus 56 hostel-style beds. Other on-site options include rentals from condo and house owners, and a serviced lot for trailers and RVs—which has a waiting list of three to five years.

"This is one of the last ghetto ski hills," jokes Andrew Herdman, who is visiting from Banff. "You know, with people living in trailers in the parking lot."

As much as Castle wants to grow, it will not consider selling to a corporation.

"It's been bootstrapped from Day 1, and that will continue," says Finn, who retired to a nearby ranch from a job in Alberta's oil industry. He says the community ownership model is what makes it stand out from other small hills, like B.C.'s Apex or Whitewater. "We have these very strong common interests: we love to ski, we love our kids, we love our dogs…and not necessarily in that order. It takes me back to what skiing was like when I was a kid."

The resort is also getting more aggressive at marketing itself. For the 2019-20 season, it's holding the line on lift ticket prices ($94 for an adult all-day pass). It has joined the Powder Alliance, which provides discounts at 19 independently owned North American resorts, plus one in Chile and one in Japan. Alliance resorts include Marmot Basin in Jasper, Schweitzer Mountain Resort in Idaho, Bridger Bowl Ski Area in Montana and Whitewater Ski Resort in Nelson, B.C.

Fawcett said the goal is to grow skier-visits to 133,000. Yet none of the plans is intended to turn the resort into something other than the community-focused place it has always been.

"Our long-term vision is to grow to the point of sustainability," he says. "We want to grow just enough to ensure our future."

Sustainability has been a long-standing challenge. Swiss immigrant Paul Klaas discovered the area while riding horseback in "West Castle," and started cutting runs in 1964 with backing from local farmers, ranchers and businessmen. A decade later, the resort was out of money, and it was taken over by the municipality of Pincher Creek. The MD ran it for a decade, but eventually threatened to walk away when taxpayers started griping.

A group of local citizens and resort fans stepped forward and bought Castle in 1996. It's now owned by about 200 locals, and a few others from across the West, and governed by an elected board of 12 trustees. To own a house on-site, you must own at least one share in the corporation.

Fawcett says the powerful sense of community—residents still put on a monthly potluck dinner—is what sets Castle apart. "Marie (Cameron) The Hug Lady" plans to be at the base this winter again, doling out shows of affection as skiers and riders prepare to board the Sundance Chair.
"We're not a large corporate machine," says Fawcett.

That community feel is palpable at the T-Bar Pub and Grill, the only on-site evening après and dining. On busy nights, it's jammed with visitors and staff, like the evening we were there listening to cover songs from a one-man act named Tynan Groves, who made the 45-minute trip from Crowsnest Pass.

Finn says Castle isn't for everybody, but "if you love the challenge of skiing, then it's a great place to go. It's a skier's ski hill. You're not going to get many more of those."

More on Castle Mountain from Ski Canada archives

Tags: Alberta, Castle Mountain, Castle Mountain Resort, Featured, Powder Alliance, Powder Stagecoach