Reading Time:
8
minutes
Despite the distance, the cold and the credit crunch, Banff attracts—and sometimes keeps—the keenest skiers from across the pond.
With at least 28 days of paid annual leave from work, and an intrepid travel culture, the British are accustomed to regular winter as well as summer holidays. After sampling Europe, they venture farther in search of more powder for their pound. And more often than not, that leads them to the Canadian Rockies, where the tree-lined, high-altitude triumvirate of Lake Louise, Sunshine Village and Mt. Norquay is synonymous with a long and snowy season.
As well as tourists, the Brits around Banff are seasonal workers and also immigrants who turn holidays or work contracts into a lifestyle change. So, with an apprenticeship in expansive Euro ski areas, what's their perspective on Banff's skiing, weather, service and culture?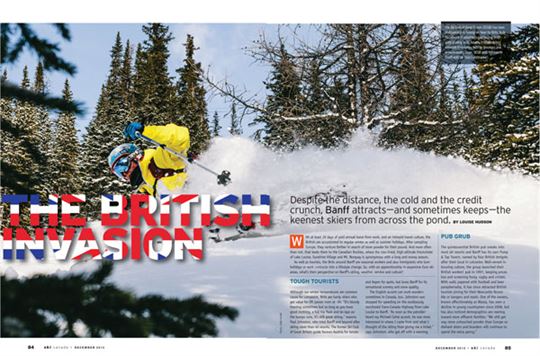 Tough Tourists
Although our winter temperatures are common cause for complaint, Brits are hardy skiers who get value for lift passes even at -30. "It's bloody freezing sometimes but so long as you have good clothing, a full hip flask and do laps on the bumps runs, it's still great skiing," reasons Paul Johnston, who tried Banff and beyond after skiing more than 40 resorts. The former Ski Club of Great Britain guide favours Austria for terrain and Aspen for après, but loves Banff for its sensational scenery and snow quality.
The English accent can work wonders sometimes in Canada, too. Johnston was stopped for speeding on the assiduously monitored Trans-Canada Highway from Lake Louise to Banff. "As soon as the patroller heard my Michael Caine accent, he was more interested in where I came from and what I thought of the skiing than giving me a ticket," says Johnston, who got off with a warning.
Pub Grub
The quintessential British pub sneaks into most ski resorts and Banff has its own Pump & Tap Tavern, named by four British émigrés after their local in Leicester. Well-versed in boozing culture, the group launched their British workers' pub in 1997, keeping prices low and screening footy, rugby and cricket. With walls papered with football and beer paraphernalia, it has since attracted British tourists pining for their Newcastle Brown Ale or bangers and mash. One of the owners, known affectionately as Wazza, has seen a decline in young countrymen since 2008, but has also noticed demographics are veering toward more affluent families: "We still get way more untouched powder than Europe so diehard skiers and boarders will continue to spend the extra penny."
Family Focus
Having spent eight family holidays in Banff, Vanessa Plant is quite an authority on the iconic Rockies town. Like many Brits, for whom ski instruction is important, she values the friendliness of Canadian instructors over European equivalents. "My kids prefer their playful attitude, their accents and lingo," she says. "And it's great for parallel play—I can stick to the piste while my kids do bumps, powder or trees at the side," she explains. With less acreage and more signage, she now feels confident to let her children ski unaccompanied, something she would never do in France.
The Fortnight
The bottom line is Brits are good for business in any ski resort. Staying at least a week and sometimes a fortnight, they spend considerable sums on drink and grub. Intoxicated, as well, by the lower cost of skiwear and equipment compared to home, they often splash out in ski shops. "Banff ski kit is cheaper with better brands and choice—and there's always a sale," says Plant, who's discovered the key to staying warm in Canada's cold: Therm-ic's battery-heated Power Gloves.
While happy to splurge on posh nosh at night, most Brits appreciate the opportunity to bag lunches: "Lunch for four can be 100 quid in France, so it's great to save money picnicking at Lake Louise or Sunshine," says Plant. This leaves more funds for fondue at The Grizzly House or rösti at the Walliser Stube.
With winter rates half those of summer, Anglos lap up the gothic grandeur of Fairmont Banff Springs and the glacial glamour at Chateau Lake Louise. Staying at these photogenic icons provides significant Facebook fodder while on shuttle buses, although some "Tommy tourists" complain about the long rides.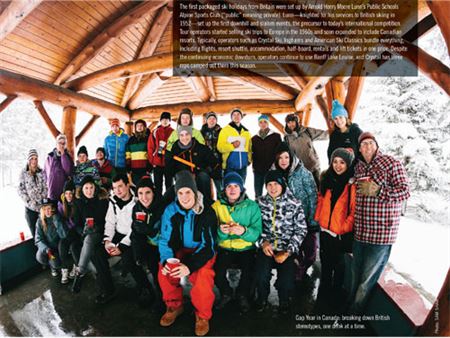 Smiley Faces
Having only broad piste maps and sketchy signage to navigate European resorts, Brits are always chuffed by Canada's ski hosts and helpful greeters—a sharp contrast to Méribel or Chamonix, where "service" is aloof at best and the French Ski School has been successful at banning British ski guides provided by tour operators despite both countries belonging to the EU.
Brits are in heaven by orderly queue management in North America—and indeed, the often lack of lines—especially after the traumas of lift-line warfare in Europe during February school holidays. They are also unaccustomed to friendly locals after skiing in over-subscribed and increasingly Russian-dominated European destinations. "You don't row with the Russians, you just let them push to the front," says Plant. "But I do always admire the bling on their ski outfits."
Willing Workers
British graduates, accustomed to taking a gap year after uni, are unfazed by low wages and cramped quarters so long as there's snow. They're attracted to Banff Lake Louise after hearing about plentiful powder on the ski grapevine during European holidays or visits to one of Britain's 80 indoor (and a few outdoor) ski facilities.
Their transition from Britain to Banff is expedited by Gap Year Canada, a work-abroad organization run by ex-pat Noel Martin. "They come for the snow and the opportunity for work to subsidize their season," says Martin. Gap Year facilitates jobs, housing, transportation and the baffling bureaucracy of banking, visas, health care etc. Martin, a qualified snowboarding instructor, says they choose Banff because outdoor jobs—liftees, greeters, trail and park crew—are not available to Brits in Europe. Gap Year also runs instructor training courses with Mt. Norquay, supplying teachers for weekend kids' programs.
Along with Gap Year's orientation and social events, Martin says Banff always has "something on the go"—but with a few cultural differences. "They are usually shocked at the beginning of the season to see how much effort people put into their costumes for Halloween." When fed up with Kokanee and Molson, the Gap kids pop into the Pump & Tap for a pint from 'ome before attending Sunday Funday clubbing. "Maybe it's just their age, but these young, enthusiastic Brits will nearly always be on the first bus in the morning for a ski or ride on their day off when it's -30, even after a Sunday night at Aurora's or the Dancing Sasquash," says Martin.
Arriving one season with Gap Year Canada, Sam Shaw worked as a liftee at Sunshine. He recorded his experiences on the hill and around town in a photo blog dubbed "Oot And Aboot Banff" in a Mickey-take of the Canadian accent. "I loved it there," he says. "Not one day passes I don't wish I was back in the Rockies, and hopefully next winter my camera and I will be back." Around 10 per cent of the Gap crew return for a second year, and several per season put down permanent roots.
Ski Culture
So why do all these bold Brits gravitate to Banff? Even though the 1988 Olympics were held in Calgary, Nakiska and Canmore, the spotlight helped raise awareness—as does the annual Winterstart World Cup at Lake Louise, which is televised worldwide. Also, all Canadian resorts woo the Brits at the huge Daily Mail Ski & Snowboard Shows in London and Manchester, where enthusiasm for winter sports continues to regenerate each autumn.
The British Invasion
The first packaged ski holidays from Britain were set up by Arnold Henry Moore Lunn's Public Schools Alpine Sports Club ("public" meaning private). Lunn—knighted for his services to British skiing in 1952—set up the first downhill and slalom events, the precursor to today's international competition. Tour operators started selling ski trips to Europe in the 1960s and soon expanded to include Canadian resorts. Typically, operators such as Crystal Ski, Inghams and American Ski Classics bundle everything, including flights, resort shuttle, accommodation, half-board, rentals and lift tickets in one price. Despite the continuing economic downturn, operators continue to use Banff Lake Louise, and Crystal has three reps camped out there this season.
When Vanessa Plant saw a cougar chowing down on an elk during her journey to Banff from Calgary via the 1A, she didn't bother to take a photo. "I'd been told you see lots of wildlife in Canada, so I thought I would take one next time," she explains. "Compared to Verbier's Farm Club, Banff nightlife might be a bit tame, but where else can you see a real cougar—a four-legged one anyway?"
Everyone knows the Brits love watching their football on TV, but who knew that the longest-running BBC Sports program ever is Ski Sunday? This has been standard family weekend viewing since 1978! Now presented by former British Olympic skier Graham Bell, it usually focuses on coverage of the alpine ski racing season interspersed with features on different winter sports and resorts. Olympic skeleton star Amy Williams joined its 35th series in January 2013.
Many Canadians question this British predilection for skiing, not realizing that, although the Scandies invented the tools, it was rich Brits who elevated it to a sport while wintering in Switzerland in the early 1900s. Nowadays, around a million skiers and snowboarders would give anything to escape the dreariness of a grey day in the British Isles for bluebird conditions in Banff.
Savvy Settlers
Snowboarder Eddie Doyle came to Banff after university and never left. "It didn't take much arm twisting for me to stay," he says. "I'd heard about skiing in the Rockies, but seeing major mountains for the first time, I said to myself, 'I'm not going back to the South Downs!'"
"When they first heard I was out here, all my mates from England would come over and then they would borrow my car, my ski suit and my snowboard, and bugger off for a week, leaving me behind to work," says Eddie Doyle. "They said it was cheaper than Europe!"
One big difference he and other newbies notice between Canada and Europe is the tree zone. High-altitude skiing in the Alps, although typically sunny and mild, is also tree-free and, when shrouded in disorienting whiteouts, difficult to negotiate. First-timers from Britain are always amazed by Banff's trees and, once they pluck up the courage, revel in the meandering and fall-line runs cut into the forest. "No one much goes on the glades at Goat's Eye at Sunshine, so it's fabulous, and the trees aren't too tight for snowboards," says the Brit-turned-Canadian. "I can really take my foot off the brake and end up in a creek bed that forms a natural halfpipe."
The lengthy ski season is another plus for resident Brits. Skiable often from Halloween at Mt. Norquay until mid-May at Sunshine, it's lengthier than most other ski resorts in the world. "At Lake Louise last year I managed to go through to the last day when people were wearing bikinis and arriving on motorbikes with skis strapped on," says Doyle.