Reading Time:
7
minutes
As the ski industry enters new frontiers, accessories are clearly following suit. Purpose-built
boots, bindings and poles cover the range from race-ready to hiking-friendly. This year
most of the innovation takes place at the latter end of the spectrum as the Alpine Touring
or AT segment increasingly influences the rest of the market.
Performance redesigned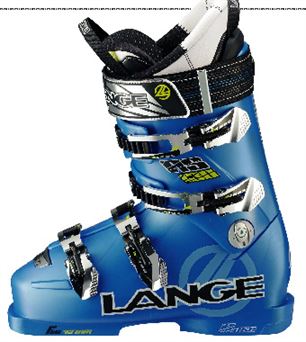 Big news from Lange. Its super-solid, mono-injected, three-flex (130, 120 and 110) RS
technical on-trail series comes in precise 97- and 100-mm lasts developed with 3-D imaging.
Expect innovative fits in the toebox, sixth toe and instep areas, while maintaining the company's
unyielding, race-ready heel pocket. The package includes a saddle-stitched, true lasted liner
with improved toe dam, keeping the moisture out, and an extra-low buckle profile, eliminating
buckle-out in tight turns. If you were never a Lange-foot in the past, it's time to try again.
Expectations are so high for this performer that the folks at Lange gave it a new colour – a
spectacular electric blue, called speed blue – and even photographed its first-ever Canadian
Lange Girl Audrey Bourbonnais in it (and not much else). Freeriders can get the same fit with
Lange's RX series. Both series come with standard and, for more diminutive skiers, short cuffs.
Live Fit
Atomic says its new two-buckle, tri-injected
Live Fit line offers perfect sizing.
Patented technology features a pair of
asymmetrical elastic zones surrounding the
forefoot, adapting effortlessly from a 102
to 106 last as your foot swells during the
day. This combines with a high-performing,
heel-retaining liner and oversize power
strap. Live Fit comes in men's and women's
60 to 120 flex.
One chassis, three new boots
Atomic's new 98-mm lasted Enduro chassis is purpose-built for steering beefier
skis. Raised five mm from its predecessor
(last year's Nuke), it offers better leverage
and knee-to-edge alignment, while its
Ridge Walker Sole means no-slip hiking.
The mould finds itself in three different
incarnations: all-mountain skiers should
check out the men's Burner and the
women's Medusa series. Going farther
afield? Think Tracker, which comes with
a newly developed power control walk/ski
adjustment and Recco reflector.
Hike and ride
Salomon's 100-mm lasted Quest line
shows the manufacturer's dedication to
stash skiing. Six new super-lightweight
(as little as 1.7 kg per boot), three-buckle
boots for men and women mean everyone
can get out back – and back again. The Quest makes hiking easier with a newly
developed cuff release system, V-shaped
lower shell and removable rubber soles.
When it comes to the steeps, sturdy
Magnesium Backbone technology combines
with a locking cuff for true alpine power
transmission. The Quest line comes with an
80 to 120 flex.
Progress
Progressor, Fischer's all-mountain performance boots,
now comes with X-Rail technology. The system strengthens
the power triangle, enabling efficient energy transfer
from shaft to forefoot, said to ease turn initiation and
improve control. Dual injection also means easier access
into these stiff (110-130 flex) boots.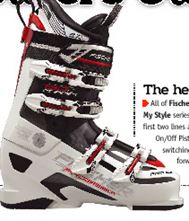 The heat is on
All of Fischer's Progressor, Freeride and
My Style series are heat system ready. The
first two lines also come with the company's
On/Off Piste Mode, making easy work of
switching boot lean from 17 degrees
forward to upright.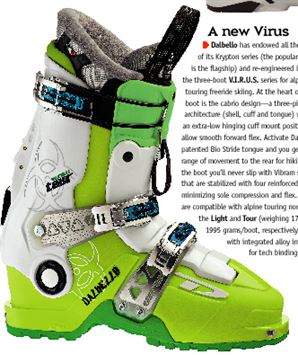 A new Virus
Dalbello has endowed all the power
of its Krypton series (the popular Il Moro is the flagship) and re-engineered it into
the three-boot V.I.R.U.S. series for alpine
touring freeride skiing. At the heart of the
boot is the cabrio design – a three-piece
architecture (shell, cuff and tongue) with
an extra-low hinging cuff mount position to
allow smooth forward flex. Activate Dalbello's
patented Bio Stride tongue and you get a long
range of movement to the rear for hiking. Below
the boot you'll never slip with Vibram soles
that are stabilized with four reinforced pylons,
minimizing sole compression and flex. The boots
are compatible with alpine touring norms, and
the Light and Tour (weighing 1730 and
1995 grams/boot, respectively) come
with integrated alloy interfaces
for tech bindings.
Racy boots
At the Frontside performance end of the
spectrum, Dalbello promises lots of on-slope
sting. The Scorpion series comes in 95- and
98-mm lasts pre-punched and ground to fit
critical hotspots. Racecourse ready, the four-
buckle boot has an FIS-approved 43-mm stance
at flexes from 90 (for juniors) to 150 (for racers
and mafia getting rid of bodies). Dalbello is so
sure about the design, developed with Olympic
slalom medallist Christian Mayer, that it's
literally putting money behind these boots as
an official supplier to Alpine Canada.
Boots for all tastes of AT
Scarpa claims its beefy but light
freeriders, Mobe (1.78 kg/boot) and
Hurricane (1.87 kg/boot) in men's, and
Shaka (1.64 kg/boot) in women's, are
no-compromise boots designed to drive
giant skis and rip big lines, yet tour with
comfort. Key to the package is its lugged
mountaineering sole rockered for mountain
travel, and the company's Powerblock Tour mechanism enabling a continuum between
flexible tour mode to fixed cuff rigidity
for descent. Those looking for lighter,
more touring-geared footwear can move
to the men's 1.53-kg Maestrale, or the
women's 1.33-kg Gea. Central to these is
an innovative hinging tongue, offering
the best of both overlap- and tongue-style
construction along with treaded soles.
The result: a super-lightweight boot that's
easy to get on and off (as well as in and
out of specialized tech-style bindings) yet
surprisingly rigid for their weight.
A solid foundation
Upgrading boots is easy with Superfeet.
The company's line of footbeds creates a
functional and athletic stance to improve
fit, function and performance. Its ski-
centric red hot and hot pink versions come
with a pair of heat-saving devices to keep
your feet warm on the slopes in both
women's and men's lasts. And good news
for those with big feet: Superfeet's classic
green supportive insoles just got wider.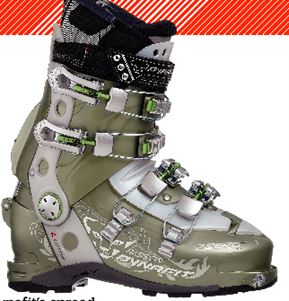 Dynafit's spread
Dynafit created its ZZERO for freeride tourers who demand top performance in all conditions.
At the top of the line comes ZZERO C-TF, a four-buckle Pebax plastic boot that gets its lightness
(1595 grams/boot) and downhill power from a rigid carbon fibre power stringer. Its easy-to-activate
patented ski-walk mechanism sets to three positions: 15 degrees, 21 degrees and loose
with 30 degrees of walking rotation. The ZZERO comes in six styles, including a women-specific
version, each with a new thermoflex liner, lightweight magnesium buckles, quick step-in inserts for Dynafit's AT bindings and an ultra-light Dynagrip outer sole that both holds well on rocks and ice and keeps feet insulated.
Those looking for an even lighter touring boot, should check out Dynafit's two-buckle TLT5. The series uses five patent-pending architectural innovations to lose weight while maintaining rigidity: magnesium buckle catches, the shortest most rockered shell made of the lightest and stiffest polymer on the market, and a magnesium locking system to change between walk and ride modes. Add on its patent-pending Acti-Flex zone, which allows five mm of flex in the forefoot for maximum agility while climbing, and a mountaineering-designed outer claw to provide the utmost traction when climbing difficult terrain. The package is rounded out with a double tongue system, which allows for a soft tongue ascent, with a firmer booster implant for descents. The TLT5 comes in two different cuffs: carbon fibre (1050 grams) and Pebax (1225 grams).
The third element
Tecnica has developed an air cushioning
system that's positioned between the shell
and liner. The system enables the skier to
personalize the fit through a pair of separate
air bladders that range in both the front
and heel areas of the boot. Want a tighter
hold? Simply pump it up (it requires a
couple of finger-pushes to inflate, one push
to defl ate). The system also aids in keeping
tootsies warm. You'll find the Air Shell in
select Phoenix All-Mountain 102-mm lasted
models.
Flying Ace
Park & Pipe riders looking for performance
on launches and forgiveness on landings
should check out the offerings in Nordica's
Ace of Spades series. They feature progressive
flex, offering extra calf support for dealing
with ankle pivot, natural when doing stunts
in the park or beyond. The 100-mm lasted
three-buckle boots come in five styles, two of
which are for Betties. At the top of the line,
the Ace of Spades comes with some nice added
details: a pant clip, Vibram soles and a floating
tongue, making it easy to get in and out.
Extra, extra!
The 98-mm lasted Ghost steps up from
last year with the addition of Salomon's custom heat-moulded shell. Other
important add-ons are the Hytrel injected
liner, a lively corn-based thermoplastic
and a gripping rubber insole – ideal for
freeskiers used to scouting over rocks and
stepping off helicopters.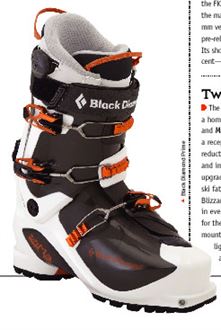 Piste-off
Black Diamond aims its newest line of
four Efficient Boots at ambitious off-piste
skiers. Models range from the flagship 3.5-
buckle Prime, to the women-specific Swift,
to the classic minimalist's Slant, to the
four-buckle, free-touring Quadrant. The
Triax Pivot Frame, which takes the freeride platform and enhances it with the features
and minimal weight of a state-of-the-art alpine touring boot, is at the heart of the
series. The frame's defining feature is its patent-pending Pivoting Cuff Technology: a
unique resistance-free cuff design that allows for an unrivaled 40-degree range of motion.