---
Two great ski resorts and one rub-down: Big White,
Silver Star and Sparkling Hill offer more than family playtime in the heart of the Okanagan.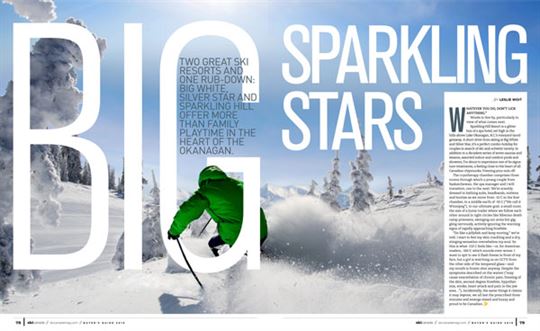 "Whatever you do, don't lick anything."
Words to live by, particularly in view of what comes next.
Sparkling Hill Resort is a glitter box of a spa hotel, set high in the hills above Lake Okanagan, B.C.'s vineyard-laced getaway. A short drive from skiing at Big White and Silver Star, it's a perfect combo-holiday for couples in search of ski-and-schwitz variety. In addition to a decadent series of seven saunas and steams, assorted indoor and outdoor pools and showers, I'm about to experience one of its signature treatments, a feeling close to the heart of all Canadian chipmunks. Freezing your nuts off.
The cryotherapy chamber comprises three rooms through which a young couple from Saskatchewan, the spa manager and I will transition, one to the next. We're scantily dressed in bathing suits, headbands, mittens and booties as we move from -10 C in the first chamber, to a middle earth of -50 C ("We call it Winnipeg"), to our ultimate goal: a small room the size of a horse trailer where we follow each other around in tight circles like Siberian death camp prisoners, swinging our arms but giggling nervously, actively ignoring the warning signs of rapidly approaching frostbite.
"Do like a jellyfish and keep moving," we're told. I start to feel my skin crackling and a dry, stinging sensation overwhelms my soul. So this is what -110 C feels like—or, for American readers, -166 F, which sounds even worse. I want to spit to see it flash freeze in front of my face, but a girl is watching us on CCTV from the other side of the tempered glass—and my mouth is frozen shut anyway. Despite the symptoms described on the waiver ("may cause exacerbation of chronic pain, freezing of the skin, second-degree frostbite, hypothermia, stroke, heart attack and pain in the jaw area…"), incidentally, the same things it claims it may improve, we all last the prescribed three minutes and emerge elated and buzzy and proud to be Canadian.
As après-ski amusements go, Sparkling Hill is up there. Close enough to combine with Okanagan skiing, this is the only European-style wellness spa of this calibre in Canada, possibly North America. It's the labour of love of Herr Langes-Swarovski, scion of the wildly successful Austrian crystal house who fell in love with this verdant bit of B.C. There are 3.5-million crystals integrated into the design, including the chandeliers shaped like Lake Okanagan in the restaurant and maple leaves in the ballroom. You can be scrubbed down with a goat-hair brush at one moment and slurried with Italian mud fango the next, do meditation, yoga or join a sauna "class." Just the guy waving towels scented with cinnamon was surprisingly pleasant.  One hour (during dinner) is reserved for nudies, the rest of the time—unlike in most of Euroland—bathing suits and towels are de rigueur.
Sore ski muscles are only some of the ailments addressed here at the Klinik (I met the house psychiatrist in the bar). And powder addicts are well served by the heli-ski operation that lifts off daily from the back garden. After heli-skiing in the nearby Monashees, Kingfisher Heli guests enjoy their après drinks in Herr Langes-Swarovski's own private club room, overlooked by his family crest emblazoned with pink crystals.
With my body limbered and noodled in the spa, it's time for some turns. I relocate a half hour up the road to Silver Star, one of Canada's friendliest and coziest ski resorts. Chalets and houses bedecked in pink, green and yellow splashes of colour welcome me to the compact, moon-boot-friendly, mid-mountain village. A clutch of bars and restaurants—Long John's Pub, The Silver Grill, Isidore's—edged by a covered wooden boardwalk provide easy access to cute shops that say, "Come on in, y'all, there's something for everyone."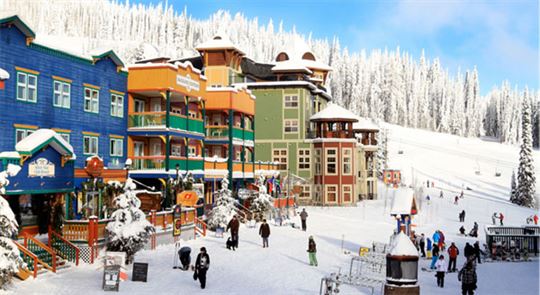 Anyone and everyone passes through Bugaboos Café. They come for the lattes, the cappos and if you're Anthony Hopkins, you come back for the cinnamon buns. Nicole Kidman favours lower-cal options. She was at the resort the week before with hubbie Keith Urban, staying with her sister two doors down from Martin Olson, Ski Canada's instruction editor (who once taught Linda Lovelace a thing or two at Sunshine Village). Martin is also at the Bugaboos stammtisch, part of the regular crowd here that features many a CSIA Level IV, including equally world-famous Norm Crerar, the first non-European to head Interski, the congress of international ski instructors. They're not here by accident.
As Nicole, Keith, Tony, Martin and Norm will tell you, Silver Star is an alpine lair of quiet beauty. No one bothers them, no one bothers us, as the Two Norms—Crerar and Ski School Director Kreutz—and I head for the steeps on the backside. More than 60 runs are cut off the high-speed Powder Gulch Quad, and Putnam Creek's black diamonds on a typical powder morning are jackpot city. There are nearly 100 km and 128 trails to keep everyone moving and entertained. In the morning there's little sun on the backside, so it's a good bet when any of the annual 700 cm of the Okanagan's light powder snow falls. Not today sadly, but by the time we work our way back to the frontside—Vance Creek's area has wide, uncrowded slopes and great views of the Monashees—it's warmed up to slurpy-soft and sunny, glorious March-break conditions two months early. Such was the winter of 2015.
A surprise power outage affords us 45 minutes on the chairlift to get to know an Aussie family just arrived the day before from Down Under. Australian-owned Silver Star is their regular summer-ski pilgrimage. Like many, they're drawn by reliable natural snow, often in powder form, no adjustment to the altitude, mild temps that typically hover around the -5 C mark, and convenient ski-in/ski-out access from every door. "We think 24 hours of travel to get to these beautiful mountains is time well spent." Grand praise.
There's another Aussie family story that's been playing out at Silver Star and Big White, nearly as long-running as Neighbours. Following the 2012 death of Aussie resort owner Des Schumann, the two sister resorts became separate businesses. Since then, son Peter Schumann is in charge of Big White and daughter Jane Cann took over Silver Star.
New owner Jane Cann's "preservation of charm" style has cultivated Silver Star's one-of-a-kind boutique atmosphere. She quickly introduced the My1Pass: the downhill season pass and day ticket that includes unlimited access to 55 km of superb cross-country trails, 16 km of snowshoe trails, Tube Town tubing park and Brewer's Pond skating—bonus not only for families but ideal for couples seeking variety in a small resort.
In addition to the massive forest network of pretty cross-country trails favoured by Canadian, U.S., Australian, Norwegian and Finish national teams who train here, you can have a go on new fat bikes and the ski-in/ski-out 10-pin bowling, a fantastic date night complete with groovy bar located in the stylish Firelight Lodge. You might just be walking in Nicole Kidman's shoes.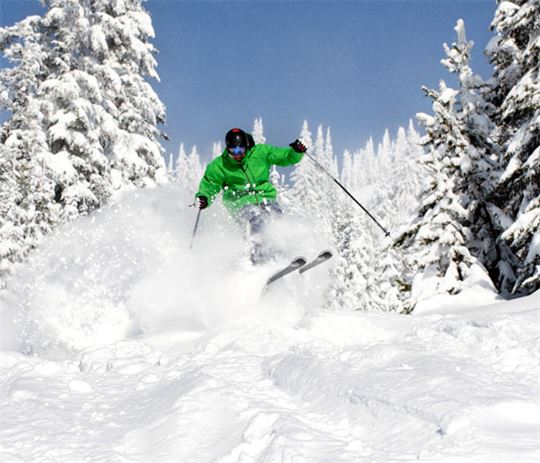 OFF TO BIG WHITE
A few peaks over from Silver Star, 125 km later, my arrival at Big White is just in time for the big event. With 46 cm pummelling the region over 24 hours, they're calling it the storm of the month. Flights are cancelled and for the first time in 30 years schools are shut in Kelowna. It's a true powder day, even the public service agrees.
To tackle the second largest resort in B.C., Ski School Director Josh Foster starts us on Round the World—more than seven km top to bottom from the summit of the Alpine T-bar to the bottom of the Gem Lake chair. The terrain around Gem Lake is a roller coaster of variety, and we're up to our knees in tracked, soft Big White powder.
"Big White isn't one of those homogenized resorts where the terrain is just a varying degree of pitch," Foster explains gleefully. "There are lots of twists, turns and rolls that add to the excitement. We've left the natural features in place and that makes the skiing experience here a little different than a lot of other places."
Big White is also ski-in/ski-out, on a larger scale than SilverStar, with more than 17,000 visitor beds making it bigger than any other B.C. resort except Whistler. Driving in, it's a river of condos leading to the snowy village centre. (Keep this in mind when you're planning to walk to dinner in a snowstorm.) Some 118 runs and 16 lifts serve powder bowls, open glades dotted with Engelmann spruce and lodgepole pine, and fall-line cruising are all blanketed over 1,120 hectares, with Big White's famous snow ghosts standing guard over Enchanted Forest like frozen sentinels.
And some excellent wine and foodie action, too. Several wine festivals take place over the winter, but you don't need to come on a particular day to enjoy the seriously local top-quality Okanagan wines at Big White's bars and bistros. Book immediately into 6 Degrees, preferably for its once a week multi-course, wine-paired tasting menu night. The cozy firelit room feels more private dinner party than resort restaurant and the best local wines flow freely. Save another night to ride the yellow people-mover down to the Happy Valley Day Lodge for a top-drawer red meat love-in. The Kettle Valley Steakhouse is the skier's steak joint. If you're made of real Rocky Mountain muscle, plump for the Cowboy Cut for two. It's 45 ounces of pure love. You can burn it off in the bowls in the morning.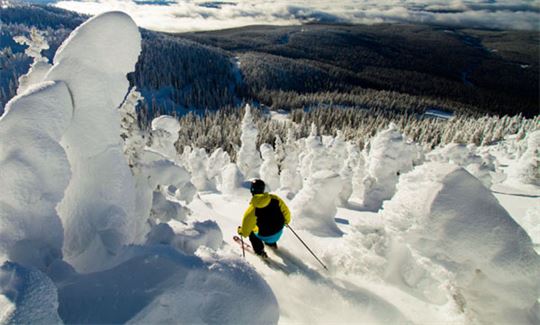 ---
Tags: 6 Degrees, B.C., BC, Big White, British Columbia, Bugaboos Cafe, Isidore's, Long John's Pub, My1Pass, Silver Star, Sparkling Hill Resort, The Kettle Valley Steakhouse, The Silver Grill