---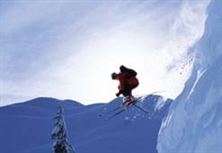 It's time again, another year and another annual insiders' look at what makes Canadian skiing so distinguished. These pages aren't filled with facts and stats you'll find in brochures and websites, but the praise and amusement that comes from accurate gossip, anonymous hearsay and cameras that happened to be in the right place at the right time.
Most vertical/$ ratio*:
Yeah, yeah, we've heard it before: length isn't everything, it's how you use it. But even if it's a little raw, it's still fun to size up the competition. When you lay down your hard-earned cash at the ticket counter, you want to convince yourself you're getting the best bang for your buck. So here's our tally of most vertical for your dollar:
1. Whistler-Blackcomb: 23.3metres/$ (1,609m; $69)
2. Kicking Horse: 22.1m/$ (1,260m; $57)
3. Panorama: 20.7m/$ (1,220m; $59)
4. Red Mountain: 18.5m/$ (887m; $48)
5. Castle Mountain: 18m/$ (863m; $48)
6. Sunshine: 17m/$ (1,070m; $62.62)
7. Marmot Basin: 16.6m/$ (914m; $55.14)
8. Lake Louise: 16.5m/$ (991m; $60)
9. Powder King: 16m/$ (640m; $40)
10. Nakiska: 16m/$ (735m; $46)
*Prices based on a regularly priced adult single-day lift ticket on a weekend in mid-January.
Best retro lift system:
For those old-timers who swear that the laid-back vibe of Whitewater feels a lot like Whistler did in its early years, there may be some truth to their claim: before Whitewater's Silver King Chair showed up in the Kootenays in 1993, it served two decades as Whistler's Green Chair. Whitewater's other chair, the Summit, was also bought second-hand–way back in 1975. Kudos to Ross White, Outside Operations Manager, for keeping the old gals running.
Best backcountry brain surgery:
Physicians, and needlepoint aficionados, Sean Staniforth and Kate Milhausen successfully installed Powder 7.1, the latest skiing software guaranteed to turn novices into rippin' backcountry fun-hogs. Said patient Karen X afterward, "No backcountry extra-billing issues here."
Best aerial view of the Monashee Mountains:
Available any time you've launched off any of the big-air ramps at Silver Star's new airstyle park.
Best on-mountain sushi:
An eclectic treat awaits sushi-lovers in the mid-mountain yurt at Kicking Horse Mountain Resort. At 1,720 metres above sea level, Chef Chiaki Kitano serves up superb sushi to discerning skiers who relish the change from burgers and hot dogs. O Canada!
Best reason to move your family to Penticton:
Apex offers one of the cheapest kids' learn-to-ski programs around. Full-day lessons and lift tickets for eight consecutive Saturdays is $175–that's $3.60 an hour–killer deal!
Best lift system in Ontario:
Pearson International Airport. There may be more skiers in Upper Canada than any other province but they do like to regularly get out of town. Everyone knows, all those non-stop flights from YYZ to Tremblant, Quebec City, Calgary, Kelowna, Vancouver, Denver, Munich and so on aren't for business people, they're for skiers!
Best, and only, place to ski and golf the same day:
And we're not talking summer skiing. Mount Washington on Vancouver Island is so confident about the idea, it was cooking up an interchangeable golf greens fees and ski lift ticket idea with tour operator Skican.
Best early-season snow:
Nova Scotia. Forget Martock and Wentworth, Haligonians were offered knee-deep pow (well, Maritime pow) right on Citadel Hill in the autumn. We haven't heard any talk of chairlift.
Best new lifts:
Was there ever a more anticipated lift than the Cliff Chair at Big White? It's been years since the Cliff Platter was taken away by an aggressive avi patroller bringing down cornices. The only question is, "Why did the replacement take so long?" Just part of the $130 million spent by Big White this year in infrastructure and accommodation, the Cliff Chair has allowed the area boundaries to be expanded and include East Peak. If you've got the guts to jump some of these cliff bands, you'll be right at home. Also keeping double-diamond and backcountry enthusiasts happy, Mount Washington's Boomerang Chair opens another 162 hectares of new terrain this winter. The over-and-back unique lift for Canada loads in both directions and offers a tasty 400 vertical metres on the previously backcountry backside.
Best increase in lift capacity:
Sun Peaks' Mount Morrisey doubled up with chairs to make any waiting a sunny thing of the past.
Best place to take your nordic skiing significant other:
Should the love of your life favour skinny skiing on immaculately groomed cross-country tracks, while you prefer to plow the pow, then you can't beat Silver Star. It's the only Canadian resort to host a World Cupsanctioned cross-country race.
Best chance to heli-ski for free:
Simple! Just win the Powder 8 qualifiers….
Best leg burner (more like ultimate leg burner):
Peak to Creek at Whistler. Although Freddy's Nightmare at Sun Peaks rivals the Peak to Creek, it's a mere 915-metre run versus the 1,525 on Whistler. towers going in yet.
Best skierized land yachts:
Everyone knows Saskatchewan skiers are the best road-trippers, but it's really the vehicles that came first. And nothing says "Kimberley or Bust" better than a 1985 Crown Victoria or Eldorado sagging at the back end with a full ski rack, seven sets of rear-entry boots inside–and Sask plates.
Best gear:
Private club money in Ontario can't buy Alberta's or B.C.'s mountains but it can buy the best equipment, clothing and bottle of wine in the designer picnic basket. If you want a dose of non-reality, find a member to sign you in for a guest day pass at Osler Bluff Ski Club in Collingwood and marvel at the sliding Sporting Life catwalk on display….
Best winning the battle with Parks Canada:
Jasper's Marmot Basin. The three-year Eagle Ridge expansion is now complete, boosting the total terrain to 678 hectares, from the pre-existing 405 hectares of three years ago. You'll discover new runs and some more glade skiing off the new lift. Long branded a family-only resort, this latest expansion has helped Marmot diversify its skier base. Much of the new terrain caters to the double-black-diamond crowd, but the wee ones won't feel neglected with this year's new Magic Carpet and platter lift. Also new is the million dollar renovation to Marmot's ski rental/repair shop. And next year snowmaking!
Best exposure:
Nothing like a red-carpet invite to buy time with Warren Miller et al–and get some attention on Alberta in last fall's film Impact.
Best Community:
Ski Hills Mount Cain, Woss, B.C.
If skiing's soul is what you're after, you might just find it at Mount Cain, right. Located on the north end of Vancouver Island (about an hour and a half north of Campbell River), Cain is like the ski hill that time forgot–picture a couple of old T-bars, a handful of rustic chalets (bring your own sheets, please) and almost 500 vertical metres of snorkel-deep powder. Cain's secret to keeping it deep? It closes up shop Tuesday to Friday, giving skiers all the more reason to get up early Saturday morning. 888/668-6622; www.mountcain.com
Powder Springs Resort, Revelstoke, B.C.
In an area known for some of the best bigmountain heli-skiing on the planet, how do you get people psyched to come out and support the local hill? Easy, drop the price of a season's pass to $150. That's right, for the price of two days' skiing at Whistler, Revelstokians get to run laps 'round their 335-metre playground all season long. Perhaps that's why 1,500 residents (out of a total population of just over 8,000) forked over the cash last season. Or maybe it was the 660 cm of snow that piles up on them every winter. Life is hard. 800/991-4455; www.catpowder.com
Hidden Valley, Medicine Hat, Alberta
Located near Alberta's eastern border (that's right, folks, we're just about in Saskatchewan here), Hidden Valley puts paid to the myth that there's no good skiing in the Prairies. Throw a quad chair, a T-bar and two handle tows onto 200 vertical metres of terrain, add an annual snowfall of 200 cm and a summit elevation of 1,400 metres, and suddenly the nickname "Snoasis of the Prairie" starts to make a whole lot of sense. It may not be in the same league as western Alberta's mountains, but then again, it's not in the same postal code either. 403/893-3961; www.skihiddenvalley.net
Kamiskotia Snow Resort, Timmins, Ontario
There aren't many ski hills in Ontario that can boast a season that runs from mid- November to mid-April. But thanks to 340 cm of annual snowfall and a northern latitude that's conducive to keeping that snow on the slopes (okay, we'll say it–it's cold!), Kamiskotia Snow Resort can lay claim to one of the longest ski seasons in the province. That means folks who live in nearby Timmins (only 20 km down the road), can enjoy their midweek $29 tickets for weeks after most hills have been taken over by rocks and grass. Who said the only thing Timmins has going for it is Shania Twain? 705/268-9057; www.kamiskotia.com
Mont Edouard, Anse-Saint-Jean, Québec
If you've never heard of Mont Edouard, you're not the only one. Created by the Quebéc government 15 years ago as an engine to drive the Saguenay region's depressed economy, "La Montagne du Fjord," as it's known, is at the mercy of its remote location: 240 km northeast of Québec City. The result? If you're willing to make the trip, you pretty much get the place to yourself. Did we mention a vertical drop of 450 metres and an annual snowfall of 550 cm? Maybe it's time for a road trip. 418/272-2927; www.montedouard.com
Cape Smokey, Ingonish Beach, Nova Scotia
Located in northern Cape Breton, Cape Smokey boasts the highest vertical in Nova Scotia (300 metres), the longest run in the province (2.4 km), a very respectable 381 cm of annual snowfall and the most breathtaking ocean view of any ski hill in the country. In fact, if you're not careful, you might just end up skiing into the ocean. And Smokey may be 130 km from the nearest town of any size (Sydney), but area residents are willing to make the drive– especially when an early-bird season's pass goes for a measly $139. 902/285-2760; www.skicapesmokey.com
Best room with a view:
Slopeside rooms are a dime a dozen at ski areas nowadays. But how many can offer a bedside or meeting-table view like the Chateau Lake Louise?
Second best room with a view:
Although Mike Wiegele's Grizzly Hut was tough competition, Kicking Horse's mid-mountain "outhouse out here" received unanimous praise as the classiest relief station in the valley. It's lighted, heated and, curiously, even smells good. Best comeback: Whistler and the world welcome back Creekside, site of the original Whistler, as the more intimate alternative to the high-paced village.
Best scare:
Snowbikes might be available to demo at Whistler but they're part of equipment rentals at Marmot Basin. Note: the $44 a day doesn't include helmet rental–or insurance.
Best $30,000 room upgrade:
Sunshine Inn is still the only slopeside accommodation in Banff National Park. And this year, 30 out of 84 rooms at the lodge have been renovated at a price tag of $30,000 a room.
Best place to get away from the terrain park:
Around the Burf at Sun Peaks there are plenty of "100 per cent natural" rails (i.e. debranched logs) to practice riding if you're tired of the commercial jib scene. Some of the old windfalls lie neatly above the snowpack and act as great rails for those inclined.
Best retro lift system:
For those old-timers who swear that the laid-back vibe of Whitewater feels a lot like Whistler did in its early years, there may be some truth to their claim: before Whitewater's Silver King Chair showed up in the Kootenays in 1993, it served two decades as Whistler's Green Chair. Whitewater's other chair, the Summit, was also bought second-hand–way back in 1975. Kudos to Ross White, Outside Operations Manager, for keeping the old gals running.
Most dazzling views found cat-skiing:
Chatter Creek, B.C. "It's like being on the highest lift in Canada, without the lift," babbled one of Ski Canada's senior contributors. You can soak in vistas of the Selkirks and Monashees even though you're skiing the Rockies.
Most improved grooming:
Fernie's historically sorry grooming rep has turned over a new set of corduroys in previously untouched areas like Siberia Bowl, North Ridge and even Cedar Bowl.
Best resort scenery:
Lake Louise – even if you never make it into the bowls, the front side of the most scenic resort in North America affords spectacular vistas including Lake Louise, Victoria Glacier and Temple Mountain.
Best new terrain park:
Big White's $2.5 million TELUS Park has it all: pipes, a rail garden, skier/boardercross course, an Olympic-size superpipe, an onmountain lodge, dedicated chairlift, night-lighting…. Even though it's one of the best training facilities for freeskiing and snowboarding in North America, it's best not to describe it that way, it sounds too serious.
Best new expert terrain:
Flute Bowl at Whistler ranks as a truly exceptional ski experience. Alpine and gladed terrain await. So what if you have to hike, on a clear day it's magic. And Flute is only part of the 445 hectares of new terrain added to the map this season.
Best bootfitters:
Okay, so we didn't run a Mr. Bootfitter Canada Pageant, but if we had, Donny Dion and Brian Campbell of Top Shelf Snowsports at Fernie's Griz Inn would be prancing around with the finalists–even without a swimsuit competition. Warning: whether you buy your boots at Top Shelf or just have them tweak your annoying existing ones, the void left when you have no foot problems to complain about may be significant.
Run names most likely to keep experts away:
Bambi (Fernie)
Bunny Hop (Marmot Basin)
Sissy Shuss (Mont Tremblant)
Ski Wee (Grouse Mountain)
Giggly Gully (Fernie)
Run names most likely to keep beginners away:
Turn or Burn (Lake Louise)
The Cliff (Big White and Red Mountain)
Concussion (Fernie)
Satan's Run (Devil's Elbow, Ontario)
Kamikaze (Stoneham, Quebec)
Best chance to get your mug on TV:
Winterstart at Lake Louise in late November-early December each year has become a lesson to the world on how to properly run a World Cup.
Best new intermediate terrain:
Big White's first stage of the Gem Lake expansion includes six new intermediate runs and almost 80 hectares of blue runs, which should please the masses.
Best place to learn from the pros:
Silver Star's new Ski Academy is designed for instructors and other ski professionals who want to take both their skiing and their job seriously.
Best events for different reasons:
The TELUS World Ski & Snowboard Festival defines the scene in Whistler each April. The Sun Peaks Icewine Festival in January refines the scene. Both are unique–and worlds apart.
Best place to pray for powder – and ski it, too:
On-hill church services take place at ski areas across Canada. We like the alpine chapel at Sun Peaks. And if you think it's a romantic place to get married, you're right!
Best snow record in the Rockies:
Sunshine gets more snow than any other Alberta resort, up to a fluffy eight metres a year. It also has one of the longest seasons: mid-November through May. With Mount Assiniboine often in sight, Sunshine rivals Lake Louise for best views from a resort.

Tags: 2005 guide, Alberta, Anse-Saint-Jean, best exposure, best of skiing, best snow record, best terrain, best views, Big White, boot outfitters, British Columbia, Canadian skiing, Cape Smokey, cat-skiing, Collingwood, early-season snow, heli-ski, Hidden Valley, Ingonish Beach, Jasper, Kamiskotia Snow Resort, Kicking Horse Mountain Resort, Lake Louise, Marmot Basin, Medicine Hat, Monashee Mountains, Mont Edouard, Mount Morrisey, Mount Washington, nordic skiing, Nova Scotia, Ontario, Osler Bluff Ski Club, Parks Canada, Peak to Creek, Penticton, Powder Springs Resort, Québec, Revelstoke, Silver Star, Ski Hills Mount Cain, ski resorts, skiing guide, skiing in Canada, snow bikes, snowbikes, Sun Peaks, Sunshine, sushi, Temple Mountrain, Timmins, Vancouver Island, Victoria Glacier, Whistler