---
The lion's share of R&D finds itself here in the All-Mountain category as ski manufacturers blend their top technologies into that perfect quiver of one. Competition for the 2013 ski season is fiercer than ever. Underfoot measurements in the 80s are now commonplace, but manufacturers are pushing the envelope beyond 100mm. And while ski manufacturers make sure you're welcome to just keep on carving, if that is indeed your style, newer technologies are opening up the lexicon. Rocker in all its variants is just the beginning. Forget what you learned in high school; it's time for new tricks. Post-Euclidean geometry and profiling results in slarving, ollieing and slashing. The mountain is your canvas—these All-Mountain boards your brush.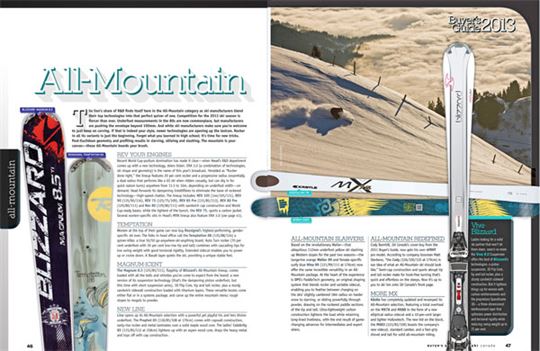 REV YOUR ENGINES
Recent World Cup-podium domination has made it clear—when Head's R&D department comes up with a new technology, skiers listen. ERA 3.0 (a combination of technologies, ski shape and geometry) is the name of this year's broadcast. Heralded as "Rocker done right," the lineup features 20 per cent rocker and a progressive radius (essentially a dual radius that performs like a GS ski when ridden casually, but can dig in for quick slalom turns) anywhere from 13.5 to 16m, depending on underfoot width—on demand. Head forwards its dampening Intellifibres to eliminate the bane of rockered technology—high-speed chatter. The lineup includes: REV 105 (144/105/131), REV 90 (135/90/116), REV 75 (125/75/109), REV 85 Pro (131/85/113), REV 80 Pro (129/80/111) and Rev 80 (129/80/111) with sandwich cap construction and World Cup-ready bases; while the lightest of the bunch, the REV 75, sports a carbon jacket. Several women-specific skis in Head's MYA lineup also feature ERA 3.0 .
TEMPTATION
Women at the top of their game can now buy Rossignol's highest-performing, gender-specific ski ever. The folks in head office call the Temptation 88 (135/88/124) a quiver-killer, a true 50/50 go-anywhere-ski-anything board. Auto Turn rocker (70 per cent underfoot with 30 per cent low-rise tip and tail) combines with cascading tips for low swing weight with good torsional rigidity. Extended sidecut enables you to power up or cruise down. A Basalt layer quiets the ski, providing a unique stable feel.
MAGNUM-ICENT
The Magnum 8.5 (125/85/111), flagship of Blizzard's All-Mountain lineup, comes loaded with all the bells and whistles you've come to expect from the brand: a new version of its suspension technology (that's the dampening piston underfoot, but this time with short suspension arms), 3D Flip Core, tip and tail rocker, plus a sturdy sandwich sidewall construction loaded with titanium layers. These versatile brutes come either flat or in a systems package, and carve up the entire mountain menu: rough slopes to moguls to powder.
NEW LINE
Line opens up its All-Mountain selection with a powerful yet playful his and hers 85mm underfoot. The Prophet 85 (118/85/108 at 179cm) comes with capwall construction, early-rise rocker and metal laminates over a solid maple wood core. The ladies' Celebrity 85 (115/85/112 at 158cm) lightens up with an aspen wood core, drops the heavy metal and tops off with cap construction.
ALL-MOUNTAIN SLARVERS
Based on the revolutionary Wailer—that ubiquitous 112mm underfoot yellow ski slashing up Western slopes for the past two seasons—the tangerine orange Wailer 99 and female-specific surfy blue Nina 99 (121/99/111 at 176cm) now offer the same incredible versatility in an All-Mountain package. At the heart of the experience is DPS's PaddleTech geometry, an original shaping system that blends rocker and variable sidecut, enabling you to feather between charging on the skis' slightly cambered 18m radius on harder snow to slarving, or sliding powerfully through powder, drawing on the rockered paddle sections of the tip and tail. Ultra-lightweight carbon construction lightens the load while retaining long-lived liveliness, with the end result of game-changing advances for intermediates and expert skiers.
ALL-MOUNTAIN REDEFINED
Cody Barnhill, Ski Canada's cover-boy from the 2011 Buyer's Guide, now gets his own 4FRNT pro model. According to company bossman Matt Sterbenz, "the Cody (126/100/122 at 179cm) is our idea of what an All-Mountain ski should look like." Semi-cap construction and sports abrupt tip and tail rocker make for hook-free turning that's quick and effortless on the steeps. Now it's up to you to ski 'em onto Ski Canada's front page.
MORE MX
Kästle has completely updated and revamped its All-Mountain selection, featuring a total overhaul on the MX78 and MX88 in the form of a new elliptical radius sidecut and a 10-per-cent larger and lighter Hollowtech. The new kid on the block, the MX83 (123/83/109) boasts the company's new sidecut, standard camber, and a fast-grip shovel and tail for solid all-mountain riding.
VIVA – BLIZZARD
Ladies looking for a solid ski partner that won't let them down, search no more: the Viva 8.0 Suspension offers the best of Blizzard's technologies: a piston suspension, 3D Flip Core, tip and tail rocker, plus a sturdy sandwich sidewall construction. But it lightens things up for women with carbon reinforcements and the proprietary Spaceframe 3D—a three-dimensional reinforcement layer that optimizes power distribution and torsional rigidity while reducing swing weight up to 25 per cent.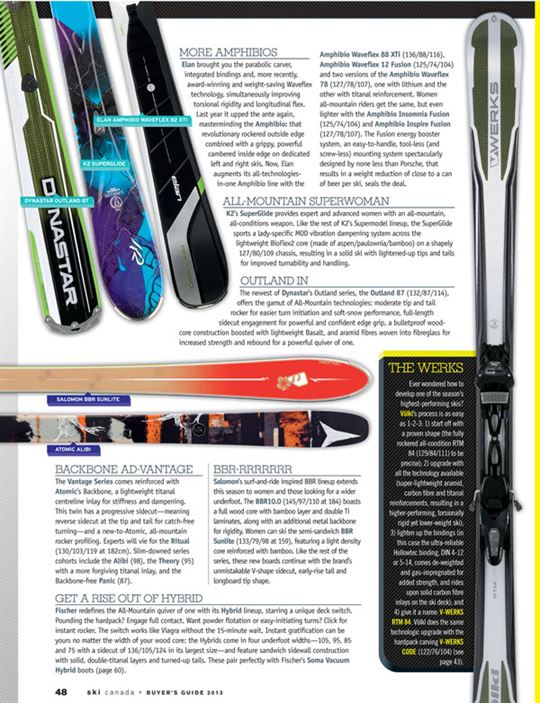 MORE AMPHIBIOS
Elan brought you the parabolic carver, integrated bindings and, more recently, award-winning and weight-saving Waveflex technology, simultaneously improving torsional rigidity and longitudinal flex. Last year it upped the ante again, masterminding the Amphibio: that revolutionary rockered outside edge combined with a grippy, powerful cambered inside edge on dedicated left and right skis. Now, Elan augments its all-technologies-in-one Amphibio line with the Amphibio Waveflex 88 XTi (136/88/116), Amphibio Waveflex 12 Fusion (125/74/104) and two versions of the Amphibio Waveflex 78 (127/78/107), one with lithium and the other with titanal reinforcement. Women all-mountain riders get the same, but even lighter with the Amphibio Insomnia Fusion (125/74/104) and Amphibio Inspire Fusion (127/78/107). The Fusion energy booster system, an easy-to-handle, tool-less (and screw-less) mounting system spectacularly designed by none less than Porsche, that results in a weight reduction of close to a can of beer per ski, seals the deal.
ALL-MOUNTAIN SUPERWOMAN
K2's SuperGlide provides expert and advanced women with an all-mountain, all-conditions weapon. Like the rest of K2's Supermodel lineup, the SuperGlide sports a lady-specific MOD vibration dampening system across the lightweight BioFlex2 core (made of aspen/paulownia/bamboo) on a shapely 127/80/109 chassis, resulting in a solid ski with lightened-up tips and tails for improved turnability and handling.
OUTLAND IN
The newest of Dynastar's Outland series, the Outland 87 (132/87/114), offers the gamut of All-Mountain technologies: moderate tip and tail rocker for easier turn initiation and soft-snow performance, full-length sidecut engagement for powerful and confident edge grip, a bulletproof wood-core construction boosted with lightweight Basalt, and aramid fibres woven into fibreglass for increased strength and rebound for a powerful quiver of one.
BACKBONE AD-VANTAGE
The Vantage Series comes reinforced with Atomic's Backbone, a lightweight titanal centreline inlay for stiffness and dampening. This twin has a progressive sidecut—meaning reverse sidecut at the tip and tail for catch-free turning—and a new-to-Atomic, all-mountain rocker profiling. Experts will vie for the Ritual (130/103/119 at 182cm). Slim-downed series cohorts include the Alibi (98), the Theory (95) with a more forgiving titanal inlay, and the Backbone-free Panic (87).
BBR-RRRRRRR
Salomon's surf-and-ride inspired BBR lineup extends this season to women and those looking for a wider underfoot. The BBR10.0 (145/97/110 at 184) boasts a full wood core with bamboo layer and double Ti laminates, along with an additional metal backbone for rigidity. Women can ski the semi-sandwich BBR Sunlite (133/79/98 at 159), featuring a light density core reinforced with bamboo. Like the rest of the series, these new boards continue with the brand's unmistakable V-shape sidecut, early-rise tail and longboard tip shape.
GET A RISE OUT OF HYBRID
Fischer redefines the All-Mountain quiver of one with its Hybrid lineup, starring a unique deck switch. Pounding the hardpack? Engage full contact. Want powder flotation or easy-nitiating turns? Click for instant rocker. The switch works like Viagra without the 15-minute wait. Instant gratifi cation can be yours no matter the width of your wood core: the Hybrids come in four underfoot widths—105, 95, 85 and 75 with a sidecut of 136/105/124 in its largest size—and feature sandwich sidewall construction with solid, double-titanal layers and turned-up tails. These pair perfectly with Fischer's Soma Vacuum Hybrid boots.
THE WERKS
Ever wondered how to develop one of the season's highest-performing skis? Völkl's process is as easy as 1-2-3: 1) start off with a proven shape (the fully rockered all-condition RTM 84 (129/84/111) to be precise); 2) upgrade with all the technology available (super-lightweight aramid, carbon fibre and titanal reinforcements, resulting in a higher-performing, torsionally
rigid yet lower-weight ski); 3) lighten up the bindings (in this case the ultra-reliable Hollowtec binding, DIN 4-12 or 5-14, comes de-weighted and gas-impregnated for added strength, and rides upon solid carbon fibre inlays on the ski deck); and 4) give it a name: V-WERKS RTM 84. Völkl does the same technologic upgrade with the hardpack carving V-WERKS CODE (122/76/104).
---
Tags: 3D Flip Core, 4FRNT, 4FRNT Cody, all mountain skis, Amphibio, Amphibio Waveflex 88 XTi, Atomic Backbone, Auto Turn rocker, BioFlex2, Blizzard magnum 8.5, Celebrity 85, Cody Barnhill, DPS, DPS Wailer, Dynastar's Outland series, Elan Waveflex, Fischer, Fischer Hybrid, Fusion energy booster system, Head ERA 3.0, Hollowtech, Intellifibres, K2 SuperGlide, Kästle, Line, Line The Prophet 85, MOD vibration dampening system, ollieing, PaddleTech, rocker, rockered, Rossignol Temptation 88, Salomon BBR, slarving, slashing, Spaceframe 3D, SuperGlide, Supermodel, V-WERKS RTM 84, Viva 8.0, Volkl V-WERKS CODE