Reading Time:
2
minutes
As tens of thousands of Europeans are glued to their TVs watching the pre-race commentary of the season-opening World Cup speed events at Lake Louise, I zip undisturbed through an empty Glacier chairlift corral. Just as the chair swings around, a skier zooms in and sits beside me. I'd say "another skier" but, in fact, he is one of the top three skiers in the world, Norwegian Aksel Lund Svindal—all 6 feet 2 inches and 214 pounds of Viking godliness. After standing on the World Cup podium no fewer than 70 times, he might just as easily have claimed a whole chair for himself, but there he was, 15 minutes before the start of the super-G and chatty and charming as all get-out.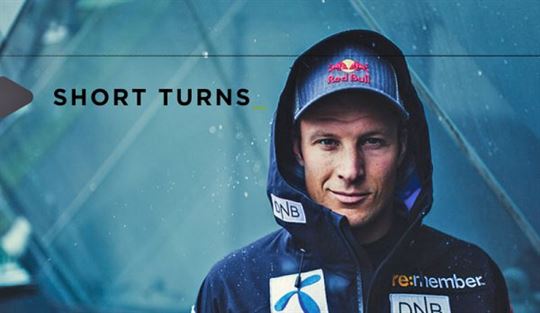 SKI CANADA: So how was your day yesterday?
AKSEL LUND SVINDAL: Oh, it was okay. (He came 3rd in the World Cup downhill at Louise, behind Beat Feuz and Matthias Mayer by .32 seconds. Third is obviously not what makes this guy tick.)
SC: How does the Louise course compare to others on the World Cup circuit?
ALS: That's a good question. Mellow, I guess. Next week at Beaver Creek is much more intense; you wouldn't want to start a season with that race. Yesterday for the downhill, we started about seven seconds lower due to conditions—in the training run we were punching through the landing off the first jump. Being here is a good way to start the season. In the Alps there are a lot more people, too. It's pretty relaxed with no journalists and no crowds, so you don't have to talk about skiing, instead we get to just ski.
SC: It's quite embarrassing that so few spectators come out to watch.
ALS: No, I like it. We all stay at the same hotel and eat together and get to see everyone again.
SC: Do you have any rituals before a race—the same socks or underwear maybe? (Is he even wearing underwear, I wonder silently…)
ALS: No, I just prepare myself so that I try to win. If you have a lot of rituals, that's just more things that can go wrong.
SC: Let's hope nothing goes wrong today.
ALS: Yeah, I've been trying to come back to Canada at the end of the season for a couple of years, but I keep getting injured. This spring, I'm booked to come back to ski at CMH again with my brother and father. All the ski films these days are so extreme, so we are going to make a heli-skiing film that shows the other side. It'll be nice. I would never have started skiing if it weren't for my father.
SC: And off to work he slides with a smile. Aksel Lund Svindal finished 5th in the super-G and 3rd in the downhill at Lake Louise. Since 2006, he has earned top four every year in the Overall World Cup rankings, and won gold, silver and bronze at the 2010 Winter Olympics.