---
As the days get shorter in Canada, the urge to scratch starts to burn. Why not open your ski season by closing down Chile's?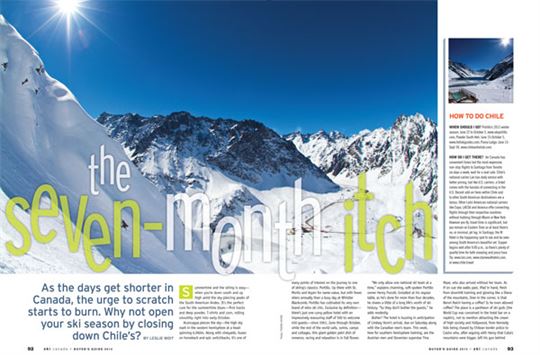 Summertime and the skiing is easy—when you're down south and up high amid the sky-piercing peaks of the South American Andes. It's the perfect cure for the summertime blues—first tracks and deep powder, T-shirts and corn, rolling smoothly right into early October.
Aconcagua pierces the sky—the high sky mark in the western hemisphere at a head-spinning 6,960m. Along with vineyards, huaso on horseback and epic switchbacks, it's one of many points of interest on the journey to one of skiing's classics: Portillo. Up there with St. Moritz and Aspen for name-value, but with fewer skiers annually than a busy day at Whistler Blackcomb, Portillo has cultivated its very own brand of retro ski chic. Exclusive by definition—there's just one curvy yellow hotel with an impressively reassuring staff of 500 to welcome 450 guests—since 1961, June through October, while the rest of the world sails, swims, camps and cottages, this giant golden petri dish of romance, racing and relaxation is in full flower.
"We only allow one national ski team at a time," explains charming, soft-spoken Portillo owner Henry Purcell. Installed at his regular table, as he's done for more than four decades, he shares a little of a long life's worth of ski history. "So they don't bother the guests," he adds modestly.
Bother? The hotel is buzzing in anticipation of Lindsey Vonn's arrival, due on Saturday along with the Canadian men's team. This week, here for southern hemisphere training, are the Austrian men and Slovenian superstar Tina Maze, who also arrived without her team. As if on cue she walks past, iPad in hand, fresh from downhill training and glowing like a Diana of the mountains. Over in the corner, is that Benni Raich having a coffee? Is he even allowed coffee? The place is a pantheon of ski gods (the World Cup was conceived in the hotel bar on a napkin), not to mention attracting the cream of high society and Hollywood, from Kennedy kids being chased by Chilean border police to Castro who, after arguing with Henry that Cuba's mountains were bigger, left his gun behind on the table. Juan Beiza, the maître d' who's been running the leather-panelled dining room for more than 50 years—yes, 50!—ran out to return it and was nearly shot in the process.
Why should short-summered Canadians venture back to winter early? First, the unique seven-day, old-school, shabby-chic grand hotel atmosphere where red-and-white-coated waiters remember how you take your pisco sour; they're not building hotels like that anymore. Second, don't be fooled by the trail map. There may be just 35 groomed runs—fun for families and kids, of course—but the real draw is the Andean off-piste that rolls on forever. Depending on the international holiday schedule, weeks are dominated by various nationalities. This week, the vibe is decidedly Latin. There are no lift lines, ever—at 10:30 a.m. the legendary hotel bar has only been closed for a few hours and the Brazilians are finally in bed. Portillo is a private ski club with a difference.
The first challenge: riding the two Va et Vient or slingshot lifts, designed by Jean Pomagalski in the '60s, to permit access to the experts-only, high-avalanche chutes. Imagine a high-speed, five-person T-bar/platter-lift combo requiring the verbal negotiation skills of Ban Ki-moon and the dismount dexterity of Nadia Comaneci. It's a hairy ride that gets you to the steep-and-deep chutes of Super-C Couloir above Roca Jack and, at the top of Condor, the famous Lake Run. After pausing at the top to watch a few fleischy Austrians in catsuits kick-start out of the gate, make one turn and disappear (that takes about three seconds each), we head for the Lake.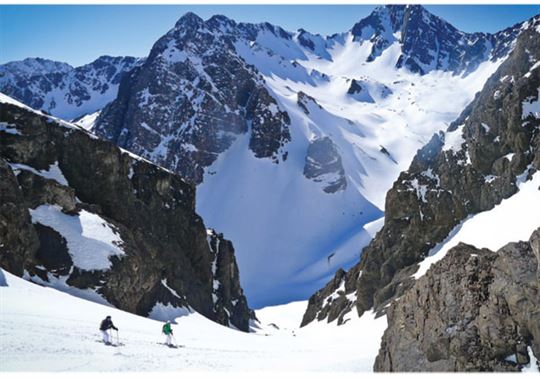 The wide-open, hour-long lap begins with a thread through a rock cleft then leads down, down, down through powder, ending as close as you dare to the edge of blue, mirror-flat Inca Lake. The postcard panorama is wide and wild and we finally come to a stop, searing under the hot spring sun and in the late-season melt. Stripping down to one layer, we take off our skis to negotiate the walkway blasted into the side of the rock face—and aim for another and another and another, followed by mid-mountain beers at Tio Bob's and a final cruise down to the great yellow cruise ship of a hotel on the horizon. Tina, Benni and the gang are all there.
There's More to Chile than Portillo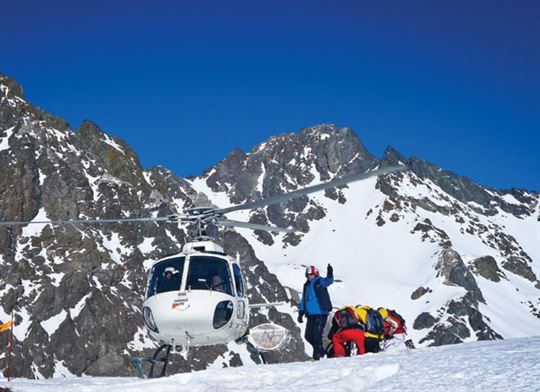 Powder South Heli
» Powder South Heli's cozy, elegant El Ingenio Lodge is a quick 1.5-hour drive from Santiago and its non-stop flights from Canada and the world. Beyond its heli-pad-friendly garden unfurls a wild, unfathomable elevated chasm of glaciers, gullies and ridges, with landing zones located between 2,500 to 4,500m. "You will feel incredibly small when you get into these mountains," Rodrigo Mujica, co-owner, tells me as we approach the helicopter, "you can't even land on top, the mountains are too big."
I bounce into the shiny white A-star helicopter, to be lifted weightlessly along the floor of Chile's Maipo Valley. Impatiently, guests at the lodge have been waiting several days for a massive system to dump a one-metre payload over the central Andes, and this morning is payback time. At the top we arm our airbags and wedge the tails of fat skis into the snowpack for purchase. The sun shimmers above. Below, almost two vertical kilometres rolls out like a precious path of deep diamond dust. Amid the pounding whirr of the receding helicopter, Rodrigo's long Chilean mane flutters in the wind and his smile blinds us with promise. "Hey, Leslie, so far, so good," he shouts.
So Far, So Good: the perfect name for a perfect run. Rocketing from nearly sea level up to 6,700m, the central Andes dwarf Canadian peaks by half. We are quickly engulfed by a white army of these 6,000ers. Up and down untracked pristine runs, diagonal blasts of shimmering powder explode from our turns like a squadron of snowblowers gone berserk. Eventually, the only answer back is from our screaming summertime legs demanding a break—just here for a second, then down there for a minute to breathe, and a bit farther down over here now to clear tears from our eyes and drool from our chins.
"For most people, heli-skiing in Chile is a once-in-a-lifetime thing," Rodrigo tells me. "A good story for the cocktail party, a been-there, done-that deal." I vow to return, and thank heaven for reincarnation.
Puma Lodge
» Chile's newest heli-ski destination is luxury Puma Lodge, three hours south of Santiago at the juncture of the Cortaderal, Las Leñas, and Cachapoal valleys. Surrounded by 5,000m peaks, the lodge takes up to 24 guests in spacious single rooms (no snoring sharers here). It's post-and-beam mountain chic, with a fire-warmed great room filled with comfy chesterfields, a long bar, floor-to-ceiling windows and groovy music, as well as a pool table, wood-heated hot tubs and massage rooms.
"We've been exploring here for a few years amid our 3,000 sq km and there is still a lot that hasn't ever been skied," says Francisco Medina, UIAGM guide and manager. Puma Lodge's position in the central Andes is a happy confluence of natural cause and effect: humidity moves in from the Pacific Ocean, travels up the Andes and dries out to around 10 per cent humidity—spelling light, dry powder for all comers. "It's normal here to have one to two metres of snow in a strong cycle," explains Francisco, "and we have probably one of the most stable snowpacks in the world." Terrain stretches up to the Argentine border, and includes two massifs within around 18-minutes' flying time—notably it also includes a volcano called Palomo, the operation's longest vertical run of 3,200m, pipped by Francisco as a contender for longest skiable run in the world.
How to do Chile
When should I go? Portillo's 2013 winter season: June 22 to October 5, www.skiportillo.com; Powder South Heli: June 15-October 5, www.heliskiguides.com; Puma Lodge: June 15-Sept 30, www.chileanheliski.com.
 How do I get there?  Air Canada has convenient times but the most-expensive non-stop flights to Santiago from Toronto six days a week; wait for a seat sale. Chile's national carrier Lan has daily service with better pricing, but like U.S. carriers, a ticket comes with the hassles of connecting in the U.S. Decent add-on fares within Chile and to other South American destinations are a bonus. Other Latin American national carriers like Copa, LACSA and Avianca offer connecting flights through their respective countries without hubbing through Miami or New York. However you fly, travel time is significant, but you remain on Eastern Time so at least there's no, or minimal, jet lag. In Santiago, the W Hotel is the happening spot to see and be seen among South America's beautiful set. Supper begins well after 9:00 p.m., so there's plenty of quality time for both snoozing and pisco hour. Try: www.lan.com, www.starwoodhotels.com, or www.chile.travel
---
Tags: Aconcagua, Andes, Chile, El Ingenio Lodge, Portillo, Powder South Heli, Puma Lodge, slingshot lifts, Tio Bob, Va et Vient