Sochi 2014 – Best Bets in Alpine Racing
---
Four years ago one of the best-trained, well-funded alpine ski teams Canada had ever produced headed to the 2010 Winter Olympics with the goal of winning three medals. That podium promise turned into disappointment when the best results were a pair of 5th-place finishes by Erik Guay.
By Jim Morris in December 2013 issue  *  Photos: Pentaphoto/Alpine Canada
One of the factors that contributed to Canada's skiers leaving Whistler empty-handed was a rash of injuries that kicked medal contenders like John Kucera, Kelly VanderBeek and François Bourque to the sidelines. Guay was just .03 seconds away from a medal in the super-G, but for the Canadians who watch ski racing just once every four years, three measly hundredths didn't matter, especially when other athletes wearing a Maple Leaf were winning plenty of medals.
Heading into this winter's Olympic Games in Sochi, Russia, the podium expectations may have diminished but are more pragmatic. One medal is a realistic goal. There's even a chance it could come from a surprise source.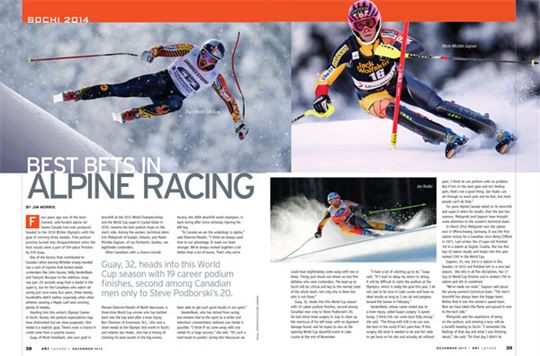 Guay, of Mont-Tremblant, who won gold in downhill at the 2011 World Championships and the World Cup super-G Crystal Globe in 2010, remains the best podium hope on the men's side. Among the women, technical skiers Erin Mielzynski of Guelph, Ontario, and Marie-Michèle Gagnon, of Lac-Etchemin, Quebec, are legitimate contenders.
Other Canadians with a chance include Manuel Osborne-Paradis of North Vancouver, a three-time World Cup winner who has battled back into the top seed after a knee injury; Ben Thomsen of Invermere, B.C., who won a silver medal at the Olympic test event in Sochi; and veteran Jan Hudec, who has a history of claiming his best results in the big events. Kucera, the 2009 downhill world champion, is back racing after twice seriously injuring his left leg.
"In Canada we are the underdogs in alpine," said Osborne-Paradis. "I think we always used that to our advantage. It made our team stronger. We've always worked together a lot better than a lot of teams. That's why we've been able to get such good results in our sport."
VanderBeek, who has retired from racing but remains tied to the sport as a writer and television commentator, believes one medal is possible. "I think if we come away with one medal it's a huge success," she said. "It's such a hard beast to predict. Going into Vancouver we could have legitimately come away with two or three. Things just shook out where we lost five athletes who were contenders. The lead-up to Sochi will be critical and key to the mental state of the whole team, not only who is there but who is not there."
Guay, 32, heads into this World Cup season with 19 career podium finishes, second among Canadian men only to Steve Podborski's 20. (ed. Guay's bronze in the DH at Bormio has raised his total podium finishes to date to 21, a Canadian record) He had minor knee surgery in July to clean up the meniscus of his left knee, with no ligament damage found, and he hopes to race at the opening World Cup downhill event in Lake Louise at the end of November.
"I have a lot of catching up to do," Guay said. "If I start to delay my return to skiing, it will be difficult to claim the podium at the Olympics, which is really the goal this year. I do not care to be slow in Lake Louise and have no ideal results as long as I can ski and progress toward the Games in February."
VanderBeek, whose career ended due to a knee injury, called Guay's surgery "a speed bump. I think Erik can come back fully strong," she said. "The thing with Erik is he can race the best in the world if he's pain-free. If this surgery did what it needed to do and he's able to get back on his skis and actually ski without pain, I think he can perform with no problem. But if he's in the start gate and he's feeling pain, that's not a good thing. Jan Hudec can ski through so much pain and be fast, but most people can't do that."
For years Alpine Canada relied on its downhill and super-G skiers for results. Over the last two seasons, Mielzynski and Gagnon have brought some attention to the women's technical team.
In March 2012 Mielzynski won the slalom race in Ofterschwang, Germany. It was the first slalom victory for a Canadian since Betsy Clifford in 1971. Last winter, the 23-year-old finished 3rd in a slalom at Zagreb, Croatia. She has five top-10 slalom results and heads into this year ranked 13th in the World Cup.
Gagnon, 24, was 3rd in a slalom in Åre, Sweden, in 2012 and finished 4th in a race last season.  She skis in all five disciplines, has 17 top-10 World Cup finishes and is ranked 17th in slalom and 4th in combined. (ed. Marie-Michèle won the World Cup super-combined at Altenmarkt, the first Canadian racer, male or female, to win a super-combined race.)
"We've made our mark," Gagnon said about the young women's technical team. "The men's downhill has always been the bigger team. Before that it was the women's speed team. Now we have taken the flame and passed it over to the tech side."
Mielzynski said the experience of being on the podium, and winning a race, will be a benefit heading to Sochi. "I remember the feelings of that day and what I was thinking about," she said. "On that day I didn't do anything special. My goal for both my podiums was ski like I had been in training. I think that kind of solidifies what I need to do going into an Olympic year. It gives you confidence. It makes you hungrier. I'm going to keep working and keep getting stronger and better."
Both women believe they are better skiers now than at the Vancouver Games. "I'm not the same skier at all," said Gagnon, who was 21st in giant slalom and 31st in slalom at Whistler. "Technically, I've gotten rid of a lot of the little things that needed to be taken care of. And from having all kinds of results and racing with the top skiers, I'm mentally and physically a lot stronger."
Mielzynski said racing in the Olympics at Whistler, where she was 20th in slalom, will help her cope with any stresses in Sochi. "It teaches you what to expect, what you want to do and what you want to change. This time I think we are going to be more a part of the Olympics. Last time we were kind of in our own house… Once you make it to the Olympics, you are no longer just racing for yourself. You are racing for your country, but it's just another race."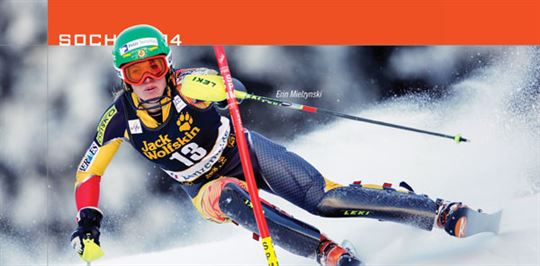 VanderBeek, who finished 4th in the super-G at the 2006 Torino Games, said both Mielzynski and Gagnon have a chance to medal at Sochi. "They are going to be in a different category than a Tina Maze, who is on the podium every other weekend in the World Cup. I don't want to call them an outside chance, but they are in the mix legitimately of getting to the podium."
The last Canadian to win an Olympic alpine ski medal was Edi Podivinsky, who was 3rd in the downhill at the 1994 Games in Lillehammer, Norway. Canada's last gold was Kerrin Lee-Gartner, who won the downhill at the 1992 Olympics in Albertville, France.
Heading into Whistler, Own the Podium spent $10 million on alpine skiing, more than any other sport. Canada's skiers spent hours practising on the Whistler course, while officials slammed the door on athletes from other countries training.
"We raced the Whistler course, I think, too much," said Osborne-Paradis. "When we got to the Olympics, it was set completely different than when we trained. I don't think that was a leap in the right direction."
When the Olympic test event was held on the Rosa Khutor course at Sochi back in 2012, Guay finished 20th in the downhill while Hudec was 24th. Osborne-Paradis didn't race due to a back problem. Thomsen raised eyebrows when he rocketed down the icy, 3,495m track to finish 2nd. The 23-year-old aggressively attacked the highly technical, icy upper section. Since then he's managed four top-15 results.
Hudec, 32, has undergone more knee surgeries than most people have had blood tests. Since 2010 he's won a downhill race, was 2nd in a super-G and has 10 top-10 finishes.
For a ski racer, just arriving at an Olympics mentally and physically sound is a feat. You want to avoid injury while turning in consistent results. You can't become too sanguine, but you don't want your confidence drained.
"It's race by race," said Osborne-Paradis. "The Olympics are one more race in the circuit. It's all the same guys. It's about going there and being so confident in your approach for the whole season that you are giving yourself a chance to win."
Mielzynski noted that Whistler taught the entire team a lesson about dealing with expectations. "I know people felt there was a lot of pressure to perform in Whistler, at a home Olympics. Once one race didn't go well, then people put more pressure on the next race, then the next race. I think it's so important to separate each day. Even though we might not do well on a certain day, the next day is a whole new day, even if it's the same people racing. People have to come into it as a new day, a new experience."
---
Tags: alpine ski racing, alpine ski team, Érik Guay, Erin Mielzynski, Jan Hudec, Manuel Osborne-Paradis, Marie-Michèle Gagnon, Sochi, Sochi 2014