Adventure All Mountain 2012
ADVENTURE ALL-MOUNTAIN
All-terrain skiing, moderate speeds, medium turns
To match the expectations for this group, testing was not as fast or
aggressive as in the high-performance Expert All-Mountain category.
The same assessment of comfort in ungroomed snow was checked, with
special attention to such things as how balanced they felt (sweet spot)
and general good manners in less-than-perfect conditions. Testers want
these skis to respond to every demand, and also be manageable and
predictable. Waist 75-85.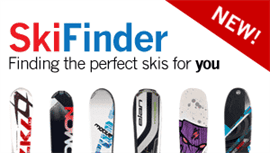 Try our new SkiFinder widget. Input your skiing profile – your weight, your skiing ability, your skiing style and usual snow conditions – and SkiFinder will sort the data in the Ski Canada Test and display top 3 and others based on your inputs.
Individual ski test report links are below page layouts.
Score is the average of test card scores for Characteristics: initiation, edge grip, stability, agility, versatility, short radius, long radius, overall impression.