Ski Test 2011: Introduction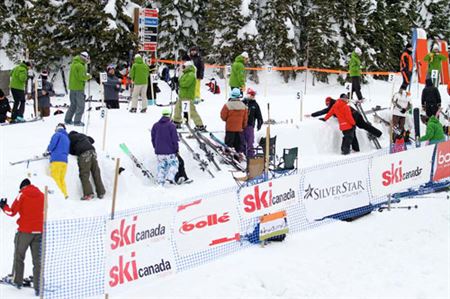 There's a feeling that goes along with being a skier—the knowledge that each winter holds the promise of new adventure, and the way the Canadian winter sneaks up on us. It waits in the wings for autumn to finish and then, as if to say "Game on!" it delivers the goods. And still, it doesn't deliver all at once. Winter makes us patiently wait. First snowfalls lay the foundation of things to come. They make us pull our gear out of storage, maybe put the boots on—and think about the skis that just showed up in the shop window.
To start off the season, Ski Canada offers two tested categories that will have you camped out in the lift line: On-Piste Cruisers and Big Mountain skis. One is built for speed and performance, and the other for all-conditions freeride versatility.
In a perfect world the distinction would be black and white. It would be easy to say, if you carve up the East go with the cruisers, and if you drop lines in the West you need Big Mountain skis. However, life is seldom black and white. What our test team has tried to do is give you a solid profile of each ski's strengths and weaknesses.
Regardless of where your home mountain is, there's a ski that's right for you. Our goal is to help you narrow down your choices and make you think about how you ski, what you love about a day on the mountain and how you want your skiing to progress.
The Ski Canada Test Team descended on Silver Star Mountain Resort near Vernon, B.C., last March for a surgical strike of epic proportions—and Silver Star proved to be more than up to the task. The team from our host mountain showed us the hospitality Okanagan is world famous for, but more than that, they provided a venue that made the logistics of testing sometimes countless models of skis per day realistic. On- Piste Cruisers, which have a race pedigree and a need for speed, were at home on runs like Exhibition and F.I.S.; and our Big Mountain skis, which needed to be skied in a variety of conditions, found a playground in the Chute, F.I.S. trees and the Face. The variety of terrain is enough to keep even the most discriminating skier or rider redlining all day. And that's only the frontside! Silver Star's Putnam Creek area is a whole other animal waiting for you to explore.
So, here it is, another harbinger of winter—our annual Ski Canada Buyer's Guide issue. Your new skis are in here and we hope we can help you fi nd them. And one final piece of advice? Get to know your local ski shop. The information Ski Canada provides will help you narrow down your choices, but ultimately the skis will convince you. Get out and try them, demo more than one pair and be sure of your choice. This is your winter and it's right around the corner.
—Ron Betts