Has the Ski Instructor Lost his Mojo?
---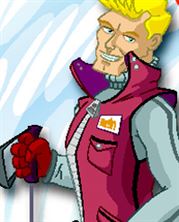 Skiing, that most glamorous of winter pursuits. A delicious frozen cocktail of speed, money and exotic locales. Add one tall, dark stranger to the mix, give it a shake and what are you holding? The perfect ski instructor.
That tan. That accent. Those ski pants, tight in all the right spots. You don't have to be a skier. You don't ever have to have skied. Even if the highest you've ever been is a stiletto above sea level, you'll know what I mean. In a world dominated by sleazy rock stars and petulant soccer players, the ski instructor has managed to retain true sex-symbol status. Athletic, available, a whiff of class about his tousled hair, he has, in a crowded market of sexual icons, managed to remain the true sporting woman's totty.
OR HAS HE?
Back in the '70s the hottest person in the world, apart from maybe a PanAm pilot or Wardair stewardess, was the ski instructor. Today, the coolest kids on the slopes are those smelly guys with baggy pants in the terrain parks. Who would want to sleep with them?
So what happened?
With the earliest turns, there was chemistry in this teacher-student relationship. In 1922, when the father of modern technique, Hannes Schneider, opened the very ?rst ski school in St. Anton, Austria, he laid down a law that precluded his instructors from fraternizing with the clientele after class.
Well, that didn't last.
Like their pupils, keen to learn the new Arlberg method, the ?rst instructors of the newly disintegrated Austro-Hungarian Empire were developing a technique of their own. And though the tune would change in the decades to come, the après-ski song remains the same.

Then, the best instructors were more than teachers. They were entertainers. Social ?xers who knew the fashionable mountain huts, related stories of high-altitude derringdo and translated the local dialect for their hapless clients. Many were simple farmers who looked as good in a ski out?t as in a pair of overalls. In their Alpine playground, the ski- instructor stereotype was born—a gruff yet beautiful athlete who offered protection from the hazards of the mountains and, it was understood, was also capable of showing a girl a good time. It was the dawn of the mountain man. And bless his heart, he believed in customer service.

In the early days, having a ski instructor, especially a private one, was a status symbol. By the 1950s keeping up with the Joneses was a full-time preoccupation and North America was breeding its own brand of ski god. The initial model was an import from Europe. Skiers like Norwegian-born Olympian Stein Ericksen, the ?rst man to do a full inverted layout on skis—and the only one to do it in a dinner jacket—were coveted. Men yearned to be him, women to be with him. Romance was in the air. The world fell in love with its ski instructor.

From suave daredevil to macho rebel, the next decade got the fantasy skier it deserved. The affair was passionate when Robert Redford strapped on his 220s in the 1969 ?lm Downhill Racer He lived fast, skied faster and portrayed . . a realistic rendition of a World Cup downhiller— — part loner, all man. Thanks to Hollywood, a generation of racer-chasers was born.

Ski racers were the new mountain-man pin-ups and instructors were there to reap the rewards. Raising the glamour stakes with slaying good looks and a chestful of Olympic medals, Jean-Claude Killy modernized technique and handed the French ski school a torch they carried from Avoriaz to Val d'Isère. With Killy as role model for the entire École du ski français, the language of love and the pedagogy of skiing became one. Bend zee knees, indeed.

So what happened to the ski instructor's original role?

Some credit it to a change in the way we holiday. "Visitors to a ski area do not book in for a week like they used to. Many come for three-day-long weekends," posits Norm Crerar, past-president of Interski and the Canadian Ski Instructor's Alliance (CSIA). "In the old days, the Learn-to-Ski-Week was a great thing. The ski instructor could get to know the people, guide them through the whole holiday, and even sing and dance for them. Most ski instructors come to work now with a lunch bucket and at 4:00 p.m. are on their way down the mountain to a different life."

The role of women has changed balance of power, too. Around 40 per cent of instructors in the CSIA are women. As sought after as the original male icon—maybe more— professional chicks on sticks have not only raised the glamour stakes, they've brought fresh perspective and innovation to the sport. Unlike the traditional scenario of men who are intimidated by women who are better at sport, in this milieu being a female ski pro makes you a hot commodity. After all, what guy could fail to be charmed by a woman who can cut the lift line for him?

Let's all enjoy it now. It won't last forever. Snowboarding, fat skis, jibbers in the park… Like the skiers who ?rst sought to emulate him, the 21st-century ski god is morphing into a different animal. The most celebrated new ski teachers have cut the lift line of professional certi?cation and gone straight to the top. More marketable, more commercial, more extreme— and far less personal—they are the celebrity coaches.

They are Olympian mogul skiers like Jonny Moseley, World Cup racers like Tommy Moe and extreme skiers like Hugo Harrisson. Professionals who've built an adoring fan base with their superstar enthusiasm for the sport—and their kahunas. Hucking 50-metre Alaskan cliff faces, inventing wild stunts like The Dinner Roll, lunging 20-metre gap jumps across mountain roads—all recorded in magazines, ski movies and televised competitions that attract audiences in the thousands. George Bernard Shaw observed: "He who can, does. He who can't, teaches." These days those who can ski, teach—and then they make a video to go with it.

The new blood has changed both the way we learn—and what. There's a boom in celeb-run specialty clinics: women only, steep and run deep, halfpipe, skiercross, snowboarding. But it was still ?rst-generation celebs like 25-time World Cup downhill winner Franz Klammer who started the trend, cashing in medals to put their names and expertise to ski camps and charity events.

At one of Klammer's Legends Races, a who's who gathering of near-mythical names like Ingemar Stenmark, Peter Müller and Marc Girardelli, I met The Kaiser himself—every inch the dreamboat who had graced my teenage bedroom wall. When he put his arm around me to explain a ?ner point of edge control, I'm not ashamed to admit I silently vowed never to wash my ski jacket again. Maybe I should be, but I'm not. It was ski idol turned private teacher. It was teacher. It was Downhill Racer meets The King and I. It was a ski fantasy come true.

And then, like one of those freaky dreams where things only get better, Alberto Tomba, the swarthy sexpot of the 1990s World Cup circuit, brushed past with his entourage. That tan. That accent. Those tight black pants. Tomba was a living, breathing skiing icon, despite his famous acknowledgement that even his energies are fading with the passing snows.

"I used to have a wild time with three women until 5:00 a.m., but I am getting older, he admitted. "Here, I will live it up with ?ve women, but only until 3:00 a.m."

Now there's a mountain man as God and ski instructors intended. Recently retired from racing, perhaps Tomba La Bomba is destined for a ski school near you. A girl can always dream. It's one of so many things a modern ski instructor is good for.

Tags: Alberto Tomba, Canadian Ski Instructors' Alliance, Franz Klammer, Hugo Harrisson, Ingemar Stenmark, Jonny Moseley, Marc Girardelli, Peter Müller, ski instruction, ski instructor, Stein Ericksen, teachers, Tommy Moe