Reading Time:
8
minutes

from Fall 2013 issue
BACKCOUNTRY READY?
 The Shredstitute is expanding on last year's popular Rogers Pass Freeski Camp by bringing celebrated ski mountaineer Greg Hill back for two weekend programs this season. One posse of lucky campers will explore remote powder at Rogers Pass (December 13-15), and another will be lapping the pillowy slackcountry off Revelstoke Mountain Resort (December 6-8). The Shredstitute is a group of freeskiers, guides and avalanche professionals (like coach Chris Rubens here) who love skiing powder and sharing their knowledge. If you're an expert skier interested in making a safer foray into the backcountry, but happy to accept some expert freeskiing tips and learn more about avalanche danger and safer mountain travel, check out Shredstitute.com
—Kevin Hjertaas
Photo: TREVOR WHITE
CLUB POW
 Finally, a club even Groucho Marx could handle. With plans to admit a mere six members, the most committed misanthrope could hardly object. If it takes off, it would be the world's first private heli-ski club. Formerly the home of CMH, Silvertip Lodge (along with its 1,400-sq-km tenure for mechanized skiing) has been bought by John Baker, an American with a track record in design, construction and cookie shops who also racked up two-million vertical feet over the years with its original owner. On the shore of Lake Quesnel, deep in the Cariboos, the fly-in lodge promises oligarch-worthy privacy. The 22-person shack will be catered, guided and heli-equipped with a Bell 212 or 407, much as a typical CMH operation might be. (And yes, you can bring a chef if you'd prefer your own.) Baker hopes to create a small, private ownership group with the price of your ski week "at cost," which they propose would offer a savings over retail of some $100,000 per week for a private group ski week. The price of Silvertip membership: from $375,000 to a 24-karat $500,000. Who's in?
—Leslie Woit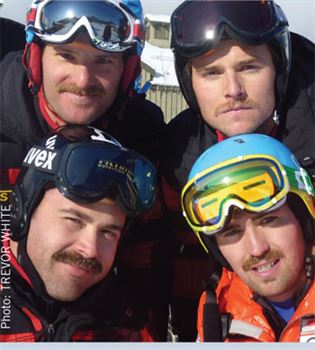 Clockwise from top left, Mo'lympians Mike Janyk, Brad Spence, Trevor White and Julien Cousineau know what the ladies like: serious upper-lip whiskers and Barry White on the HiFi. Follow the fast four (and donate to help end prostate cancer) at movember.com.
Photos: CHRISTIAN PERRET/Valais Promotion
WHICH SWISS WITCH?
 And you thought the Swiss were unique with their cheese-rolling competitions. In honour of a town witch who was burned at the stake in the Middle Ages, the 31st annual Belalp Hexe witches raceweek continues January 11-14 with 1,500 participants (although not all in witches kit) and an 1,800-vertical-metre, 12-km descent straight to après ski. belalphexe.ch or Valais.ch if your German is rusty.
GO TO YOHO
 The Alpine Club of Canada (ACC) wants to add to its arsenal of backcountry ski huts to open up a new route across the icefields northwest of Lake Louise. Already the group operates the four shelters on the Wapta Icefield (Peyto, Bow, Balfour and Scott Duncan) used for the popular, multi-day Wapta Traverse ski route. A fifth shelter, the Stanley Mitchell Hut, sits in Yoho National Park, just out of reach of most skiers on the Wapta. The proposed hut would bridge the gap, opening the possibility of a Bow-Yoho traverse.
"Right now, it's a really long push to go from Bow Hut all the way over to Stanley Mitchell in a day," admits Lawrence White, executive director of the ACC. "People have to carry their tents, stove and fuel. The new hut would make it much easier."
The proposal calls for a two-storey shelter on Mont des Poilus with room for 16 to 18 people, open only in the winter to protect grizzly bear habitat.
The ACC and Parks Canada think the new shelter would relieve congestion at the existing cabins and increase winter use of the Little Yoho area, a goal of the Parks management plan. But first the ACC proposal must undergo an environmental review and public consultation. If all goes well, construction could begin in summer 2014. accnewheights.ca
—Ryan Stuart
APP AROUND LOUISE
 Ski Louise is launching a smart new app for anyone skiing the picturesque resort this winter. Like most ski apps out there, your phone's GPS allows it to track your total runs, speed and vertical metres skied. But this app also allows the resort to communicate live with skiers on the slopes, giving them up-to-the-minute snow conditions, run closures/openings and weather data. The integrated trail map helps skiers navigate the expansive mountain, even stick to green runs if they choose. It also leads them to the nearest food and beverage location when it's time for après. Alerts can notify skiers all over the mountain of specials from the ski school, retail shops, or food and beverage outlets. And of course, skiers will be able to share their adventures by linking to their favourite social media pages. In Apple and android app stores in November.
—Kevin Hjertaas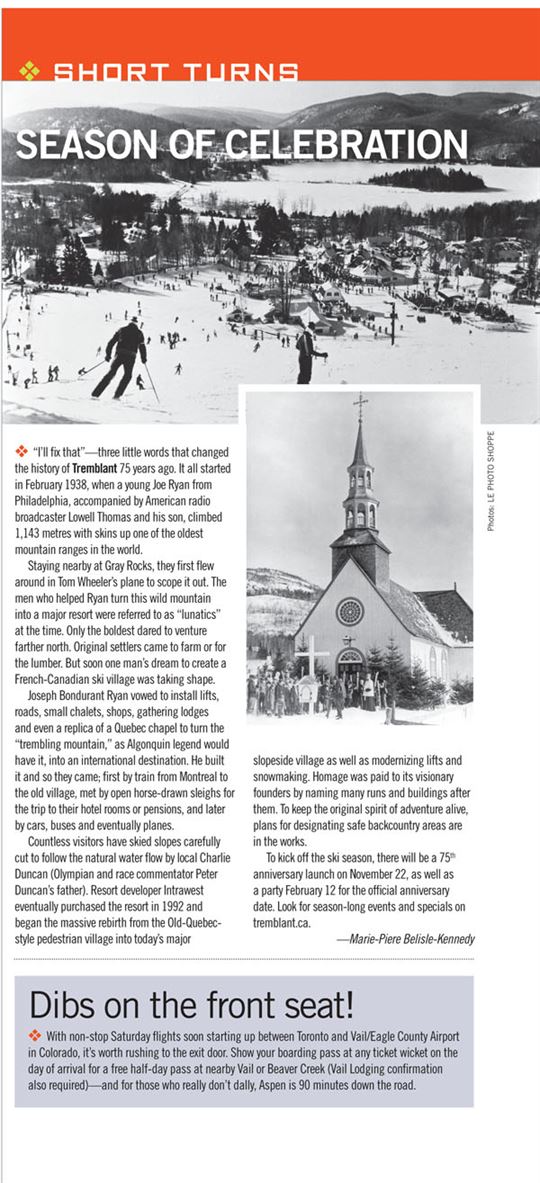 SEASON OF CELEBRATION
 "I'll fix that"—three little words that changed the history of Tremblant 75 years ago. It all started in February 1938, when a young Joe Ryan from Philadelphia, accompanied by American radio broadcaster Lowell Thomas and his son, climbed 1,143 metres with skins up one of the oldest mountain ranges in the world.
Staying nearby at Gray Rocks, they first flew around in Tom Wheeler's plane to scope it out. The men who helped Ryan turn this wild mountain into a major resort were referred to as "lunatics" at the time. Only the boldest dared to venture farther north. Original settlers came to farm or for the lumber. But soon one man's dream to create a French-Canadian ski village was taking shape.
Joseph Bondurant Ryan vowed to install lifts, roads, small chalets, shops, gathering lodges and even a replica of a Quebec chapel to turn the "trembling mountain," as Algonquin legend would have it, into an international destination. He built it and so they came; first by train from Montreal to the old village, met by open horse-drawn sleighs for the trip to their hotel rooms or pensions, and later by cars, buses and eventually planes.
Countless visitors have skied slopes carefully cut to follow the natural water flow by local Charlie Duncan (Olympian and race commentator Peter Duncan's father). Resort developer Intrawest eventually purchased the resort in 1992 and began the massive rebirth from the Old-Quebec-style pedestrian village into today's major slopeside village as well as modernizing lifts and snowmaking. Homage was paid to its visionary founders by naming many runs and buildings after them. To keep the original spirit of adventure alive, plans for designating safe backcountry areas are in the works.
To kick off the ski season, there will be a 75th anniversary launch on November 22, as well as a party February 12 for the official anniversary date. Look for season-long events and specials on tremblant.ca.
—Marie-Piere Belisle-Kennedy
Dibs on the front seat!
 With non-stop Saturday flights soon starting up between Toronto and Vail/Eagle County Airport in Colorado, it's worth rushing to the exit door. Show your boarding pass at any ticket wicket on the day of arrival for a free half-day pass at nearby Vail or Beaver Creek (Vail Lodging confirmation also required)—and for those who really don't dally, Aspen is 90 minutes down the road.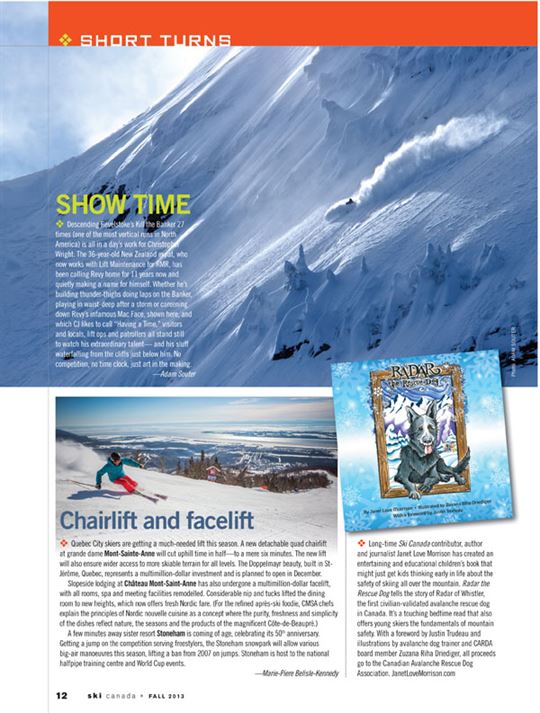 SHOW TIME
 Descending Revelstoke's Kill the Banker 27 times (one of the most vertical runs in North America) is all in a day's work for Christopher Wright. The 36-year-old New Zealand expat, who now works with Lift Maintenance for RMR, has been calling Revy home for 11 years now and quietly making a name for himself. Whether he's building thunder-thighs doing laps on the Banker, playing in waist-deep after a storm or careening down Revy's infamous Mac Face, shown here, and which CJ likes to call "Having a Time," visitors and locals, lift ops and patrollers all stand still to watch his extraordinary talent— and his sluff waterfalling from the cliffs just below him. No competition, no time clock, just art in the making.
—Adam Souter
Photo: ADAM SOUTER
 Long-time Ski Canada contributor, author and journalist Janet Love Morrison has created an entertaining and educational children's book that might just get kids thinking early in life about the safety of skiing all over the mountain. Radar the Rescue Dog tells the story of Radar of Whistler, the first civilian-validated avalanche rescue dog in Canada. It's a touching bedtime read that also offers young skiers the fundamentals of mountain safety. With a foreword by Justin Trudeau and illustrations by avalanche dog trainer and CARDA board member Zuzana Riha Driediger, all proceeds go to the Canadian Avalanche Rescue Dog Association. JanetLoveMorrison.com
Chairlift and facelift
 Quebec City skiers are getting a much-needed lift this season. A new detachable quad chairlift at grande dame Mont-Sainte-Anne will cut uphill time in half—to a mere six minutes. The new lift will also ensure wider access to more skiable terrain for all levels. The Doppelmayr beauty, built in St-Jérôme, Quebec, represents a multimillion-dollar investment and is planned to open in December.
Slopeside lodging at Château Mont-Saint-Anne has also undergone a multimillion-dollar facelift, with all rooms, spa and meeting facilities remodelled. Considerable nip and tucks lifted the dining room to new heights, which now offers fresh Nordic fare. (For the refined après-ski foodie, CMSA chefs explain the principles of Nordic nouvelle cuisine as a concept where the purity, freshness and simplicity of the dishes reflect nature, the seasons and the products of the magnificent Côte-de-Beaupré.)
A few minutes away sister resort Stoneham is coming of age, celebrating its 50th anniversary. Getting a jump on the competition serving freestylers, the Stoneham snowpark will allow various big-air manoeuvres this season, lifting a ban from 2007 on jumps. Stoneham is host to the national halfpipe training centre and World Cup events.
—Marie-Piere Belisle-Kennedy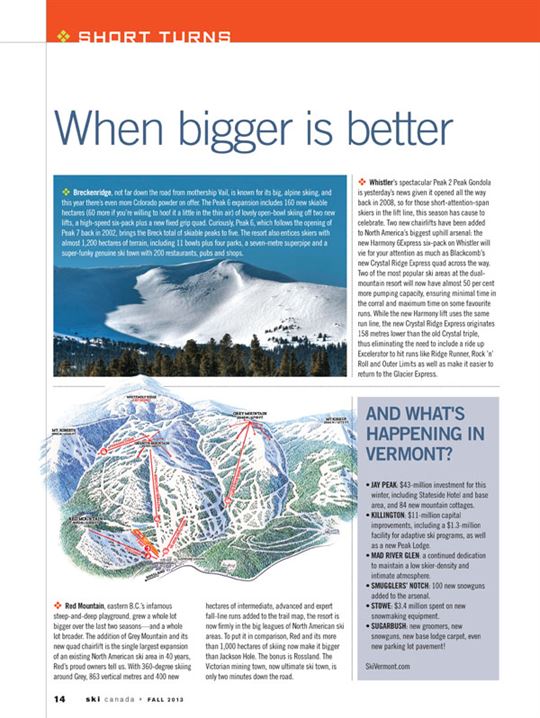 When bigger is better
 Breckenridge, not far down the road from mothership Vail, is known for its big, alpine skiing, and this year there's even more Colorado powder on offer. The Peak 6 expansion includes 160 new skiable hectares (60 more if you're willing to hoof it a little in the thin air) of lovely open-bowl skiing off two new lifts, a high-speed six-pack plus a new fixed grip quad. Curiously, Peak 6, which follows the opening of Peak 7 back in 2002, brings the Breck total of skiable peaks to five. The resort also entices skiers with almost 1,200 hectares of terrain, including 11 bowls plus four parks, a seven-metre superpipe and a super-funky genuine ski town with 200 restaurants, pubs and shops.
 Whistler's spectacular Peak 2 Peak Gondola is yesterday's news given it opened all the way back in 2008, so for those short-attention-span skiers in the lift line, this season has cause to celebrate. Two new chairlifts have been added to North America's biggest uphill arsenal: the new Harmony 6 Express six-pack on Whistler will vie for your attention as much as Blackcomb's new Crystal Ridge Express quad across the way. Two of the most popular ski areas at the dual-mountain resort will now have almost 50 per cent more pumping capacity, ensuring minimal time in the corral and maximum time on some favourite runs. While the new Harmony lift uses the same run line, the new Crystal Ridge Express originates 158 metres lower than the old Crystal triple, thus eliminating the need to include a ride up Excelerator to hit runs like Ridge Runner, Rock 'n' Roll and Outer Limits as well as make it easier to return to the Glacier Express.
AND WHAT'S HAPPENING IN VERMONT?
• JAY PEAK: $43-million investment for this winter, including Stateside Hotel and base area, and 84 new mountain cottages.
• KILLINGTON: $11-million capital improvements, including a $1.3-million facility for adaptive ski programs, as well as a new Peak Lodge.
• MAD RIVER GLEN: a continued dedication to maintain a low skier-density and intimate atmosphere.
• SMUGGLERS' NOTCH: 100 new snowguns added to the arsenal.
• STOWE: $3.4 million spent on new snowmaking equipment.
• SUGARBUSH: new groomers, new snowguns, new base lodge carpet, even new parking lot pavement!
 Red Mountain, eastern B.C.'s infamous steep-and-deep playground, grew a whole lot bigger over the last two seasons—and a whole lot broader. The addition of Grey Mountain and its new quad chairlift is the single largest expansion of an existing North American ski area in 40 years, Red's proud owners tell us. With 360-degree skiing around Grey, 863 vertical metres and 400 new hectares of intermediate, advanced and expert fall-line runs added to the trail map, the resort is now firmly in the big leagues of North American ski areas. To put it in comparison, Red and its more than 1,000 hectares of skiing now make it bigger than Jackson Hole. The bonus is Rossland. The Victorian mining town, now ultimate ski town, is only two minutes down the road.