---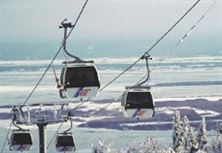 This article appeared in the November 2005 issue.
Okay, I'm going to admit it right up front. We're a hockey family. That's right, we spend every lovely snow-covered winter weekend inside various cold, grey, ananymous hockey arenasthat smell alternately of yummy, buttery popcorn and something that defies description. But we still consider ourselves skiers – just not exclusively.
I grew up in an Ontario private ski club family, spending every weekend and school break on the hills. I did eventually graduate to larger hills and mountains across the country and around the world.I even married a skier, Bob, and we had our two sons, Stewart and Duncan, on skis as quickly as child services would allow. And yet, hockey began its slow, insidious creep into our family. Not that I'm complaining. I love to watch my children enjoy any sport, and if this is their chosen one for now, then so be it. Mind you, they also consider themselves skiers, and any break in the hockey schedule has us planning where to ski with our limited time away from the rink.
Last season, because the boys didn't make the finals in the playoffs, we had the entire March break stretching out before us in all its wintry splendour. Now, competitive hockey is expensive for one child let alone two, and our budget wouldn't allow air travel, so we looked east to Quebec. What a wonderful opportunity to visit what were, for us, new mountains – Stoneham, Mont-Sainte-Anne and Le Massif. It was also a perfect opportunity for my children to put into practice everything they'd been learning in French immersion. As for me, with Grade 13 French and a French boyfriend for some time in my 20s, I was good to go. And Bob likes croissants and French chambermaids outfits, so he was keen.
We also wanted to do a little sight-seeing and arranged for a couple of days in which to soak up the Quebec culture. Our first stop was the Ice Hotel just outside Quebec City. It was a spectacular day with temperatures well above freezing, which made us all a little nervous. Inside it was about -3 C because the four-foot-thick walls help maintain a constant below-zero temperature. Conversely, if it was -25 C outside, it would be a toasty -4 or -5 C inside. We weren't able to spend the night, much to the relief of my eight-year-old, Duncan, who kept asking where the emergency exits were. (I think he perhaps had visions of the big ice hotel melt in the James Bond movie Die Another Day.)
As we tried to decide which of the 32 rooms we would have wanted to stay in—each of which had been designed by architectural students—we toured the chapel, two exhibition galleries and the Grand Hall with its magnificent ice chandelier. We then stopped for a little iced beverage in the Absolut Bar, complete with tumblers made of ice and electrical sockets in the ice walls. On our way out, I noticed, thankfully, that the hot tubs and saunas for the overnight guests were outside and that the toilet facilities, again thankfully, were heated (and outside).
Travelling from the Ice Hotel to Stoneham, we happened across a quintessential piece of early spring in Quebec—the Cabane à Sucre. It was perfect maple syrup weather and the sap was flowing well as we watched it gush through the criss-crossing of modern blue tubes coming from the trees. The owner of the Sugar Shack spoke no English, but did speak the universal language of beer, as he handed Bob a Blue through the steam of the boiling sap. The children and their French were no help here since they were outside indulging in the tire sur la neige—thick hot syrup poured onto fresh snow, rolled up and eaten off a stick. With much waving of hands and nodding interspersed with a few translations through the sugar-stuck jaws of our eldest, Stewart, I think we finally understood the evolution of sap to syrup. No wonder it's more expensive than gasoline! Then, with bellies full of sugar, we made the quick trip to Stoneham, just 20 minutes north of Quebec City.
Stoneham Mountain Resort
Looking forward to some laps on the largest network of nightskiing in Canada, we were disappointed to find that it had ended for the season just two nights before our arrival. We were assured, however, that it was for the best because apparently one doesn't want to nightski when daytime temperatures have been above freezing, unless you relish skiing on baseball-sized ice cubes.
Skiing in the east during the last week of March, two weeks before most resorts close for the season, means that while you may miss out on some of the rocking nightlife that happens during prime season, you do get the whole mountain mostly to yourself.
Stoneham has 32 runs on 330 hectares, a vertical of 420 metres and a little bit of something for everyone, including an extreme zone on mountain No. 4. It's perhaps best known for its Parc 418, a mega snowpark comprised of an Olympic-size superpipe, four large terrain parks, a boardercross course and a learning zone. Parc 418 is named after the local telephone area code—418. Many of the country's top jibbers hail from here. It's ranked as one of North America's best-designed snowparks and has been the host of the FIS Snowboard World Cup for the last two seasons.
The first morning when we hooked up with our guide, Chantal Vien, Stewart wasn't feeling quite himself and despite her enthusiasm for the resort and the Kids Glades, he turned a deeper shade of green with each lift ride but he would not go in. Finally, Stewart relieved himself of his stomach contents on the side of the hill and, hoping Chantal would not think it an editorial comment on her resort, we all kept skiing. Stewart recovered immediately, Chantal had her suspicions about les anglais confirmed and brother Duncan was disappointed that Stewart had not been sick in the bubble chair. I'm not sure Bob even noticed.

Despite not attempting much in the snowpark or the extreme zone (lest my children show me up too badly or I break something too early on), there were lots of good runs on this family-friendly mountain with no lines and plenty of sunshine—pure spring skiing. The après-ski beer on the huge deck overlooking Parc 418 had us admiring our sunburns (I thought Snik was supposed to leave you "honey bronzed and very desirable") and deciding between a Montreal smoked meat sandwich, a game of pool at the Saint Edmund Pub and specialty French cuisine at the Feu Follet.
The three ski areas we were planning to visit have an interchangeable pass for three-plus days of skiing called the Carte Blanche, valid at Stoneham, Le Massif and Mont-Sainte-Anne, both day and night. All three mountains are close by, allowing maximum flexibility in your trip, including time for a visit to Quebec City.
Quebec City
Staying at the Hôtel Manoir Victoria right in the heart of Vieux Quebec allowed us easy walking access to the historic attractions and quaint winding streets of North America's only walled city. Wandering through and exploring Place-Royale where Samuel de Champlain founded his "'abitation"in 1608, the Petit-Champlain district with its distinctive architecture and the Plains of Abraham where the British conquered Quebec were better than any history class I'd ever attended.
Strolling along the boardwalk of the Dufferin Terrace underneath the Citadel of Quebec and in the shadow of the Château Frontenac, there were still signs of the Winter Carnival, the largest of its kind in the world. We took the ferry from the old Port of Quebec across the St. Lawrence to Levi so we could get right in the middle of the huge ice floes as they broke up on the river. After a day walking through history and eating beaver tails, we soaked in the hotel's saltwater pool and anticipated the next day at Le Massif.
Le Massif
A little more than an hour east of Quebec City, right on the north shore of the St. Lawrence, sits Le Massif. With the largest vertical drop—770 metres—in eastern Canada and a micro climate that serves up an average annual natural snowfall of six metres, not to mention the spectacular view, we were eager to get skiing. Just 20 years ago, skiers at Le Massif were taken to the top via school bus, since there were no lifts, to farm the best powder in eastern North America. Tens of millions of dollars later, Le Massif is also being developed as part of the Charlevoix Biosphere Reserve.
In 2001-02, $25 million was invested to create the National Alpine Ski Training Centre, which was approved by the International Ski Federation. The following year, the former president of Cirque de Soleil, Daniel Gauthier, became the new owner of Le Massif and invested an additional $25 million for the future development of the resort as a four-season destination. The first group to benefit are skiers. There's a new mountaintop day lodge with a gourmet cafeteria (no burgers or poutine here) where we sampled scrumptious bits of the regional award-winning Migneron cheese complemented with a hearty local beer.
Back on the slopes it was easy to get caught up in the view of the ice on the St. Lawrence until the burning in our thighs changed the focus of our attention. The length and vertical of the trails are deceiving when it feels as if you're skiing right into the water. Although Le Massif trumpets itself as an epicentre of light, dry powder, our visit in March came with crystal-clear warm spring weather. Stewart and Duncan took their first ski lesson here with instructor Gilles, who seemed glad to be able to do the lesson in both French and English. At the end of the lesson Gilles reported that Duncan did not seem to understand the command 'slow down'in either official language.
Since there's no direct on-site lodging at Le Massif, we arranged to stay a little farther downriver, near Baie-Saint-Paul in a quaint 200-year-old farmhouse—Gîte Le Noble Queteux—with its charming hosts, Claude and Marie Lou. Shortly after our arrival, Marie Lou had Stewart and Duncan down at the barn playing with the dogs and feeding the horses the apple cores and skins left over from the homemade bread she had just baked. Needless to say, the boys were instant fans of rural life. Sitting around the roaring hearth sipping chocolat chaud that night, our hosts regaled us with stories of the history of the farmhouse and the surrounding area. The next day, our dedication to skiing allowed us only enough time for a quick tour of picturesque Baie-Saint-Paul and another chance to indulge in the delicious local cuisine, including more Migneron cheese and ice cider.
Mont-Sainte-Anne
Mont-Sainte-Anne is by far the largest of the ski areas we visited in the Quebec City hat trick with 63 runs spread over three sides of the mountain. Everything is straightforward at this tried-and-true resort, with all the runs segregated according to level of difficulty. We began our first morning warming up our legs in the sun on the south side where the groomed trails were a real treat before they became too soft and heavy in the above-zero temperatures. The south side has the most vertical and the new Forêt Noire—a trio of expert glade runs.

Not wanting to miss a minute of sunshine, we lurked around the outdoor seating area at lunch until we scored a table. Missing the goat cheese, spinach and sun-dried tomato pizza and local mico-brewed beer offerings of the cafeteria at Le Massif, we slipped back into the burgers and poutine of Mont-Sainte-Anne. With the legs feeling a little heavy, we decided to head over to the north side of the mountain for the afternoon. While it doesn't have quite the same vertical, the snow was fast and light and the lactic acid buildup was held off a little longer.

Glades are a big hit with the boys and they managed to convince Bob and me to partake just this once. Bob is a big guy and was (notice the past tense) still on old long, straight skis which made for more than a few laughs at his expense as he picked his way through the trees using French swearwords I don't think even the boys had yet learned in the playground at school.

For the last run of the day, we headed back to the south side. Not wanting to make our way through the snow that was now more the consistency of mashed potatoes, we chose a nice Sunday-drive kind of trail called Le Chemin du Roy—all 5,662 metres of it. Nothing like a good thigh-burning race with your kids to finish the day.

Mont-Sainte-Anne has lots of lodging both at the base of the mountain and nearby, ranging from hotels to condos and chalets. We stayed at Les Chalets Montmorency just up the road from the slopes, which gave us the flexibility to bring in our own food or go out. By unanimous decision breakfasts were in, dinners were out. Duncan really took to the international flare that some of the local resto-pubs had added to the traditional poutine. There was Poutine Mediterranean (tomato sauce and cheese), Poutine Mexican (salsa and cheese) and Poutine avec Boeuf (ground beef and cheese)—we were a little confused as to the nationality of the last one.

Les Chalets Montmorency was obviously a favourite for ski and snowboarding teams from across the continent that had visited or trained at Mont-Sainte-Anne, as indicated by every inch of the office walls being covered with team pictures. There seemed to be a strict 11:00 p.m. no noise rule in effect, but there was, however, no rule about how early in the morning one could start making noise. And I thought we got up early for hockey! What were people doing up at 5:45 a.m.? Peeking through the curtains, I saw people in spandex stretching and SUVs being loaded with snowshoes and cross-country skis, getting ready to head out. Since we were up and it was the seventh straight day of sun, we decided to be the first on the slopes.

After our final sun-soaked, thigh-busting day of heavy spring skiing, it was time to pack up and head back to Ontario, with perhaps the best ski tan I've ever had (and a brand-new French maid's outfit packed nicely away). By all accounts, our spring road trip to Quebec was a huge success. As Duncan loaded up the CD rack with an eclectic mix of Beatles, BTO, Stones and Neil Young, Stewart wondered aloud about us being more of a ski family now than a hockey family. Then in unison they asked where we were going to ski in Quebec next year when they didn't make the playoffs (ah, the power of positive thinking). Driving off quite literally into the sunset, we all said a fond farewell to our provincial neighbour.

Merci, Québec, et à bientôt.

MONT-SAINTE-ANNE
Elevation: 899 metres
Vertical drop: 625 metres
Trails: 63 trails and glades—green, 25%; blue, 45%; black, 20%; double black, 10%
Lifts: 13—1 high-speed gondola, 3 quads, 1 triple, 2 doubles, 6 surface lifts
Snowmaking: 80%
Average annual snowfall: 400 cm
Terrain parks: 3, including one boardercross course and one slopestyle course, open to skiers and snowboarders Nightskiing: 17 runs on the highest vertical for nightskiing in Canada Season: mid-November to early May Children's centre: 6 months to 10 years of age; nursery, daycare, ski and snowboard lessons, kinderski program, equipment rental, indoor and outdoor playground, lunch
Shuttle services: Winter Express—daily shuttle service from and to Quebec City; bus shuttle—local service from Sainte-Foy and Quebec City on Friday, Saturday and Sunday Lodging: Central Reservations for Mont-Sainte-Anne and the Greater Quebec City area, 800/463-1568 or 418/827-5281.
Wide choice of lodging facilities from luxurious hotels to fully equipped apartments and charming B&Bs. There are 3,000 rental beds located within a five-km radius of the mountain. More info: www.mont-sainte-anne.com, 888/827-4579

STONEHAM MOUNTAIN RESORT
Elevation: 632 metres
Vertical drop: 420 metres
Trails: 32 trails and glades—green, 20%; blue, 23%; black, 40%; double black, 18%
Lifts: 9—1 high-speed quad, 2 fixed quads, 1 double chair, 5 surface lifts
Snowmaking: 86%
Average annual snowfall: 350 cm
Terrain parks: 4, including a 1.6-km slopestyle course, super halfpipe with 5-metre walls, wall-rides, rails, pyramids, rolls, boxes, tabletops, junior park
Nightskiing: 16 runs for the largest network for nightskiing in Canada Season: mid-November to Easter Monday
Children's centre: Kidz Island offers programs designed for children of all ages
Shuttle services: same as Mont-Sainte-Anne
Lodging: Stoneham Hotel, 60 fully equipped studios and condos, reservations: 800/463-6888; Central Reservations for Greater Quebec City: 800/463-1568 More info: www.ski-stoneham.com, 888/463-6883

LE MASSIF
Elevation: 806 metres
Vertical drop: 770 metres
Trails: 42 runs and glades—green, 23%; blue, 40%; black, 23%; double black, 14%
Lifts: 5—3 high-speed quads, 2 handle lifts
Snowmaking: 54%
Average annual snowfall: 600 cm
Terrain park: L'Express du Sommet Sector Season: December to April
Children's centre: educational activities and ski programs for 2-10 years of age
Shuttle services: free guest shuttle service departing Mont-Sainte-Anne and Baie-Saint-Paul More info: www.lemassif.com, 877/536-2774

CARTE BLANCHE
For rates, a free lodging guide of the three resorts and Quebec City, to sign up for an e-newsletter and to be informed of the latest offers and promotions, visit www.fun2ski.com

DESTINATION QUEBEC
www.bonjourquebec.ca

Tags: Cabane á Sucre, family trip, Ice Hotel, Le Massif, Les Chalets Montmorency, Mont-Sainte-Anne, Québec, Quebec City, road trip, Stoneham, Stoneham Mountain Resort