---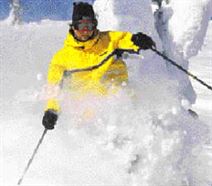 This feature appeared in the December 2005 issue
I can't call it karma, because I probably didn't deserve it, or fate, because it was hardly inevitable. So let's stick with dumb luck.
That's the only way I can explain how I wound up last February heading for Big White, one of very few ski resorts in B.C. that had not been left whimpering in the wake of a snow drought. Silver Star, which shares owners and ticket privileges with Big White, had also been blessed with plenty of snow.
With just four days at my disposal, I was lucky that WestJet had just inaugurated its new non-stop service from mountain-deprived Toronto to Kelowna. The Okanagan Valley city is far from deprived in the mountain department, with both Big White and Silver Star, topping out at 2,318 and 1,915 metres respectively, within an hour of the airport.
A couple of time zones and non-stop service—to an airport that moves you and your gear from plane to shuttle in under half an hour—meant my teenaged son and mountain buddy Spenser and I could leave Toronto at a very civilized 9:00 a.m. and ? nd ourselves on Big White's Ridge Rocket Express quad at about 12:30 p.m. After a quick lunch we were ready for all the skiing a pair of Easterners could handle on their ?rst day on a real B.C. mountain. Mountain skiing, for many Ontarians, is largely a matter of ?nding the time. So being able to ski for four days on a four-day trip, little more than a long weekend, is a true victory. The fresh powder, sunshine and stunning mountain vistas are all bonuses.
Another bonus is hooking up with Big White pitchman and buddy Steve Threndyle. We both trace our skiing roots to a molehill with a rope-tow called the Kincardine Ski Bowl (but that's another, much longer story), so being together on a real mountain is a treat. Moving down the slopes with little apparent effort, while I thrash through Big White's light powder, Steve gives me a thorough look at what the hill has to offer.
So there we are, headed up the Ridge Rocket, just a short run down from the Village Centre. Another easy hop takes us to the Alpine T-bar and we are at the summit, just above the tree line, fresh powder in front of us and still coming down. Heaven.
Bypassing the Cliff for now—which is easier than it looks since very skiable snow is practially pasted to it—we take the easy out down through the Enchanted Forest. Heading over to the Powder Chair, we stick to the single black diamonds and blue runs, running down Flagpole and Corkscrew before riding up the Falcon Chair.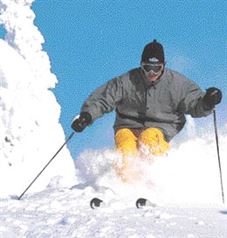 With Steve in the lead (politely warning when the line we are on is about to head over a cliff), Spenser and I soon ? nd Big White's chief charm. Yes, there is plenty of snow in mid-February during a winter when some mighty ski resorts in the West were forced to offer visitors non-skiing alternatives. (Naturally, locals tell me Big White is always like this, the champagne powder always on tap.) But the really great thing about Big White is that the powder stashes aren't stashed anywhere, they're right out in the open. Glades and trails meld and merge, so you don't have to go far to ? nd plenty of powder.
There are loads of glades on the trail maps—Thunder, Black and Blue, Sapphire, Corkscrew, Powder, Black Bear and Never Never Glades. The Black Forest. In reality, they hardly need to be marked at all. Because they're almost everywhere. You can duck into the trees at will alongside many runs.
For neophyte glade-runners, the blue runs alongside the Black Forest Express quad— Cougar Alley, Whiskey Jack, Herbert's Hollow and Bear's Paw—are a great training ground. Then you can move up to the trees between Powder Gulch and Powder Keg or Flagpole.
Once Spenser gets a taste for the trees, I can't keep him out of the woods. He disappears and emerges at the bottom of the run brushing off the powder he picks up along the way but can't wipe off the grin. I'm usually happy ?irting with the forest, ducking into the woods for a taste of powder then heading back onto the groomed trail for a rest. The lure of powder, however, is strong—especially for Eastern hardpack skiers, for whom it is a rare treat.
Our stay at Big White offers up a great combination of a couple of days of fresh powder, followed by a couple of sunshine and clear skies. Plenty of snow, then time to enjoy the views of the surrounding peaks and the not-so-distant Monashees.
Also among Big White's family-skiing selling points are its many challenging intermediate and what I call "careful expert" runs. I like to think I'm in the expert category but get more cautious with age. On our second morning, we are heading through the wonderful, powderfull Black Bear glades off the top of the 2,444- metre Gem Lake Express quad, then down Kalina's Rainbow. Even more big blue cruisers on the far side of the Gem Lake lift—Moonlight Run, Blur Moon, Mustang Sally, Snowy, the Fourth Ace and Cann Cann—are coming on stream this season. Plentiful powder and a vast terrain, with 118 marked trails on 1,147 skiable hectares, ensure visitors will not get bored.
Powder, glades and plenty of black diamonds, not to mention the Cliff, Parachute Bowl and Pegasus, off Big White's summit, will provide plenty of challenges as visitors progress, learning glade-skiing skills quickly during longer stays at the mountain.
The resort's 15 lifts, including four big express quads, move people uphill quickly. For freestylers, there's the TELUS Park, with halfpipe and its own double chair. Spenser was going too hard to get bored during the day and was too tired to look for teen nightlife (a "No Minors Admitted" sign kept us out of Snowshoe Sam's lounge) in the evening. Still, to address that challenge, the resort has a teen-oriented lodge planned for the TELUS Park area. Given the resort's relative isolation, it makes sense.
As well as seeing Big White through the eyes of a local, we also skied for a few hours with one of the resort's volunteer Snow Hosts. Carlan, a Big White winter resident who lives in Spokane, Washington, the rest of the year, knew the mountain well and added a lot of insight. Hooking up with a host upon arrival, for a morning or afternoon, is a great way to get familiar with the hill.
Don't get disorientated, however, if you ?nd yourself being served by a young Aussie, or ?nd yourself outnumbered on the lift with others from Down Under. Owned by the Australian Schumann family, Big White and nearby Silver Star attract some staff and many visitors from home. According to the many Australians we met, including one who used to operate a ski hill there, the conditions, facilities and prices in B.C. make visitors think they have arrived in skiers' heaven. One of the popular Australian packages includes two weeks on the hill, sometimes split between Big White and Silver Star. At Big White, if they want a break from the alpine grind, there's cross-country skiing, snowmobile tours, sleigh rides and a day spa.
Spenser and I just settle for the hot tub. Our Trapper's Crossing condo is only a few years old, like most Big White rental pool properties, and has a balcony hot tub with a mountain view. The village, with variety store, restaurants and bars, is only a few steps away. There's plenty of top-?ight hotel accommodation, but the space and privacy of the condo are nice.
The restaurants offer a nice variety but Spenser and I can heartily recommend the Swiss Bear (where Spense enjoyed a 20- ounce Porterhouse after a day on the hill) and Snowshoe Sam's, where we also enjoyed an excellent meal. Part of the dining experience at Sam's—and a requisite part of any visit to Big White—is Snowshoe Sam's Gunbarrel Coffee. As well as being a delicious, if a tad dangerous, combination of brandy, Grand Marnier, crème de cacao, coffee and whipped cream, it's ?nished off with a ?ourish as highly trained servers drip ?aming brandy into the cup, down the barrel of a slightly modi?ed doublebarrel shotgun. It is a show greatly appreciated by recovering pyromaniacs such as Spenser and me.
And like the whole Big White experience, it's well managed but spectacular, a feast for all the senses.
BEDS & BITES OF BIG WHITE
ARRIVAL: An hour's drive southeast of Kelowna, B.C., about ?ve hours from Vancouver, and less than ?ve hours' ?ying time from Toronto. Daily service: www.westjet.com or www.aircanada.com
SUMMIT ELEVATION: 2,319 metres
VERTICAL DROP: 777 metres
NAMED RUNS: 118 (18% easiest, 54% intermediate, 28% advanced/ expert); 1,147 hectares patrolled.
LIFTS: One express gondola (eightpassenger), 4 express quads, one beginner quad, one triple, three doubles, one T-bar, one children's Magic Carpet , one handle tow and two tube lifts.
AVERAGE ANNUAL SNOWFALL: 750 cm
TERRAIN PARK: TELUS Park— National Training Centre
BEST TIME TO GO: "Value" season is after Christmas to second week of February.
ACCOMMODATIONS: Three hotels, 45 condominium and townhouse complexes, 327 vacation homes and luxury cabins, and one youth hostel; overnight capacity 14,000 guests. All accommodations are ski-in/ski-out.
BEYOND THE CONDOS: 17 restaurants, 8 bars and lounges.
SKI SCHOOL: Private and group lessons, beginner programs, fully supervised children's programs. 250/765-3101, Ext. 280
MORE INFO: www.bigwhite.com, 800/663-2772

Tags: Big White, British Columbia, mountain skiing, Okanagan Valley, Silver Star, Swiss Bar, TELUS Park