---

Many, many years ago, well, in the mid-1990s, while I was studying at the University of British Columbia and escaping to Whistler four days a week each winter, I spent a few days staying at a friend's family condo in Whistler's Creekside. I learned later that this condo was not only one of the very first condos built in Whistler, but it was also owned by Franz Wilhelmsen, my friend's grandfather. At the time, staying in Franz's chalet was of little significance to me. Since moving to Whistler, however, I've come to regret not taking the opportunity to meet the man who is largely responsible for Whistler's existence.
This winter, as Whistler celebrates its 40th anniversary and Blackcomb its 25th, I thought it would be worthwhile to look through some old photos and canvass a few other Whistler stories.
Whistler was created with the goal of hosting the Winter Olympic Games. In 1960 Franz Wilhelmsen formed Garibaldi Lifts Limited with a group of Vancouver businessmen in hopes of winning the bid to host the 1968 Winter Olympic Games on what was then known as London Mountain. Although Whistler didn't get to host the 1968 Games or the three later Games the Garibaldi Olympic Development Association (GODA) tried to bid for, Whistler will finally host the 2010 Winter Olympics in conjunction with Vancouver.
In 1965 London Mountain was officially renamed Whistler Mountain. The name was derived from the whistling sound made by the local alpine marmot.
In February 1966 Whistler Mountain officially opened to the public with a gondola, double chairlift, two T-bars and a day lodge. The original base of Whistler was where Creekside lies today. (Today's town site was the garbage dump.)
In recent years, Whistler-Blackcomb has become famous for its many ski and snowboard camps, especially those held each July on Blackcomb's Horstman Glacier. Summer camps have been running on the Horstman since 1989, however, this photo (3) was taken at an aerials camp in 1972 on Whistler Glacier, now the Glacier Bowl area.
I had the pleasure of skiing a few days with Marc Lalond, Pierre Trudeau's former righthand man. During that ski, he recalled stories of Trudeau arriving atop Whistler Mountain by helicopter for a few hours of skiing. This photo shows the Right Honourable skiing with long-time ski school director Jim McConkey. Legend has it that the conversation underway in this photo went something like this: "Mr. Prime Minister, you can't ski with your feet that close together." To which Trudeau replied, "Just watch me!"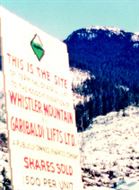 Blackcomb Mountain opened to the public on December 6, 1980, the same year that this World Cup freestyle competition was held on Whistler Mountain.
Dave Murray, one of the original Crazy Canucks who once described himself and his teammates as "badass crazy," is a Whistler legend. Though his life was cut short by cancer at the age of 37, his memory will forever be entwined in the story of Whistler. Today, you will notice his name on the Atomic Dave Murray Ski Camps, the Dave Murray Summer Ski and Snowboard Camps and Whistler's World Cup downhill run.
When then-rival Blackcomb Mountain opened the 7th Heaven T-bar, Whistler retaliated by installing the Peak Chair, giving skiers easy access to the high alpine. Though it has now been replaced by a high-speed quad, The Peak remains a favourite of those looking to experience the big mountain.
Seppo Makinen, the long-time Whistler local who knew everybody and was loved by more, played a significant role in Whistler's development, cutting many of the runs in the early days. This photo, taken in 1998, shows Seppo sitting on the deck of his lodge on Nesters Road with the Whistler Mountain run bearing his name in the background.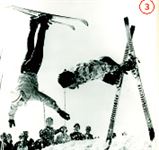 In 1989 Rob Boyd became the first and only Canadian male to win a World Cup downhill on home turf when he won in Whistler. Since his win, Boyd has become a member of the Whistler-Blackcomb Freeride Team, a coach with the Whistler Mountain Ski Club and, most recently, a national team coach.

Since 1996, Whistler-Blackcomb has been collecting numerous awards and accolades for its terrain parks (10). To date, the resort has . received 29 top-three awards from various international media publications, including Ski Canada.

Whistler, 40. Blackcomb, 25. Whistler-Blackcomb, timeless.

Tags: Blackcomb, Blackcomb Mountain, British Columbia, Crazy Canucks, downhill skiing, Franz Wilhelmsen, Garibaldi Olympic Development Association, Glacier Bowel, heli-skiing, history of Whistler, Marc Lalond, Rob Boyd, Seppo Makinen, Whistler, Whistler Mountain, Winter Olympic Games