Reading Time:
6
minutes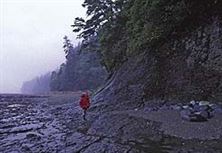 Prepare like a pro before tackling B.C.'s most famous West Coast Trail
With mud threatening every orifice and a 25-kg pack swinging over my back like a wild chimp intent on mischief, I realized this was not the time to check whether I had tied my boots properly. It's our fourth day hiking Vancouver Island's West Coast Trail, and if you're into multi-coloured banana slugs the size of bananas, inhaling enough mud to make you feel like an earthworm, and climbing ladders over soul-scraping heights, then you'll feel right at home.
The West Coast Trail (WCT), a component of Pacific Rim National Park at the south-west end of Vancouver Island, is a 75-km wilderness trail stretching between the trailheads of Pachena Bay in the north and Gordon River in the south. But like that also-famous Oreo cookie, it's the stuff in between that has excited hikers for generations. If you're good at sharing, you won't mind that you're one of 9,000 hikers from around the world who test their mettle each season as they haul supplies and equipment for what is normally a six-day, smile-yourself-silly, peel-back-your-soul, roller-coaster adventure.
After a short briefing on trail conditions and possible animal sightings of either the bear or cougar variety, you'll depart the Warden's shack armed with tide tables and topo maps (included in the park fee). Watching eyes go beyond the critter type, though. If, along the way, you feel you're being watched, you're forgiven…after all, the place is drenched in history. Archaeologists have uncovered shell middens dating back 8,000 years. Evidence of First Nations settlement includes burial mounds and other unique items of interest like culturally modified trees…cedars stripped for use in boats and houses.
The ghosts of early Europeans are also etched along the coast as evidenced by the many shipwrecks and few survivors. In fact, it was after the sinking of an American vessel in 1902 and the loss of 132 lives that the Canadian government modified the trail. (Originally, it served as a telegraph route linking the British Empire.) Eventually abandoned as ocean travel declined, the trail was resurrected and widened in the late '60s for recreational use. Former PM, Jean Chretien, with good foresight, conferred the National Park designation in 1982.
Walking a trail that meanders along the sometimes-treacherous, but often tranquil, Pacific Ocean coast and among Douglas firs as old as 800 years is enough to fire the imagination of any traveller. It's the less-sexy struggle through endless back-breaking canyons and within the windless hollows among immense mud holes where you'll really begin to understand why this trail plays for keeps.
While it's true that, under ideal conditions, some sections seem like a walk in the park, it's also true that other sections can tattoo a lesson in humility. Steep hills, deep rivers that require crossing by cable car or ferry and heavy packs are challenge enough. Doing it for days tests knees and backs alike.
Throw in vertigo-inducing ladders, which are spiked to rock faces of otherwise impenetrable bluffs and forested cliffs, as well as slippery boardwalks and trail chit-chat often disappears.
Fortunately, a flip side exists to this torrent of self-torture, which is where tide tables come in. By using the tables you can determine low tide and hence when it's safe to walk and run the beach. This is good. The beach is a beer bath compared to the inland trail, though both have advantages. The key is to be careful and take your time. Park archives include statistics of those unlucky enough to meet with hypothermia, broken bones and worse. Medical evacuation is the financial responsibility of the injured, though bleating admissions of fatigue or food shortage will fall on deaf ears. To avoid this fate, you'll want to prepare like a pro.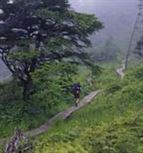 Before arriving, take half your pack-weight for a test drive and begin with jaunts on trails closer to home. Work up to a full pack (maximum 30 per cent of your body weight) and head out for two- to three-hour sorties, remembering to drink one water bottle for every hour of heavy work. If, like me, you average one trail km over twenty minutes, a three-hour boogie will yield nine km. Two weeks' preparation should be enough; leave dreams of setting an Olympic record at home because every record for speed (on the WCT) has already been set. My goal as a hiker is to enjoy the trip, not break my neck or gallop at a pace I cannot maintain. And remember, somebody will always be farther along the trail than you. Busting past hikers to get ahead won't add up to a hill of rainbows. If you insist on quiet trails, try getting up early and starting your day at 7:00 a.m. That way, while others are still luxuriating in warm sleeping bags, you won't be following in their steps.
Packing it in
By no stretch exhaustive, the following are personal musts.
Communal equipment
Tent: 50 sq ft between two people means the absence of elbow smashes when both people decide they have to take a leak in pitch black; a bigger tent means more weight but if you can't sleep, you can't hike. Water filter: pump variety is good, drops are also fine. Water bladder: lighter. Stove: white gas or propane are best. Pots: don't bring the whole kitchen…two are enough. Dishes: one bowl, one cup each. Utensils: get a spork, a combo fork/spoon. Scrub pad and suds: biodegradable or not, use 60 metres away from water sources; some people use sand. Rope: 20 metres and a serious thickness if you hope to be. First-aid kit: include ibuprofen to combat inflamed joints; scissors, needle and thread… think stitches; moleskin, bring more than you need. Tarp: Did I mention the inland trail involves a rain forest? Large, strong plastic bags…two per person, one to protect your sleeping bag and a second to enclose all else.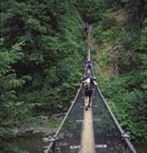 Personal gear
Backpack: comfortable, balanced pack and rain cover fitted at a trail shop; this is a make or break item. Sleeping bag and pad: humidity is huge on the coast (most campsites are on the beach) and waking up cold and stiff is no fun. Two-piece rain gear: in heavy rain everything breaks down but at least a good set will keep you warm. Gloves: for climbing rocks and ladders. Hat: for rain and sun. Clothes: one set for day, long underwear for night; no point in carrying a wardrobe…everything stinks fast when you hike. Wash before bedtime and enjoy a good sleep, otherwise you risk filling your tent with odors that could give a skunk cardiac arrest. Boots: waterproof, breathable, lightweight and ankle-high; break them in at home, not on the trail. Gaiters: a neat contraption designed to enclose legs from knee to ankle to keep out unwanted detritus. Pocket knife: if it hasn't been taken away by airport security. Elastics: for whatever.
Food
Most trail food tastes worse than a bark sandwich. Dehydrating your own separates the old pros. For the rest of us, just-add-water varieties can be purchased in trail shops. Don't forget noodles, rice, porridge, trail mix and/or fruit bars, coffee, tea and soup. You're limited only by what you're willing to carry. Pack enough for one extra day in case of trail delays or injury. If you wish to use add-water drink powder, consider those including electrolytes, carbohydrates, sodium, potassium and the like. Don't bother bringing alcohol. Most days you'll end up so tired that even your grandmother could beat you up. If anything, bring your physiotherapist.
If you go
Call Parks Canada at 800/663-6000 at least 90 days in advance to obtain a permit. Cost to reserve is $25, and a hiking permit is $90 per person. I recommend reserving since only 52 hikers are allowed each day. Eight more may join the halfway point at Nitinat Narrows, though to me this is like entering the Sistine Chapel and not looking up.
Tip:
The Hiker Preparation Guide (www.parks.canada.ca) includes First Nations contacts who (with notice) may be willing to offer short off-trail tours in areas closed to the rest of us. Books to read: Blisters and Bliss
When to go & where to start
The good people working the reservation lines will tell you that July and August are the best times to hike the West Coast Trail because there's less rain. While this is often true, you may wish to try the last week of June or the first week of September since school is in and the weather is mostly fine. Most hikers hike north to south. Packs are heaviest at the start…remember that roast ham you insisted on taking?… and this is the easier end of the trail. Working up to more difficult ladders and steeper hill sections after a two-day warmup, when supplies are reduced, makes good sense. Those of you belonging to the lunatic fringe will undoubtedly go south to north and initially enjoy quieter trails, though it will be paid for with every step.
For a complete list of what to bring and how to arrive, visit Parks Canada and review the Hiker Preparation Guide.