---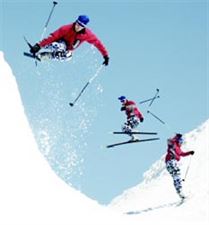 You've ridden the dog. Now grab life by the horns and climb aboard the moose. Bus travel, that retro transport of choice for grannies and backpackers, is back and it's goin' skiing. Vancouver-based Moose Travel Network runs a twice-weekly service from Vancouver through to the sought-after ski stops near Kelowna, Revelstoke, Golden, Lake Louise and Banff.
Grab your six-pack and keep hold of the empties: the Vancouver-Banff Snow Shuttle takes 12 hours. There are no scheduled stops for sightseeing or activities en route. The driver, however, will stop for toilet breaks, lunch and snacks. (We recommend the French toast 'n' bacon at the third Husky.)
Rich rewards await survivors. No being dumped at the side of the highway with nowhere to go and no reason to live. The routes are designed to get you straight to your prebooked home away from home at hostels in Big White, Silver Star, Banff, Golden, Kimberley and Fernie.
And there's no time limit. With jump-on, jump-off flexibility, you can spend as much time as you want anywhere en route. If you find something you like, say a metre of fresh, why not stay a while? Even Saturday night in Revelstoke might beat the return journey.
VERSATILITY makes a comeback
Anyone can feel that skis are undergoing a slow evolution in shape but at Ski Canada we decided to look at the numbers to see exactly what was happening. Comparing waist measurements of all skis sold in Canada in the past two years shows the direction things are moving. The past decade has seen major changes in ski design and an explosion in the number of specialty models from supercarve to all-mountain powder. The range of ski shapes has never been larger but is the market showing its wisdom?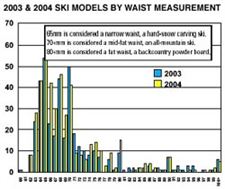 There are more skis listed this season so most areas show an increase in numbers, but general distribution is fairly constant. Most notable is the increase in the mid-fat range, which represents many versatile skis that can handle the groomed as well as a day in the pow. Versatility, especially in the west where soft and hard snow are often encountered on the same day, is an important factor in choosing the perfect ski.

Equally interesting is the over-80 crowd that has thinned slightly. Super-wide skis are not versatile; nothing beats a fat ski on a big-snow day but the reality is those days are rare if your skiing is done from chairlifts or practically any day in the east. Fat skis must be second skis for special days and maybe that's why we're seeing fewer of them.

Tags: Banff, Big White, British Columbia, Fernie, Golden, Kimberley, Moose Travel Network, routes, Silver Star, ski design, ski holidays, ski news, ski travel, ski vacations, travel, Vancouver, Vancouver-Banff Snow Shuttle