---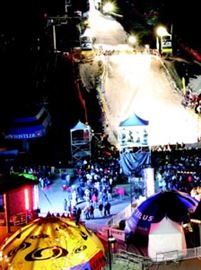 While lumbering through Lot 1 for the hundredth-odd time last season, I was startled by what appeared to be a large animal rummaging through the trunk of a red Civic. Perhaps partly because it was the day after the World Ski and Snowboard Festival (WSSF), or simply because I'm nver fully alert at lower elevations, it took me a moment to identify the perplexing sight. Eventually I realized that I had stumbled across the temporary lair of one of Whistler's most dedicated spring visitors.
This friendly creature, whose physical appearance is best described as a cross between a sasquatch and the fourth member of ZZ Top, has been making extended visits to Whistler each spring for many years. Always stylishly outfitted in stretch pants and a navel-length beard, he also has a habit of scouring the Roundhouse for fries and other table scraps after the lunch crowd leaves. Now I'm not suggesting that you come to Whistler primarily for the leftover tartar sauce, but the mountain can be a very interesting place between April and June.
Springtime is when Whistler is host to numerous feature events that bring out all kinds of creatures. Here's a brief rundown of some of the most notable:
THE WORLD SKI AND SNOWBOARD FESTIVAL
April 8-17
This legendary end-of-winter bash brings all the big names to town. Whether you come for the music, the skiing or events like the Photo Search and Showdown, you're guaranteed to see some of the most talented individuals in each field. Now in its 10th year, this 10-day event also kicks off the spring season by putting everyone in a festive spirit. There's something appealing about being able to finish a great day of skiing by falling into a patio chair and enjoying an outdoor concert in the spring sun.
GAPPER DAY
June 5
The boys at doglotion.com have turned a small gathering of ridiculously dressed friends into a huge annual event. It's always held on the last day of the spring season, and its mission is to celebrate everything dorky in skiing. According to event organizer Jamie Bond, you can come dressed in "a retro one-piece or a raincoat and gas mask as long as you plan to throw a daffy, twister or spread at every opportunity and leave the 'bro' attitude at home."

Even extremely thin snow coverage and rain couldn't stop the enormous band of silly-goating delinquents from tearing up the snow-, grass- and rock-covered slopes last June. Gapper Day (gapper, as in one who wears his hat back so far on his head, he creates a noticeable forehead gap above his goggles) is quickly climbing to the top of everyone's to-do list since taking part requires no registration, no skill and, most importantly, no style.

Tags: British Columbia, Gapper Day, Lot 1, ski events, spring events, Whistler, World Ski and Snowboard Festival