---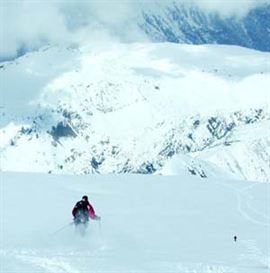 "No pain, no gain," I insist, somewhat self-righteously I know but desperate to claw back some ground in an argument I'm losing. "Just try it," my interlocutor responds smilingly. What we're talking about is anathema to an old-school ski tourer but the promise of a brave new world to a downhill skier. The idea is to go where no man has ever gone before, except on foot, via skiing's magic carpet, the helicopter. Traversing the Haute Route by helicopter is the invention of Gavin Foster, Chamonix-based owner of Ski Weekend, the premier hardcore off-piste outfit in the Alps.
TEMPTATION
Gavin is the man who introduced me to La Grave in France and Alagna in Italy. Gavin has a number of Canadian clients with whom I've skied in those two most extreme of European resorts, including banker brothers Andy and Jamie Gibson from Calgary and the father and son team of Mark and Steve Lubotta from Montreal. So I listen to his arguments with rapt attention. But at gut level I'm appalled.
The Haute Route is skiing's Holy Grail. It's the ultimate test, short of a Himalayan expedition, of endurance and technique. It's a pilgrimage imbued with history and tradition across the oldest and longest ski itinerary in the world.
There are many Haute Routes–that is, there are scores of itineraries with off-route variations up the odd 4,000+-metre peak or down dozens of valleys and couloirs. But the classic Haute Route from Chamonix to Zermatt runs some 200 km in length and takes in more than 20 glaciers. The Haute Route was first hiked in the summer by doughty members of the British Alpine Club in 1861. But the first ski traverse of the entire route was not accomplished until 1911.
The first time I stepped out on the Haute Route, 13 years ago with celebrated Canadian mountain guide John Hogg, it took me 14 days to slog up more than 12,000 vertical metres from Saas Fee in Switzerland to Zermatt, then over to Courmayeur in Italy and across to Chamonix before climbing back again non-stop through Verbier all the way to Zermatt.
And now Gavin, like a grinning devil, is tempting me with views from the mountaintop, this time only the downhill parts. And he's suggesting we can do the entire Chamonix to Zermatt leg in only three days! "You're getting older," he says, "and you really can't get that much time off work anymore." Arguments that surely clinch the deal with most of his executive clients.
What's revolutionary about this idea is that it opens the Haute Route to "ordinary" skiers. You could do it on your own skis, in your own ski boots, without having learn climbing skills or hiring touring skis with touring bindings and ski crampons. And you wouldn't have to learn how to ski in touring boots that provide so little of the support recreational skiers are used to.
THE OLD WAY
I think of all I'll be giving up, though. Those 12-hour uphill days when I have variously baked and sweated in the scorching alpine sunshine, been frozen and blinded in snow squalls, and panted and gasped while my heart pounded at 120 beats per minute. I've suffered frostbite on my cheeks, had the inner canals of my ears sunburned and both feet blistered from heel to sole. I've had headaches and nausea from altitude sickness, insomnia trying to sleep at 3,000 metres, dehydration, constipation and diarrhoea. Oh yes, let's not forget the muscle cramps.
What has traditionally kept the Haute Route off-limits for ordinary skiers is that you really needed mountaineering experience and awareness as well as adaptable skiing skills. Of course, most groups have a mountain guide to find the way by compass and GPS to the next hut and to analyze avalanche risk, but the Haute Route trail wanders days from the nearest resort. And even a guide can fall into a crevasse, as I myself witnessed twice.
Once en route in the wilderness you are forced to negotiate whatever dangerous slopes or difficult snow conditions lie between one hut and another. There's no stopping, except for the shortest break, no suddenly discovering that you can't do uphill kick turns on 50-degree slopes or that you don't really like skiing three hours of breakable crust.
The helicopter boosts both safety and skiing pleasure by offering the opportunity to scout ahead and survey the slopes you are about to ski. But what finally convinces me to take Gavin up on his offer is that he promises "no huts." When you do the Haute Route on foot, you sleep in the high-altitude refuges along the way, some of which were built almost a hundred years ago.
Visiting these huts, perched on knife-edged precipices flanked by glaciers, is a large part of the authentic Haute Route experience. But trying to sleep in their overcrowded and unheated dormitories, with no running water, is something else. Never mind that the only toilets, as at Cabane Vignettes, can be mere holes in the rock exiting directly onto the glacier floor–and just getting to those holes, some 20 metres from the hut itself, requires crossing an icy bridge with no handrails.
Doing the Heli-Haute Route with Gavin means you sleep in a comfortable hotel bed every night. And since the luggage is ferried ahead to each hotel by transport van, you don't have to ski with the 10- to 15-kg backpacks that bog down tourers.
FLYING HIGH
As in the classic Haute Route, we start from Chamonix. We use the ski lifts in Le Tour to get up to the Col de Balme on the Swiss border, then ride the leg-burning Grande Bretagne couloir down to the Trient valley. Here, the Ski Weekend van drives us the short distance to Finhaut near Lake Emosson where our first helicopter lift awaits.

Landing on the Trient glacier only minutes after takeoff makes me think of the climb we have missed. To my mind it's the most punishing on the entire Haute Route, and one many people simply can't make at all: the steep march of a thousand kick turns up from the floor of the Argentiere glacier to the Col du Chardonnet at 3,323 metres.

As usual on the Haute Route, from up here you are spoiled for choices of couloirs. We take the Orny. The entrance is a huge serac covered with snow, a good 50 degrees for the first 40 metres and then 800 metres of packed powder as the walls widen and the pitch eases off to 45 degrees.

Overnighting in the charming alpine lake village of Champex, guzzling wine and fondue, I contrast the experience with past nights spent up on the glacier in the eponymous Cabane de Trient, where dessert was a Mars bar.

The second day we take off from just below Verbier and fly up over the crowded nouveau riche resort to just below the summit of Rosablanche at 3,300 metres. From here we ski past crevasses down the scenic Prafleurie glacier to the huge Dixence dam, the world's tallest concrete gravity dam.

We are driven over to the Herens valley for another flight, this time just below the 3,796-metre summit of Pigne d'Arolla, from where the run down into Arolla is almost 1,800 vertical metres of fluffy powder snow.

Did I mention that every slope we skied on this trip was utterly untracked? Although hundreds of people may be out on the Haute Route at any one time, none of them is going to get to the peaks from which we ski before the helicopter does.

Arolla is one of those great mountain towns, dead-ended at the top of a long valley. Staying at the simple, but cozy, hotel there makes you feel you're part of mountaineering tradition. And luckily our bearded, ski touring friends all depart the hotel at five in the morning. So they never see us board the helicopter after a leisurely breakfast.

The first flight of the final day is to Testa Grigia (3,451 metres) on the Swiss-Italian border where the ski lifts of Zermatt link up with those of Cervinia. A race through powder down to the frozen Cime Bianche lake in Italy leads to the last helicopter ride of all, this time up to the Tete de Valpelline (3,802 metres) straddling the border.

The last leg, under the shadow of the Matterhorn, and mostly easy cruising after the first short, sharp shock at the top, is the perfect ending to a phenomenal three days. Sure, I feel guilty that I got in all the skiing–and more–than those who pay for it with seven days of pain and uphill slogging. But it was my best Haute Route ever. Would I do it again? There are only two responses to such a question. Yes, and yes please!

Ski Weekend (www.skiweekend.com) makes each package according to the client's specific wishes. Accommodation is in its own luxury chalet in Chamonix, with options for one- to three-days' helicopter skiing on the Haute Route, the latter costing around $1,500 including accommodation and guide fees.

Tags: downhill skiing, European skiing, Gavin Foster, Haute Route, heli-skiing, heli-snowcat skiing, heliskiing, ski travel, ski trip, ski vacation, Ski Weekend, Swiss Alps, Switzerland, The Alps