Invasion of the Calgreedians
---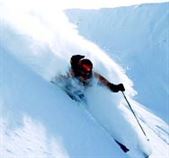 In certain social circles up and down the Rocky Mountain Trench, the long valley in southeastern B.C. that separates the Rockies from the Purcells, Selkirks and Monashees, they are known as "Calgreedians." These are the comfortably bourgeois through downright grillionaire folks from southern Alberta–mostly Calgary–who often spend a 60-hour week toiling in the office towers of the Prairies' most dynamic city, then pile into the Honda Pilot, Dodge Durango or BMW 530i and rocket off to a weekend of bliss at vacation properties on the B.C. side.
I first heard the term "Calgreedians" muttered in a lift line at Kicking Horse Resort last season, and it's come up a few times since. Being a sarcastic sort, and not the owner of some fieldstone-and-fir massif construction of which required making six local families homeless, I started throwing around the cheeky moniker. But also being a Calgarian, I meanwhile began trying out counterinsults to use against certain locals whose abodes make the set of "Trailer Park Boys" look like a St. Moritz mansion. You know, terms like "Welfare Columbians" or "British Cobumbians." Or lines like, "They like our equalization payments, and they love that their brokendown, paint-peeling, packrat-infested, one-bathroom shack is worth $450,000. They just don't want to look upon our faces."
No doubt some locals will already be hurling darts at photocopies of my beefy visage and adding to their list of reasons to hate me, building on the rage generated by previous columns lambasting B.C.'s horrific roads, agitating in favour of Jumbo Glacier Resort or lampooning a subspecies of Lake Louise's jolly vollies. But, all joking aside–and note to the humour-challenged: I'VE BEEN JOKING HERE–I'm sensitive that there's a serious issue at stake.
For, poking around in fast-growing places like Invermere, Kimberley, Golden and Fernie (not strictly speaking in the Trench, but close to it), one can see what some locals are complaining about. Massive structures out of all proportion to their surroundings, not to mention their frequency of use, are rising hither and yon. In some cases the new owners are bulldozing the original building–some of which are not that far off my earlier description–then erecting houses that virtually overwhelm the property.
Up and down the Trench, developments with dozens or even hundreds of newly subdivided lots are crammed into a tiny land area. They make the previous generation's acreages seem like ranches. There's precious little solitude when windows on two sides need to be built small or shades drawn lest five neighbours cringe at you lounging in your tighty whities or ogle the missus prancing in her thermal thong.
One enormous new development at Invermere will completely upset traffic patterns in a whole section of town–but there hasn't been a move made to widen roads or improve flows. No doubt town bureaucrats will doze until the mayhem begins, then react with the catch-all tool of dogmatic transportation officials the world over–just add traffic lights and forget about it. Then puzzle over the epidemic of road rage.
I can genuinely understand how locals, who moved to these areas for solitude, safety, connection with nature, a slower pace and a lower cost of living, would get increasingly irritated and tense at some of these trends. Who ever imagined traffic lights or parking problems in wee Invermere?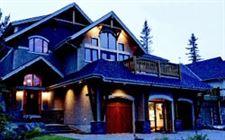 In other cases, some locals who would like to balance the aesthetic loss by profiting from development were unlucky enough to buy land decades ago that later got designated "agricultural reserve." This became a form of expropriation without compensation. In some areas these lands have virtually zero agricultural potential because there's too little water. So the landowner is basically stuck. Meanwhile, a neighbour whose property sits just outside the agricultural designation can throw up a subdivision and become a big wheel.

There's a genuine dilemma. Should development seek to avoid congestion and over-building by favouring acreages and small ranches, spreading new structures over a much larger area and thus maximizing the aesthetic value for the property owner? Or is this exactly the wrong approach, gobbling up thousands of acres of almost undeveloped lands better reserved for wildlife and low-impact recreation like hiking and biking?

As for the Calgreedians, locals need to appreciate that most of the newcomers genuinely love B.C. above all else–the climate, the longer growing season, the stupendous scenery, the limitless backcountry recreation and, yes, that slower pace. Most of them just want to fit in–and don't like the examples of excess any more than the locals do. Others would have loved to buy or build something much closer to home. Many weekends the three main access routes into the Trench resemble a motley rendition of the Le Mans race–with the extra variables of lumbering moose, blizzards, terrible road maintenance and humourless national park officials thrown in.

But there's something the Calgreedianresenting locals don't recognize: Alberta, for all its wealth and opportunity, has virtually no lands permitting mountain real estate. Canmore is the big exception, but it's approaching build-out, is very expensive and has numerous other shortcomings. Remarkably, for all our tens of thousands of square miles of mountains and foothills, there's virtually no place where a mountain-loving Albertan can obtain vacation property. The national parks are out. Banff's federal commissars have imposed residency restrictions modelled on the old Soviet Union. Provincial recreation lands, meanwhile, are steadily being redefined as wilderness preserves, with development proposals routinely vetoed by the Alberta government.

Castle Mountain in southern Alberta is the only place where you can purchase a slopeside cabin. But this is on leased land, reducing the attractiveness to many buyers who want title and the potential appreciation that comes with it.

So, to the dwellers of the Rocky Mountain Trench, I'm afraid you're stuck with the Calgreedians. Many of you, in your heart of hearts, remember that you, too, were newcomers once. You would have been shocked to be treated like alien invaders. For that matter, perhaps you were, and it was equally unpleasant then as now.

I know those Suburban-driving type-A corporate guys can seem irritating. But there's a downside to being ignored by the world, especially now that successive B.C. governments have systematically destroyed your mining sector and portray logging as the moral equivalent of smoking in a daycare. Just visit the village of Canal Flats. Few Calgreedians down there. Few jobs, too, and not much future for young people. Whatever else it might be, charming it ain't.

Tags: Alberta, British Columbia, Calgarian, Calgary, Calgreedians, construction, Fernie, Golden, housing developments, Invermere, Kicking Horse Resort, Kimberley, Rocky Mountain Trench, ski resorts