Reading Time:
3
minutes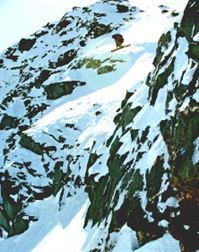 It was Canadian mountain guide John Hogg, for example, who popularized ski safari routes across Switzerland and the Italian Dolomites, and who reconfigured the classic Haute Route ski tour from Zermatt to Chamonix to maximize downhill skiing thrills. And it was Mark Shapiro from the epicentre of skiing in Canada (Hamilton, Ontario) who revolutionized if not reinvented the very concept of ski action photography. (If you like this photo here, you can see some of his wildest shots at www.bnrart. com/xtreme/xtreme1.htm.)
Skiing in Shapiro's tracks right here in Verbier is a younger generation of Canadian shooters, each with his own focus. Yves Garneau and Sebastien Albert grew up together in Ottawa, kindergarten through high school buddies with the Cohen brothers, Jesse and Josh.
Nobody just walks into making a living as a ski photographer—it's a hard uphill slog. Shapiro, the godfather himself, started out digging ditches and washing dishes when he came to Europe. It's important to have a day job. Garneau is a gourmet chef, for example, and Albert is a master bootfitter. But their images transcend the workaday. I was deeply moved this summer by Albert's exhibition of monochrome prints: glacier lakes and stark mountain settings I'd literally never seen in that light. Check them out at www.trobophoto.com.
Since leaving Whistler seven years ago, Garneau has travelled the world, surfing and shooting international snowboard and freestyle events. One of his favourite models is Canadian poster boy Jonas Delogne, another Whistler resident now settled in Verbier. Garneau's galleries are posted on www.g1photo.com.
Last winter I skied with a group from a company called Base Camp, which operates both in Whistler and in the Alps. Base Camp offers a winter-long course (costing as much as $12,000) that leads to quali?cation as a ski instructor. In my group there were two 50- something professionals taking a year off from work. Most of the other skiers were between 18 and 25, one from as far away as Zimbabwe.
The Cohen brothers have seen the potential in this market of aspiring serious skiers, people who are willing to pay to do more than have a "vacation." Jesse and Josh understand that it's almost impossible for an ordinary skier, someone who isn't planning to make a career out of it, to penetrate the freeride fraternity. So they teamed up with Swiss-Jamaican freeride pro Phil Meier, a celebrity skier with a passion for sharing his sport and making it safely accessible to others.
What I like and what I think is unique in the Hot Chocolate concept is that it's holistic—it tries to bring in every aspect of freeride on and off the mountain. And Meier and all the team, which includes Garneau and Delogne, are dedicated to educating and inspiring recreational freeriders rather than training potential pros.
The teams will live together in their own mountain chalet high above Verbier at Clambin and be provided with the latest Scott Santiago freeride skis mounted with Fritschi Diamir Freeride bindings. Verbier's Ski Service ski shop will supply all necessary mountain gear, including harnesses, avalanche transceivers, crampons, shovels and so forth. Other sponsors include Scott goggles and Dakine rucksacks. Surefoot, the custom boot shop operated by the Cohen brothers, will provide boot tuning and biometric expertise to all clients. Meier will ski daily with the group, and American-born Verbier guide Steve Hadik will guide them to the best powder.
Mountain awareness, including avalanche study, is a crucial part of the week, which will include heli-skiing and scaling local peaks on skins. The total cost, including lift tickets, accommodation and meals, should be around $2,800. Some details remain to be finalized in this ambitious enterprise, so check www.chocolatefreeride.com for final dates and prices. Needless to say, I'll be testing out the chocolate in person and reporting back.