Reading Time:
2
minutes
EXPERT ALL-MOUNTAIN
All-terrain cruising, long and short turns
As well as checking agility and competence in soft snow, testers skied
this category up to high cruising speeds for recreational skiers and
assessed stability in long and short turns on the groomed. Testers pushed
the limits in this category. They expect these skis to do everything and test
them aggressively. Overall versatility in all kinds of conditions defined the
best skis in this category. Waist 76-86. (Buyer's Guide 2012)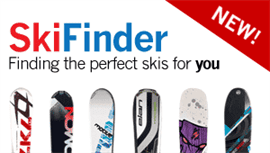 Try our new SkiFinder widget. Input your skiing profile – your weight, your skiing ability, your skiing style and usual snow conditions – and SkiFinder will sort the data in the Ski Canada Test and display top 3 and others based on your inputs.
Individual ski test report links below page layouts. Score is the average of test card scores for Characteristics: initiation, edge grip, stability, agility, versatility, short radius, long radius, overall impression.