Reading Time:
2
minutes
The Recommendations scores are taken from testers' cards for each ski and averaged for each category. There is not a good score or a bad score – these numbers reflect what type of skier our testers think would be best suited for each model ski and the usual snow conditions the ski would perform best in. The scale is 10.
Skier weight: 1 << lighter .. heavier >> 10
No specific weight categories. Testers' impression of which skiers would like this ski based on their weight.
Skier ability: 1 << intermediate .. expert >> 10
Conditions: 1 << soft snow .. hard pack >> 10
Skier style: 1 << finesse .. power >> 10
Click any table to see it full-size
Expert All-Mountain (Men)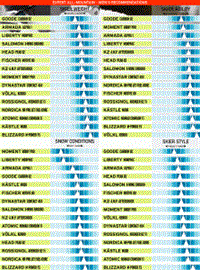 Expert All-Mountain (Women)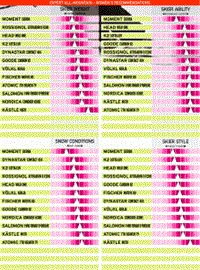 Adventure All-Mountain (Men)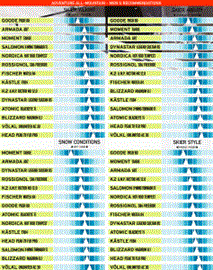 Adventure All-Mountain (Women)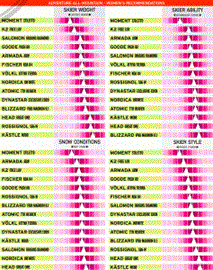 Big Mountain (Men)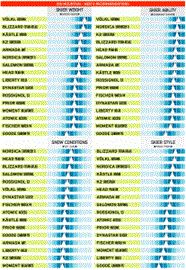 Big Mountain (Women)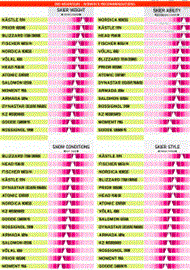 On-Piste Cruisers (Men)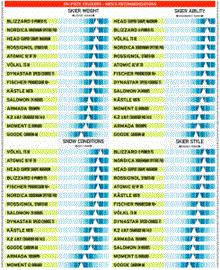 On-Piste Cruisers (Women)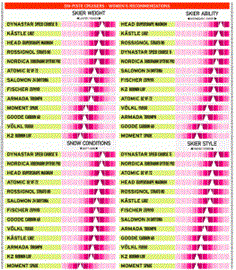 Easy Cruise (Men)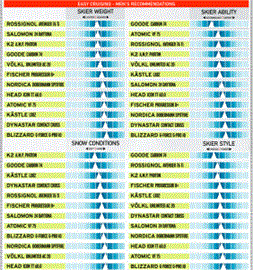 Easy Cruise (Women)