---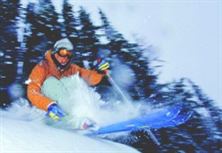 It could've been the fourth or maybe it was the fifth yard sale that really caught my attention. Not to downplay the comical spasticity of the first few bails, but until you've sunk your chin into a foot of Okanagan fresh five times before noon, you can't be entirely sure you're into something good. Steve and Sue, who'd borne witness to this series of spectacular snow cartwheels with a calmness reserved for the bomb squad, were stopped on a rise when I carved around the corner, a snow roost trailing me through comfortably spaced glades. With the detached ennui of a snowsuited Grim Reaper, Steve pointed his bony, gloved fingers downhill, gesturing nonchalantly at a field of untracked powder, once moguls, and a copse of snowdraped pine, the last marker on the horizon before the hill dipped out of view.
I'd later learn this was not Steve's way of showing me a good line, but what can I say? The snow looked deep. And in their defence, I think both of them were yelling something meaningful as I swooshed by, consumed by the gluttonous quest for first tracks. Perhaps it was a warning, or a plea, yet somehow I assumed they were simply being funny, doing that kooky Edvard Munch scream-thing that they seemed to be pulling all morning long. Regardless, I soldiered on, leaving the two of them standing, mouths agape, poles flailing, at the crest of the hill as I charged the pow-laden mogul run, teeth clattering, the breakfast in my belly churning as though it were being run through a paint-mixer.
Their screams faded into nothingness as the rhythm of the line became my focus, a small gap between the pines my target. Three more bumps, a carve over the last, get ready to duck that branch and…silence. Utter quietude. I was airborne, snowblind and falling. Over the handlebars like an eight-year- old on a 10-speed, all the while sporting the same shit-eating grin I'd had pasted on my gob since first lift. It had snowed a foot in the valley overnight, replacing what had once been a shellacked theatre of pain with nothing but sweet and delicious deep. An instant was frozen in time as my feet swung overhead, arms calmly rolling down the windows while the pillow-like slope cradled me gently into the fall line.
Yes, it was stupid to charge a blind lip. And yes, I could have been seriously hurt, but when you're feeling good on a powder day, you've just got to roll with it. Which I did, end over end, coming to a halt tuqueless and with a faceful of snow, some five or six metres below the roller. I opened my mouth, spit out a snowball and sounded my barbaric yawp over the grey-ceilinged vale. Lady Luck was on my side.
Now a ski trip, like most vacations, is a gamble. You pick a date pretending to possess some heretofore unseen climatological clairvoyance, cross-referencing past trips with your dog-eared Farmer's Almanac. You track warm water currents via satellite as they swirl up the Paci?c coast, and decide that maybe, just maybe, that patchouli-scented ex of yours was onto something when, with ?ailing dreadlocks and a tap of the bongos, she tried to teach you the little-known Snow Dance of the South Tamaklan Desert.
But let's face it. We can't accurately predict when the snow's going to be good. And when it's great, half the fun is the surprise of waking up just to find it.
The winter of 2005, as everyone now knows, wasn't what you might have called a bountiful season throughout much of B.C. There was snowfall in the mountains, but there was also rain; and when those elements are bookended by periods of drought, nearly every fresh line on the hill is tracked out before the liftees even ? re up the T-bar. Still, a slide down an icy slope in the Okanagan held promise for a landlocked Ontario schlub like myself, and when the invite to visit Silver Star came just before the holidays, I seized it like a fat kid grabbing a Smartie.
The bus chugged north on the Okanagan Valley's Hwy 97 under dark, puffy clouds. We rolled past Wood Lake, the trailer parks of Win?eld and Oyama dreary in the late afternoon gloom, and oohed and and ahhhed at at the twinkly green hues of Kalamalka Lake before turning east in Vernon and beginning the climb to Silver Star. I'd lived for some years in Kelowna and called Big White my home for a couple of seasons. We'd just spent a day and a half there, riding some decent groomers and snif? ng out pow in between her snow-ghosted pines. Now, climbing the road to Silver Star, I had the sense that I was cheating on an old flame.
From all I'd heard, Silver Star was something of a family hill—easy groomed runs, mellow fall lines, patchy glades—and if you're the kind of person who goes by first impressions, that's how I might have viewed the resort as we rolled in, greeted by Day-Glocoloured faux-Victorian villas, a cheerful little snow-tubing hill and the quaint mountain village. There hadn't been snow in a little over a week, which led most of us to believe that our single day onhill would be a mellow one, filled with corduroy cruisers, a quick lunch in the village and a bus ride back to the Kelowna airport.
After dinner and a couple of beverages, I turned in for the night at the Silver Creek Hotel and little seemed to have changed. The air was quiet, the village still. Yet out of the darkened sky fluttered the first few flakes, small promises of a day in wait. I shuttered the windows, turned off the fire and closed my eyes.
Jumping to conclusions, it would seem, was my first mistake at Silver Star.
I awoke with a jolt as the alarm clock crowed in a dark morning sky and, by force of habit, groggily called the snowphone.
Twenty-three cm and still falling.
Holy shit. I am getting up. I am getting up right now.
I met Steve, our unofficial tour guide, and Sue, another writer, in the village, and after a couple of silent nods and a run or two in knee-deep powder on the Vance Creek face, we proceeded to ditch the rest of the ski crew, heading off instead to explore the backside: the dark face of Silver Star. Known to locals as Putnam Creek, and on a day such as this as Heaven to a powder-starved Ontario fool, the dark woods and black diamonds of the backside would prove to be Silver Star's hidden trump card.
What had just a day earlier been virtually impassable—the steep fall lines hummocked with hard moguls, chutes gone shiny-slick with overuse—had been transformed overnight into a pillowy playground. The three of us played cat and mouse all morning long, charging down the double-blacks of Rusty Whistle and Chute 5, chasing one another down the narrow opening to Doognog, opening it up through the wide expanses of Gowabunga, while fresh snow drifted past our thighs. On any other day, the terrain on Putnam Creek would have cut our speeds in half, made us think twice about the preservation of life and limb and, for one of us at least, would have discouraged the act of rag-dolling sometime after the fourth smiling faceplant.
Careening down the edges of Gypsy Queen, I followed two sets of tracks in the snow, and as I carved around the corner near the top of Judd's Glades, there stood Sue next to Steve, his bony finger pointed downhill. I tucked and blew past them, turning into fresh pow and a field of fluffy moguls.
If ever there was a time and place to feel lucky, this was it.
WHAT'S NEW
More terrain, more lift, that's what. The all new Silver Woods high-speed quad (vertical 340 metres) will open up almost 200 hectares of skiable terrain on the Vance Creek side of The Star, with the base of the new lift situated just downhill from the loading area of the sixseater Comet Express. That's 54 per cent more frontside terrain coming this winter. The Silver Woods area adds 10 new runs (of varying degree) with tons of lift-accessed glade skiing. The "Dark Side" of Silver Star may be getting a run for its money in 2006.
ACCOMMODATIONS
NEW THIS SEASON: Snowbird Lodge. Located at the end of the village, closest to the slopes, the Snowbird offers 54 richly appointed units with the most stunning views of the mountain. Opening date: TBA. PLUS: Eight hotels situated in the village, combined with more than 100 swanky vacation homes for a total of 3,400 onhill beds. Contact Silver Star Holidays: 800/663-4431 or e-mail info@skisilverstar.com
GETTING THERE

BY AIR: With Kelowna International Airport finally equipped to receive the traffic it deserves, ski bums from all over the country can get on hill at either Silver Star or Big White within 90 minutes of touchdown. Air Canada and WestJet are both flying non-stops, daily this winter into K-Town from Toronto as well as Calgary and Vancouver and regional airlines, including Horizon Air, Central Mountain Air and Regional1, all find their way to Kelowna Airport, where shuttles await skiers ready to be whisked to the hills.
BY LAND: Located just 22 km northeast of Vernon, at the top of the Okanagan Valley, Silver Star is an easy-to-access interior hill. Follow Hwy 97 north of Kelowna to Vernon, follow 48th Avenue to Silver Star Road and crank it till you get there.
BY SEA: Uh . . . forget it, sailor boy.
THE GOODS
Annual snowfall: more than 700 cm of the Okanagan's finest Vertical drop: 760 metres Village elevation: 1,609 metres Lifts: 5 chairs, 2 T-bars, 2 magic carpets, 4 surface lifts, 2 tube lifts Runs: 112 marked (20% green, 50% blue, 20% black, 10% double-black)
TELUS Park: a progressive terrain park, rail garden and 140-metre halfpipe on 6.5 hectares with nine new stunts to scope out this year. (And if you like watching the world from upside down, check out the Aerial Training Site, Mogul Course and Race Centre also in TELUS Park.
KNOW MORE: www.skisilverstar.com, 800/663-4431
---
Tags: black diamonds, British Columbia, Kelowna International Airport, Okanagan Valley, Putnam Creek, Silver Star, Silver Star Holidays, Silver Woods, Snowbird Lodge, Vance Creek