Reading Time:
3
minutes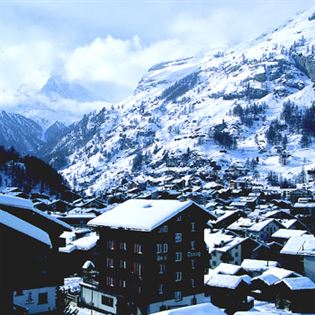 Why travel all the way to Europe when Canada has some of the best skiing in the world? Well, you could ask any of the Canadians I wrote about last month why they left to settle with such satisfaction in the Alps.
European skiing is more extensive and higher in altitude with more sophisticated ski lift systems than anything Canada has to offer. But it's more than one-upmanship; it's the culture—the food, the architecture and the ambience.
IRONCLAD ADVICE
Before you do anything, secure good travel insurance that covers helicopter rescue offpiste and medical treatment for accidents. In France, the Carte Neige policy often sold with ski passes provides this basic coverage at a very modest price.
Helicopter rescue is ubiquitous in the Alps, where the ski patrol as you know it in North America does not exist. They lift you off the slopes over here for a broken finger—at $6,000 a pop. North American concepts of liability do not apply in Europe. It's always your fault. And "off-piste" means not only couloirs, but anywhere not on the narrowly marked trails. In some resorts more than half the skiing is officially off-piste, even when it's easy terrain and is skied by thousands.
Dumb Americans have been blindly overtipping here in recent years, much to the delight of friends of mine who work as waiters. But service charges are already included in your restaurant bill.
YOUR CHOICE
So many mountains, so little time (and money). The worst mistake I have witnessed is first-timers to the Alps trying to cram in all the top resorts from France to Italy to Austria in a one-week visit. You really have to make a tough decision: Is it hardcore skiing, oldfashioned palace hotels or Tirolean kitsch that turns you on?
Starting at the bottom, you can stay very cheaply in the Alps, even in Zermatt or Chamonix, if you're willing to sleep in bunk beds in hostel-type accommodation. A good example is Verbier's Bunker, www.thebunker.ch, where bed and breakfast start at $25 a night, a tenth of what you would pay in a good hotel.
In my experience Austria has far and away the best and most spacious accommodation for the money. An Austrian gasthaus can often can often prove more luxurious than a Swiss or French three-star hotel, at less than half the price.
But you come to the Alps to ski, not to sleep. And the most extreme skiing of all is in the tiny cult areas of La Grave in France and Alagna in Italy, made famous by dozens of ski videos.
For a similar big-mountain, off-piste skiing experience, but also with the full resort amenities menu, Chamonix, Verbier or St. Anton are my picks. If high society and scenery are worth paying any price, you'll be in good company in Zermatt, Cortina d'Ampezzo or Lech.
I know many Canadians are attracted by the sheer size of skiing terrain advertised in multi-resort areas like France's Trois Vallées and the Portes du Soleil straddling the Franco-Swiss border, both with more than 600 km of groomed pistes. But look at the pictures before you book. Both these areas contain high-rise concrete tower block housing as ugly to look at as it is to live in. If your idea of an Alpine holiday is gingerbread chalets or cozy guesthouses, stay far away from French resorts like Flaine, Les Arcs, La Plagne, Les Deux Alpes and Alpe d'Huez—to name just a few.
I hope such general information is useful, but I'm going to bite the bullet and share specific personal advice I give to friends coming over here for the first time without too much money but keen to see as much as possible.
First, if you travel in a party of four, it makes a lot of sense to hire a car. Fly to Geneva, take the train or drive less than an hour and a half to the old Roman town of Martigny on the Rhone River. By staying here instead of in a resort hotel you can save $200 a night, easily. By staying in the valley town (and you can do this elsewhere in the Alps) you do miss out on resort nightlife, but you can ski a different resort every day. Chamonix, Verbier, Saas- Fee, Zermatt, Crans Montana and the Val d'Anniviers are just a few of the ski areas within easy driving or a train ride from Martigny on the mainline rail network.
And last, don't waste your money on ski school. Euro ski schools are nowhere near as good as Canadian ones. Invest instead in a mountain guide, or make friends with a local who can show you long itineraries off the backside that eventually lead down through postcard pastures and neighbouring villages—the kind of thing you came to Europe for in the first place.