A day on the slopes of Quebec's Mont Chilly will take you back in time.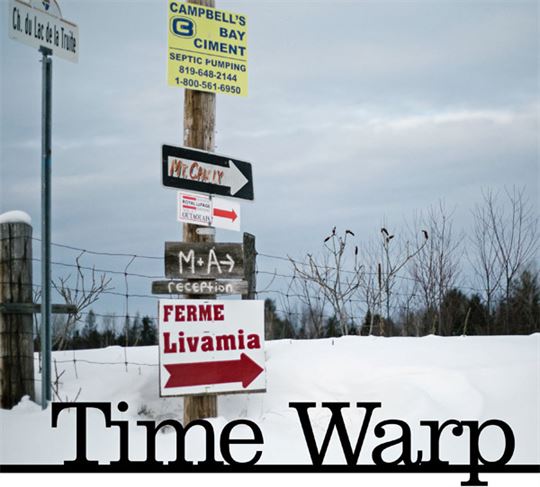 BY Alexander Hessel  *  PHOTOS John Rathwell 
While driving along a windblown and ungroomed Hwy 148, about an hour northwest of Ottawa in the Pontiac region of western Quebec, it soon becomes apparent that deep snow and steep terrain might not be the only challenge of the day. Just finding the mountain could be a contest. A small one-way sign nailed to a post at Chemin du Lac de la Truite, with the words "Mont Chilly" hand-painted across it, is the only indication the mountain is near.
The lack of signage is not by design and Mont Chilly is not a secret. There was a brand-new brightly painted sign erected in 1967, but in 1972 the local authorities took it down. Since then, Larry Hernberger, who owns and runs Mont Chilly with the help of his son Rick, is more likely to be found working on his hand-built T-bar than worrying about signage. In fact, just like the old plow-truck at the base of the hill and the newly created web and Facebook pages, the road sign for Mont Chilly was donated by a local skier who wanted to help. There's a story attached to everything here and many relate to a community of skiers that has, over the course of 48 seasons, helped build Mont Chilly with their hands, their tools and their desire to ski some seriously steep and challenging terrain.
But at the helm sits Larry Hernberger. "Dad does everything. This summer he put a new lining on the bullwheel [of the T-bar]," says son Rick of his 84-year-old father. "He's the man around here. He can climb, weld, cut, drill. I'm his assistant," he says modestly, although Rick does admit that he has been cutting and maintaining the trails himself since the early '80s.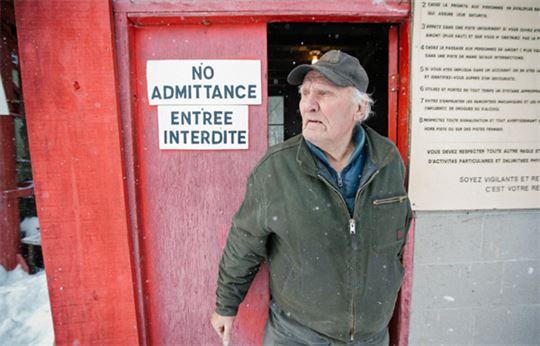 Unlike hundreds of local ski hills across the country that have closed or had to adapt significantly, Mont Chilly has managed to survive, despite being seemingly trapped in time and unabashedly void of a marketing department or a business plan. "It's definitely a lot more than a hobby. It's a labour of love," says the younger Hernberger of the place he helped build with his father. Or perhaps it's a love of labour that keeps Mont Chilly open each weekend, from the start of January to mid-April. "Dad hasn't missed a weekend in 48 seasons, not one," says Rick of his father's dedication, "and I think I've missed five weekends during that time. When it snows on a Friday night, there's a lot that needs to be done. There's intensity in running a ski hill." Along with their love of skiing, Larry and Rick are fuelled by the intensity that has become their way of life.
The grand opening of Mont Chilly was in 1966, but the idea originated in 1955 when Larry Hernberger met two other German immigrants named Horst Dinter and Ralph Hahn. "It wasn't long before Ralph started asking about skiing," says Rick. Soon the friends were looking for somewhere to ski and they found their way to Ontario's Pembroke Ski Club, then Camp Fortune in Chelsea, Quebec. In the early 1960s, Vorlage and Edelweiss opened. That inspired Larry to begin looking for a property of his own and he started talking to people like John Clifford at Camp Fortune, who offered their advice. After peering out the window across the Ottawa River from his home in Pembroke one day, Larry realized that the mountains in Quebec offered better terrain than the area immediately surrounding him in Ontario. In the years from 1962-65, Larry found, purchased, cleared and hand-built a ski resort complete with a lift and grooming, with dedicated help from Horst, Ralph, his son Rick and many other friends who would just show up and work. "No one asked, 'Where's my pay?'" says Rick. "People just wanted to help. As soon as Dad bought the place, my older brother and I would be there every weekend and all summer long helping. All our friends were there, too. We'd only go back to town on Sunday nights. At the end of summer we'd go back on Labour Day Monday."
There is one lift at Mont Chilly, a hand-made T-bar. The grooming is done by snowmobile. There is no weekday skiing. There are no lights. There is no snowmaking. There are no accommodations and no après-ski entertainment. "You need snow and an incline," says Rick of what is needed to ski, "and a lift helps. After that, some grooming is good."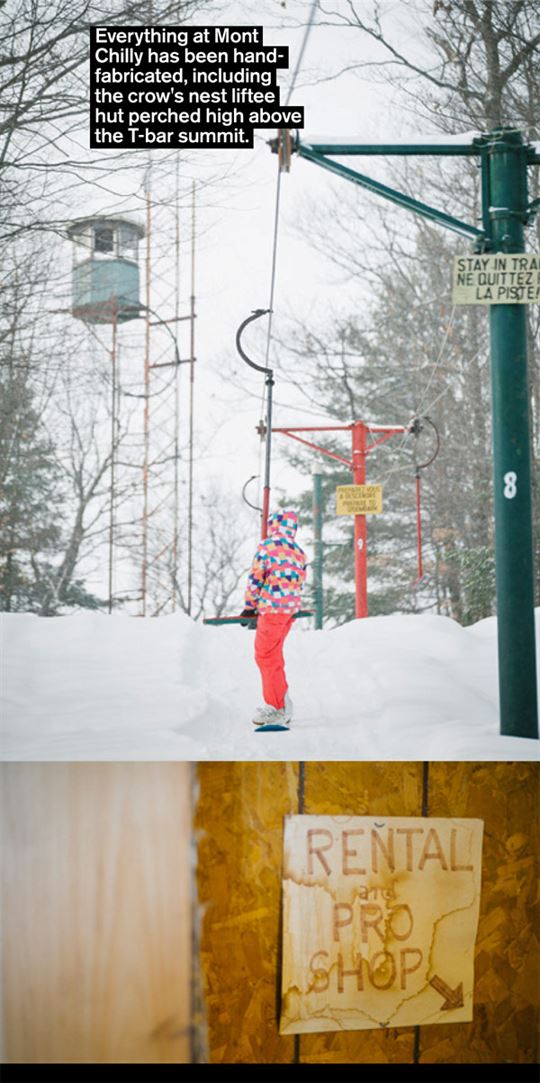 Larry never got much beyond those elements, but he does own some prized terrain, including continuous top-to-bottom fall line, an abundance of snowfall and a super-steep run imaginatively called #4 (although Rick's favourite is #3a). A $20 bill gets you a full-day lift ticket (no matter what your age), while $2.50 covers a single run. There's a rental shop, but it looks more like a museum for straight skis than a modern rental outlet. The first T-bar of the day starts when 10 or more people are ready to ski. On a snow day, there are always at least 10. The chalet, which from the late 1960s to the early 1980s used to serve bratwurst, sauerkraut and homemade soup, now serves a simple menu of hamburgers, cheeseburgers and Pogos. "We didn't get cheeseburgers until the early '90s," recalls Rick "Mom used to cook the soup."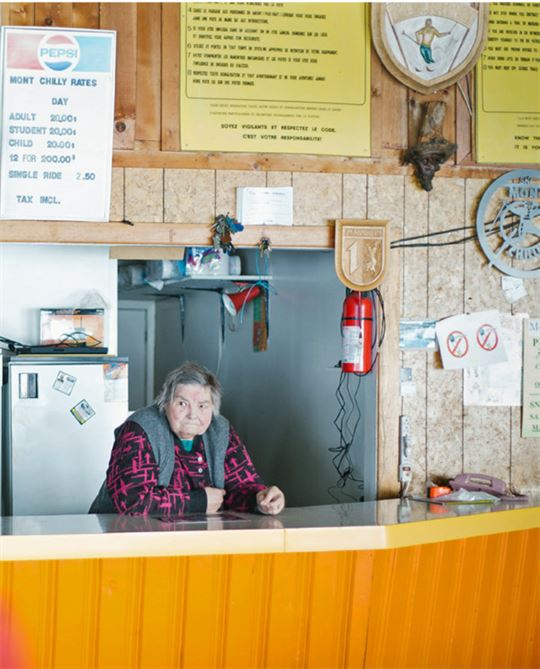 Rick speaks fondly about the old days, and the '70s in particular, when Mont Chilly's T-bar was constantly full and lift lines were common. Skiers came from Pembroke, Deep River, Fort-Coulonge, Waltham, Renfrew and beyond. There was a great group of friends every weekend, sharing potluck dinners and participating in what has always been an informal club at Mont Chilly. There have been a few attempts at racing, but always loosely organized and short-lived. When asked what caused the decline in business in the '80s, Rick pauses for a minute to think, then says, "I've heard that there are three kinds of ski hills: breeders, feeders and leaders. We are a feeder. Perhaps if we were a breeder, you know, to help get more people into the sport. We never really had lessons here…" Then he trails off in thought, talking about how Mont Chilly has always just been friends helping friends.
That's how it started at Mont Chilly and that's how it goes now. It's a community of skiers, there for the snow and the pitch, but all belonging to a sort of skiing speakeasy, flouting the modern "laws" of the ski business, led by a father-son team of true ski pioneers. Mont Chilly exists because Larry and Rick Hernberger want it to. And with a little help from their friends, you just might be able to find it for yourself.