RYAN REPORT // November 8, 2017 // By Ryan Stuart
---
Earlier this month the Hudson's Bay Company gathered 15 Olympic and Paralympic athletes in Toronto to launch its latest Team Canada Olympic uniforms. The athletes walked the cat walk in a patriotic mix of red, white and black and lots of "Canada" in big letters.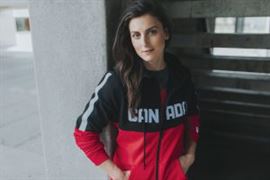 "Being in all this Canadian gear really brings the team together," Canadian ski cross racer Marielle Thompson told CBC Sports. "To see many different sports today and seeing everyone in the uniforms … it's a really nice feeling to be part of the team."
For the opening ceremony the athletes will parade in a parka falling to mid-thigh with "Canada" across the chest in capital letters and a white maple leaf on the back. In the closing ceremony they'll wear a red and black soft shell jacket. Medal winners will wear a red puffy jacket.
HBC's been outfitting Canadian Olympians since 2006. And for the ninth time that includes the red knit mittens. Like much of the uniform, the mittens are available to the public from Bay stores and online. The mittens in particular have become symbols of national pride, said HBC president Alison Coville.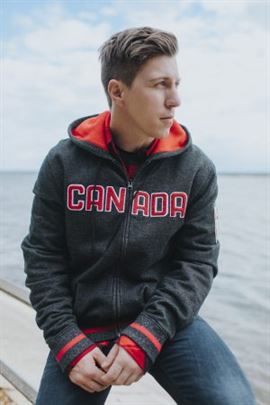 "It doesn't matter where I am, whether I'm out west or I'm in Ottawa, or in our own streets of Toronto, I still get a little warm and fuzzy when I see how many people are out there on the streets wearing those mittens," she said.
Of the $15 price tag on the mittens, $3.90 goes to the Canadian Olympic Foundation, which helps fund coaching, equipment, sport medicine, nutrition and other training resources. To date mitten sales have contributed $30-million to COF. The Pyeongchang Winter Games in South Korea open Feb. 9 in Hoenggye Olympic Park, while the Paralympics begin March 9.
RYAN REPORT is a frequent web post by Ski Canada magazine's technical editor, Ryan Stuart.